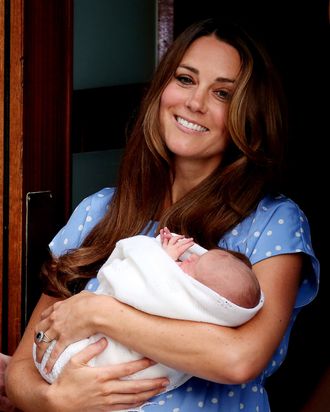 Photo: Scott Heavey/Getty Images
After a night back at their Kensington Palace apartments, the duke and duchess of Cambridge fled the hubbub of London for the relative quiet — and swimming pool — of her parents' country estate in Berkshire. The London scene is bereft of its glossy-haired princess. But when William's paternity leave is up this upcoming Monday and he returns to his RAF job in Wales, Kate will likely get sick of Mom and Dad and eventually land back in London with baby George in tow. What then? Like many young parents, they might find their usual crowd conspicuously absent, as cocktail hour and story time clash.
Fortunately for her, London now has a host of private member mothers' clubs, which are basically like other private member clubs (or American country or beach clubs) that have extra room to park the strollers, less strict dress codes — though still designer handbags — and a higher tolerance for crying tots. It used to be that royal babies were raised by nursemaids, governesses, and then nannies in the nursery, but this is a new era. Herewith, a sampling of where you'll find her and her stroller, plus the strange amenities and child-size food that the future king may be weaned on.
At London's first women's-only private members' health club, opened in January, there's a team of pre- and postnatal experts on staff to help new mothers recover from the effects of pregnancy and childbirth. The staff — including the queen's physician, Dr. Timothy Evans (also a co-founder), fitness guru Matt Roberts, and Biontology creator Henri Chenot — create a personalized health plan for women like Kate, for an annual fee of £5,500. It's not just about pampering — co-founder Kate Percival is very clear on that front — but "integrated well-being" to include 24-hour medical advice and home delivery of nutritious food. And if all else fails, they have surgical options on their menu (tummy tuck et al.) to fall back on.
Launched last month by William's third cousin Nick Balfour, this is essentially a hotel that bridges the gap between hospital and home, with midwife, night nurse, breast-feeding expert, chef, cleaner, and masseuse on hand. For a starting price of £795 a night, you can even send your newborn to the nursery while you sleep. A bit extreme? Not when you consider most Chelsea moms will have a night nurse at home to care for their babies overnight, and at least this option comes with a side of freshly prepared fennel mousse or a Hawaiian Lomilomi massage. Kate's natal hypnotherapist, Maggie Howell, is one of the many in-house experts, so rumor has it Middleton will return for follow-up treatment when she's back in London.
Before she takes up her royal duties again, perhaps she'll join power-player mothers like Eva Herzigova and Victoria Beckham at the Purple Dragon (for £4,000 a year), which is known as a family club. Founder Sharai Meyer — dress designer Roland Mouret's business partner — came up with the concept in February 2013, while she was pregnant, and is opening a second London venue next year. As you enter, a valet takes your car, a "play therapist" takes your child to swim in the chlorine-free pool, and you're free to relax in the library. Junior will leave with the kind of life skills every Chelsea child requires: preparing sushi, recording MP3s in the D.J. booth, virtual clay-pigeon shooting, and fashioning hats for Ascot.
If Kate's sticking closer to home, the Kensington branch of Maggie and Rose is the crafty, cozy, but no less well-connected alternative, with an annual fee of £650 per family. Set up by Maggie Bolger and Rose Astor — whose daughter, Grace van Cutsem, is William's goddaughter and was one of Kate's bridesmaids — in 2006, the focus is on your child's personal development. Which basically means someone else will do all the things with paint and glue that kids usually do uncomfortably close to upholstery. That someone might be a woman with the title of Early Years Adviser. Her real name is Jane Ritchie, a.k.a. Prince William's first teacher at Wetherby. Then, come summer, the Chiswick branch (£825 a year) has a roof terrace that rivals Shoreditch House for alfresco showboating.
One of Prince Harry's favorite Chelsea haunts, Beaufort House (the £400 per year members' club) has become a meeting place for various well-heeled parents, as their Baby Cinema supplies the latest releases, coffee, and lunch to guests accompanied by screaming newborns. It was opened this summer and costs just £10, though guests could probably afford more. Perhaps the royal head-wetting will take place in its Champagne bar, the current hot ticket for first birthdays.
The Arts Club — originally founded in 1863 to provide a private space for great minds, among them Dickens, Liszt, and Rodin — is billed as a meeting place for creatives and entrepreneurs (who have £1500 annually to spare), but now there's also a vast array of Bugaboos parked within the Mayfair townhouse, which was re-launched in 2011. Set within the kind of immaculate, pastel-toned interior you'd assume wouldn't favor children, there are several members-only events on offer, like Saturday film club and workshops — most recently on drumming, those poor parents. Private celebrations are staged in partnership with Sharky and George (for "Jaw-dropping children's parties"), founded by Pippa Middleton's ex Charlie Astor and his fellow Etonian George Whitefield.
Just up the road from Kensington Palace, Kate and William visited this informal eatery pre-baby. Now the chef, Tom Aikens, offers a kids' menu, with "mini mains" of macaroni and cheese and crispy chicken, for around £7. The royal couple is likely to return — though perhaps to one of Tom's private rooms.
For brunch, the hot destination for the wealthiest wives of Windsor is the surprisingly casual Granger and Co. This London restaurant, opened in 2011, has become very popular among the yummy-mummy set for its Antipodean comfort food — the £13.50 Full Aussie Breakfast in particular — and among their kids for the child's-size scrambled eggs with lashings of cream. More likely it's the deadly mimosa that has Kate's cohorts queuing around the block for a table.