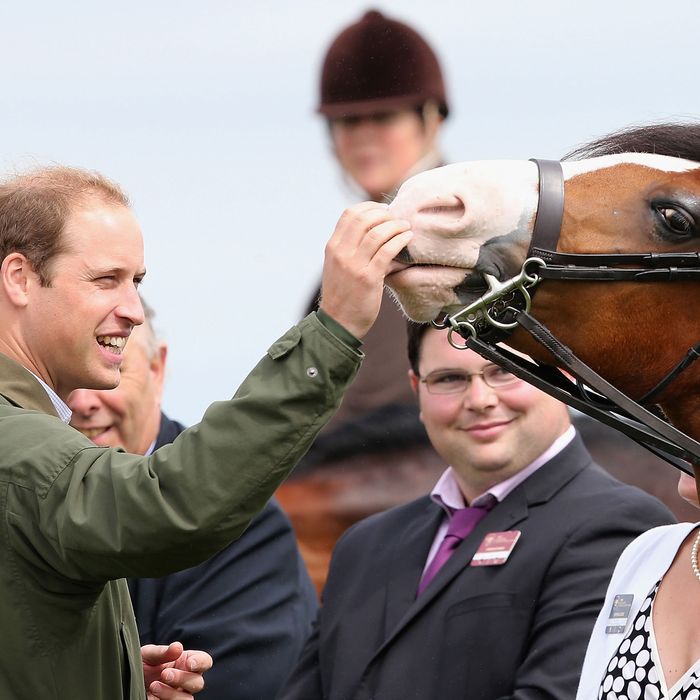 Photo: Chris Jackson/Getty Images
Amid rumors that Kate and William will release "informal" family portraits of little baby George on Twitter — practically selfies, really — the Prince gave a speech today at an "agricultural show" in Anglesey, the remote island where he and Kate have lived while he fulfills his military duties with the RAF. His search-and-rescue tour will conclude next month, at which point they are expected to relocate to London, although details are forthcoming.
Anyway, onto the important things: William talked about the baby, and even spoke a little Welsh, which sounds a lot like Elvish from Lord of the Rings. He also pet a horse, and held a large hawk that flapped its powerful wings and made William look noble.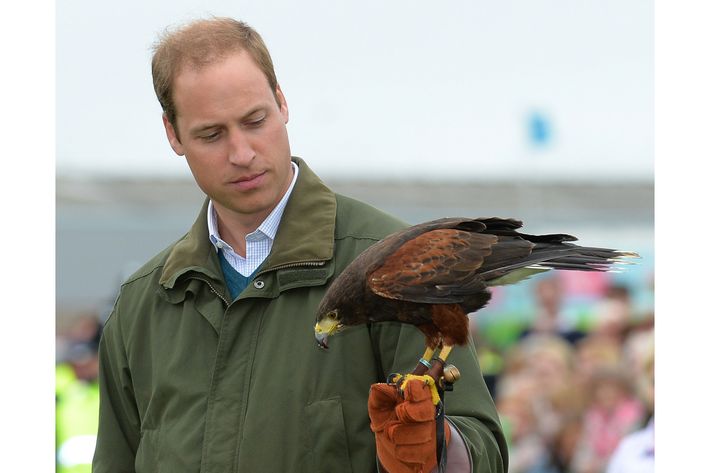 Here's a full transcript of his speech:
Catherine is sorry that she cannot be here today to catch the show, but she and George would have loved to have been here. He's pretty loud and of course extremely good looking. I have to say, I thought search and rescue duties over Snowdonia were physically and mentally demanding but looking after a three-week old baby is right up there.

I know that I speak for Catherine when I say I have never in my life known somewhere as beautiful and welcoming as Anglesey… I know that both of us will miss it terribly when my search and rescue tour of duty comes to an end next month and we have to move elsewhere. From the bottom of my heart, thank you for making my wife and me so welcome when we arrived here, as you do thousands of visitors each year. This island had been our first home together, and will always be an immensely special place for us both. Catherine and I look forward to returning again and again over the coming years with our family.
So … photos? If the rumors are true, they'll be released next week, most likely on Kate and William's official website. Next thing you know, Kate will start rapping about vegetarian curry, and they'll make cute videos of Lupo around the palace!