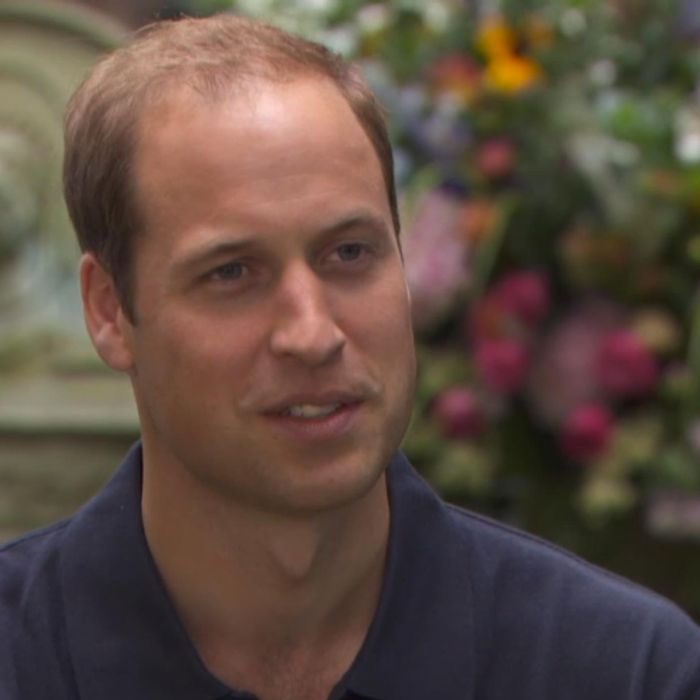 As you know by heart may recall, after new parents William and Kate posed for their first photos with newborn Prince George, they all piled into a black Range Rover and drove away. Two notable events transpired during that short time period: (1) Prince William deftly clicked the baby seat into place on his first try, with none of the fumbling and mumbled curses usually associated with such a task, and (2) he drove the car home himself, with Kate and the baby in the back. In his first interview as a new dad, granted to CNN's Max Foster, the Prince explained that he actually practiced with the car seat beforehand:
Believe me, it wasn't my first time. And I know there's been speculation about that. I had to practice, I really did. I was terrified that it was going to fall off, or the door wasn't going to close properly. So I did practice with the seat. Only once, though.
As for his decision to drive the car himself instead of allowing the help to chauffeur them, he explains:
Driving [my] son and wife away from the hospital was really important for me. I don't like fuss, and I wanted to do it myself.
And finally, one more cute quote on changing the first diaper:
I did the first nappy. It was a badge of honor. But I had every midwife staring at me, like, "You do it, you do it."
The five-minute teaser video, in which he also talks about Lupo "slobbering around the house," is a preview for the one-hour CNN documentary, "Prince William's Passion:  New Hope, New Father," which will air on September 15 at 10 p.m. ET.