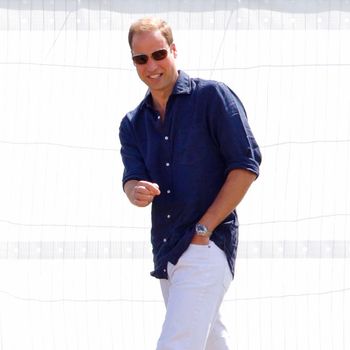 Prince William.
Photo: Max Mumby/Indigo/Getty Images
Prince William's two weeks of paternity leave end today, but Us Weekly reports that he's not scheduled to work until Wednesday, so he might stick around the Middleton household with Kate and baby George until then. On Saturday, he played in a charity polo match with brother Harry, but had trouble focusing. After the game, he babbled about diapers and toes like any sleep-deprived new parent. From Us:
"I was in baby mode out there, thinking about nappies," he quipped. "I wasn't really in the zone."

Of Prince George, he added, "He likes to move around a lot. He wriggles a lot, he keeps us on our toes."
The AP offers a few more quotes:
The young father told guests at the event that it was "good to get out of the house" for the afternoon.

The 31-year-old managed to score the winning goal for his team and was later presented with a miniature polo stick for his newborn son.

He jokingly asked if he'd be getting diapers instead, telling guests he had to "pick some up on my way home."
He'll soon return to Anglesey to finish up the rest of his Search and Rescue tour, which ends this fall; for the time being, Kate is expected to remain with her parents.