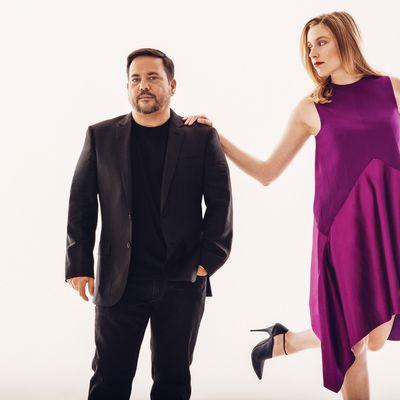 Photo: Christopher Anderson/Magnum Photos/New York Magazine
Under the horizon, he'd sketched an entire collection. A lot of it was cut on the bias: jewel-toned dresses with angled hems, cocoon-shaped coats with cutaway lapels. As good as his last show had been, he knew right away that his next show might be even better.
Rodriguez was back in the game. After a sixteen-year solo career marked by some spectacular creative highs and some treacherous business lows, he was in control of his own company. The new model for major fashion brands often involves big, foreign backers, but Rodriguez had taken that route before, and he was committed to the idea of going it alone this time, with no one to answer to but himself. "I felt released," he says.
Rodriguez has had "moments" before; Carolyn Bessette Kennedy's wedding dress was the first big one, and it made him famous. Properly famous, in that the dress is now seventeen years old and still something brides request when they first consider how they'd most like to look. He's been the favorite designer of a certain type of New York actress (Sarah Jessica Parker, Julianna Margulies, Claire Danes, and now Greta Gerwig) for nearly as long.
The clothes have always been lean, body-conscious, minimal in design, but over the past few seasons they have grown sharper of contour, more confident in silhouette. Rodriguez has spent his years in the business considering how to make the simple very, very beautiful, to make interest not from a print or a pouf but from the strength of a line or a seam. It doesn't hurt that a new kind of minimalism is on the rise (see also Céline). The great trick of minimalist dressing is that when it's done right you never want for more, and everything else begins to look frivolous. Why would you need a ruffle when a slip dress cut on the bias moves so incredibly with each wiggle and step? "Sometimes, everyone loves something on the runway but the clothes don't translate on the rack," says Daniella Vitale, the COO at Barneys New York. "We loved it on the runway and then people went crazy for it in the store." Barneys, which has carried Rodriguez for fifteen years, had its best-ever season selling him. The current fall collection (those clothes he'd sketched on that dock) is doing even better. Right now, the store is in the midst of revamping the sixth floor, where its Rodriguez section is, in order to make room for a whole lot more stuff. Old customers have returned, reports Vitale, and there are newer ones, too, like a 26-year-old who works in finance who has begun buying dresses in bulk.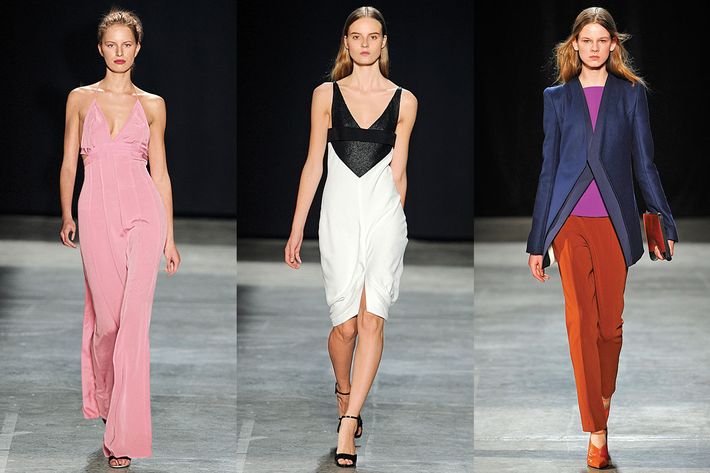 Rodriguez's design studio is not in one of those big buildings on Seventh Avenue where the elevator directory reads like the main floor at Saks. It is not in a walk-up loft on Crosby or Canal with glamorous windows and attractive grit. It is, rather, on Irving Place, in a very nondescript building with a TGI Friday's around the corner and a center that promises inner wisdom through metaphysics next door.
His own office is in the back. There are black-and-white pictures of old ad campaigns and of himself on the wall, and stacks of art books everywhere. Rodriguez himself is quiet in demeanor and dress: He wears black T-shirts and black pants and has scruffy facial hair on his chin. He is soft-spoken and smiley and even a little bit shy. In June, he married Thomas Tolan, who works in advertising, on the roof of the Gramercy Park Hotel, and he's just returned from his honeymoon in French Polynesia. He is tan, and still dreamy-eyed. His wedding ring is without scratches or dings, and he shows off a stack of photographs taken with a disposable underwater camera. Everything about the place feels somehow off the fashion grid. It's a small studio: Rodriguez works with a design staff of just three. Everything he produces is touched, at one point or another, by Rodriguez himself.
"Lately so much of fashion has been about being a celebrity," says Rodriguez, who knows that he will never be that kind of designer. "I was speaking to a bunch of students at Parsons recently and this girl kept saying, 'I'm going to take over Donna Karan and reinvent it!' It just feels like fashion has become about branding and being famous. When I got out of school I wanted to work for Donna Karan because I idolized the way that she draped. I idolized that her clothes were useful, functional, and beautiful. I wanted to work there because I had a great respect for her. I certainly did not want to reinvent Donna Karan."
Rodriguez has always taken his inspiration from the same set of things: He likes numbers but he hates math. What he really likes is urban life, imagining how women move through it. And he'd be fine with a world in which everything was black and white, not least because it makes it far more exciting when color does appear, in splashes and pops. "I never go with a theme or stick to a single inspiration. I'm not interested in how things are packaged or branded, or more about the styling than the design of the product itself," he says. His hero is Azzedine Alaïa, another designer with a consistent aesthetic who has maintained his independence to a degree that Rodriguez never could (Alaïa only shows when he feels like showing), and if he thinks about anyone when he's working, that's who it is.
Rodriguez grew up in New Jersey, the son of Cuban immigrants. As a student he was particularly taken with graphic design—"how planes and materials come together to make a third thing." His first job out of school was for Donna Karan and Louis Dell'Olio at Anne Klein, a time he describes as utopian. "They just hired all kinds of artists to come together and create," he says. He designed coats, swimwear, and furs, and eventually moved to Calvin Klein, a fairly obvious fit aesthetically. There, he met Carolyn Bessette, and then came That Dress, and almost immediately he was offered production assistance from the Italian fashion company Aeffe. He leapt. "It was a different time," he says, "there weren't 100 new brands a year, and I had this opportunity to eliminate production issues." But he was still his own backer, and so he signed a deal to design for the Spanish leather-goods company Loewe, owned by LVMH, which meant lots of time moving between New York, Paris, and Madrid.
"I was living out of a suitcase for six years. I was very young, and I was very lonely. I was on my own, I was depressed. It sounds glamorous from the outside, but when you're really in it, it's like, who wants to live like that?" During a trip through New York, he'd sat down with Bessette and told her how horrible he was feeling, that he couldn't maintain friendships with his life as it was. Shortly after that conversation, she died. "I needed to come home," he says.
He left Loewe in 2001, came back to New York, and continued his relationship with Aeffe. In 2007, after several years of fitful discussions, he made a deal with Liz Claiborne. It was like a marriage out of Henry James: The big brand (worth about $4 billion) wanted Rodriguez's design credibility, and Rodriguez wanted financial stability. "I saw it as an opportunity," he says. But the reality was culture shock. Neither side was happy; the poles were ultimately too far apart. After a year and a half, the deal ended. Rodriguez took a lot of the money he'd been paid to join Claiborne and used it to buy back the right to use his own name.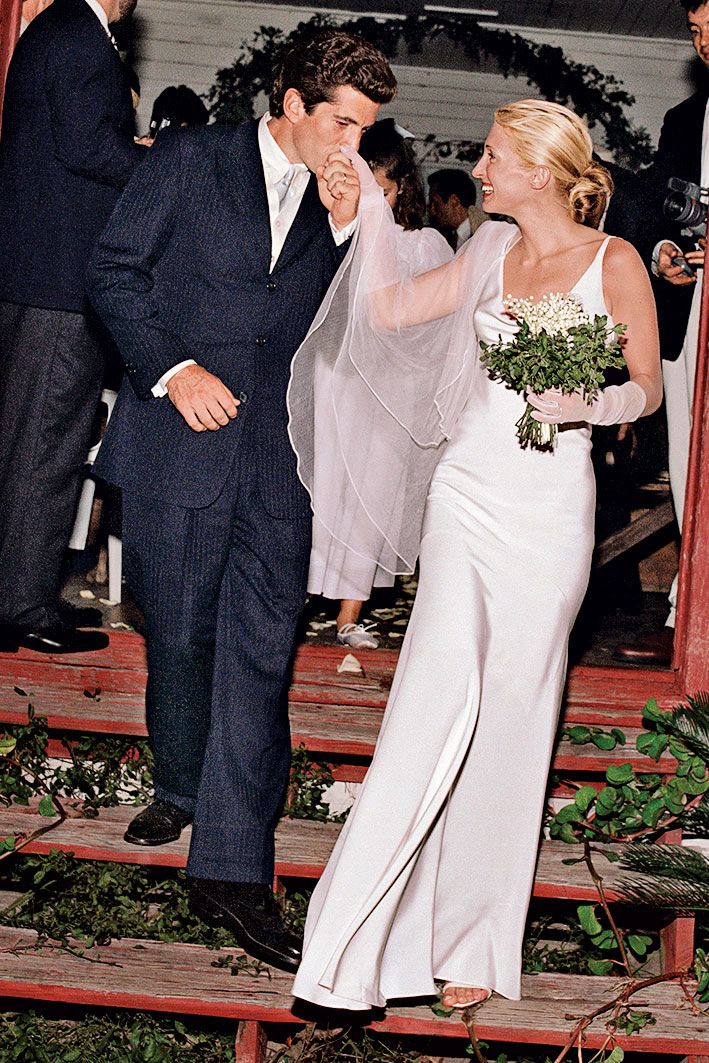 He thought perhaps he'd run the company himself. He'd had a great deal of success with a fragrance license signed in 2001 (it's called For Her, smells like musk, and comes in pale-pink or black bottles with his name in simple type), and, with that revenue, tried to keep things going.
But he longed for what he calls his "own Robert Duffy." (Duffy is Marc Jacobs's longtime business partner.) He was introduced to Bob Wichser, a legendary Seventh Avenue "fixer." He came on as a consultant for several months, and then essentially became the CEO for roughly a year. He left to take over John Varvatos, but quickly came back.
Wichser thinks he knows what went wrong at Claiborne. "There wasn't enough money," he says. "The work environment wasn't creative. Nobody was listening to him, motivating him, making him feel good about himself. It was very painful for him. He couldn't focus."
To be independent is one thing when you're a small brand out of Bushwick. It's another thing when you want to sell globally. Wichser started weekly meetings between departments. Deadlines would be enforced in order to ensure earlier shipping dates (which means that merchandise is on the floor at full price for longer). But mostly, someone else would think about the big picture so Rodriguez could sit on a dock and sketch.
Wichser and Rodriguez are practical. They recognize that a little strategic contact with the larger corporate world might serve their cause. Last year, they launched a plan for growing the business while remaining independent. As part of that plan, they made a conscious choice to pursue collaborations in the mass market. What Rodriguez might lose in snob appeal he would make up in capital that could be sunk right back into his business. He's consulting for Banana Republic. He did a capsule collection for Kohl's. He signed a endorsement deal with Woolmark, which means he's now committed to endorsing and promoting the virtues of merino wool.
"Look," says Wichser. "The cost of running a designer business is high and we are self-funded. We like the independence, we like the control, so yes, these things are about broadening our reach, but they also bring in capital for us to keep going."
Rodriguez is also putting time and money into his accessories collections. His first line of bags debuted last year—they are predictably simple: logo-free envelope clutches in soft, grainy colorblocked leather—and shoes as well: a sharp ankle boot, a stiletto with a crisscrossed front.
Six weeks before his next show and Rodriguez is walking through his studio. The fashion calendar is such that one season has barely ended when another begins, and an assistant is packing up the resort collection that has only just been shown. Rodriguez is developing new fabrics: layering textures and colors, experimenting. He touches a jacket hanging by a seamstress: a tuxedo jacket in a stiff, thick silk. The shoulders are narrow, as are the sleeves. The only immediately apparent deviations are two seams bisecting its front. It's a forever jacket.
"I mean, I want this," he says, pausing to touch it. "Everyone here wants this. It's the covet factor. That's how I measure things. If everyone around here wants it, then I know I'm doing something right."
*This article originally appeared in the August 19, 2013 issue of New York Magazine.