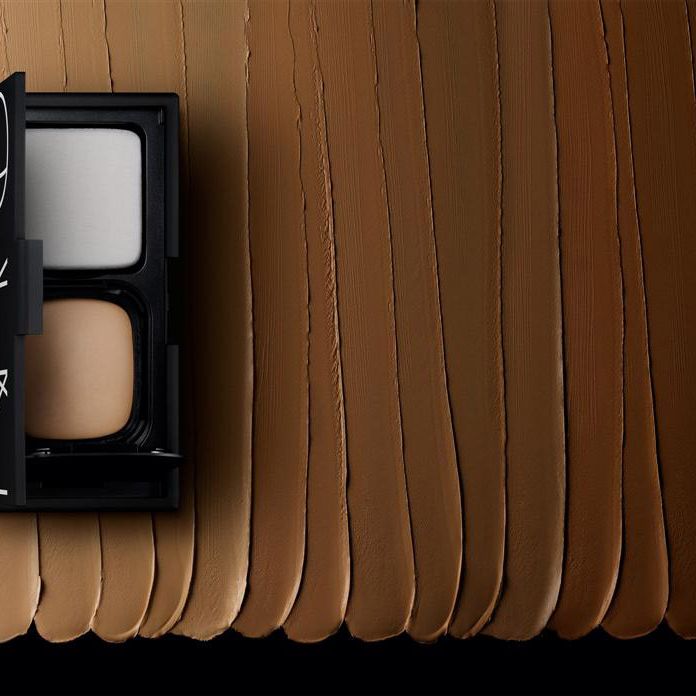 When choosing a foundation for my skin type (dry and drier), I often opt for a sheer, liquid-y tinted moisturizer. But I am also a sucker for Nars's matte black packaging, so when I received a shipment of their newest Radiant Cream Compact foundation, I decided to give it a go. Out of the twenty shades available — from porcelain to espresso — I selected Santa Fe, a medium peachy-beige, and experimented with different application techniques to help me get over my bias against compact foundations.
Day 1. I swirled the sponge around in the soft, creamy compact and applied the pigment directly to my face. The formulation was too thick for my skin (I don't require full coverage) and the cream appeared to get caught in my pores. The sponge also dragged across my face and clung to a few dry patches on my forehead. If you require a more full-coverage look and have smooth, well-hydrated skin then this formulation and application technique is probably more appropriate for you.
Day 2. For a sheer, more luminous application, I decided to dampen the sponge with water before dipping it into the compact. This technique gave my skin a more glowing effect with medium to light coverage, but the foundation still clung to the archipelago of dry skin on my forehead. I was 95 percent of the way to a perfect finish.
Day 3. I don't often need to use my primer during the summer months (it's a must during the winter when my dry skin is at its driest), but I decided to layer it on my forehead, right between my brows, to provide a smoother surface for the foundation. Sure enough, after applying the pigment this time with a damp sponge, my complexion looked luminous, smooth, and seamless. My dry patches were virtually invisible. However, I'm not completely convinced enough to switch from tinted moisturizer, mainly because I don't like requiring another primer step if I don't necessarily need it with other liquid formulations.
The foundation itself feels most lightweight when applied with a damp sponge and lasts the entire day without flaking off or further drying your skin, possibly owing to the brand's proprietary "advanced emulsion technology," which is meant to boost moisture levels by 80 percent after twelve hours of wear. The formula doesn't get caught or pool up in the fine lines around the eyes, and in fact, the addition of water should slightly diminish the appearance of these crinkles. Also, buy the compact once and you'll never need another, since each pot of color is refillable.
Check out our list of all the best foundations for dry skin.