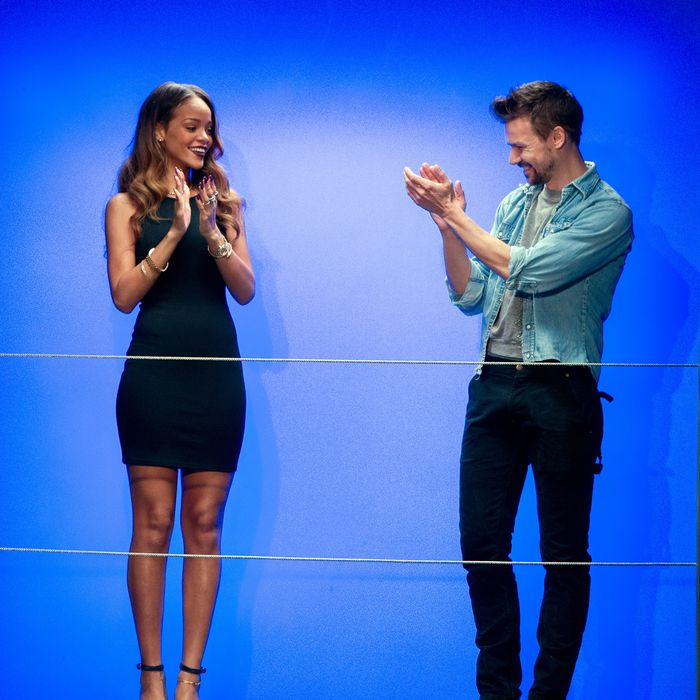 Rihanna and Adam Selman.
Photo: Nick Harvey/2013 Nick Harvey
Once upon a time, Adam Selman was just a freelance designer who happened to be dating Rihanna's stylist Mel Ottenberg. He made clothes with another, then-more-famous designer named Zaldy for Michael Jackson, Gwen Stefani, and Lady Gaga. Then Ottenberg invited Selman to help him with Rihanna's Loud tour in 2011, and the trio has worked together ever since. (Imagine being in a throuple with Rihanna and her carnival bikinis! No one would ever get any sleep.) Selman is now best known as the co-designer for Rihanna's River Island line, which debuted two seasons ago with a splashy, celebrity-studded show at London Fashion Week. 
A few days ago, a surprising e-mail popped up: Adam Selman is presenting his first women's ready-to-wear collection on September 5 in New York. According to an interview in today's WWD, Ottenberg will style the collection, and Jen Brill (former girlfriend of Terry Richardson and generally fun human being) is their creative consultant. So how exactly will these clothes be different from the ones Selman makes with Rihanna? Based on WWD's description, it's a hard to tell:
Two of his main points of reference are the 1981 HBO special on supermodels called "Beautiful Baby, Beautiful" and the soft-focus sexpot glamour of Seventies Francesco Scavullo Cosmopolitan magazine covers. "It's sexy. It's that fantasy woman but it's also sporty," said Selman, surrounded by examples of vintage Cosmo covers, the models tan, toned and mostly clad in some form of spandex. "I really respond to that."
So, tight and soft-porny? Sounds fun! The most obvious departure from the River Island designs is the price point — Selman is hoping to be picked up by retailers like Net-a-Porter and Barneys, and imagines that his dresses will cost around $400. But let's get to the point: Does this mean Rihanna is coming to New York Fashion Week?