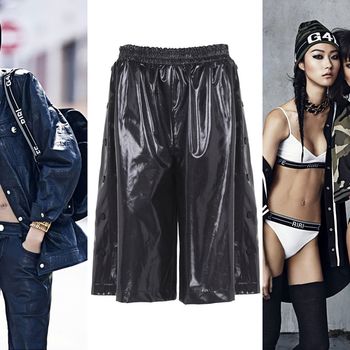 Rihanna's new collection.
Images of Rihanna's fall-winter collection for River Island came out on British Vogue's website today, and as promised, there's lots of camouflage prints and very little midriff coverage. Co-designer Adam Selman admitted in July that they had trouble envisioning winter clothes, as Rihanna prefers warm climates and nudity. But it seems they've made do with layering summer items on top of one another, adding beanie hats and the occasional knee sock, and calling it a day. Exposed thighs aren't so bad when it's snowing, right?
Common motifs of the new collection, i.e. how you'll be able to tell when someone's wearing it: Many sweatshirts, tees, waistbands, and hats feature a G4LIFE logo, as well as "RiRi." (Should you be interested in its origin, G4LIFE references Rihanna's song, "G4L," or "Gangster for life," as well as a reggae artist named Ñengo Flow who made mixtapes under the name Real G4 Life.) Other notable pieces include multiple crop tops, sweaters with lots of fabric missing, a striped onesie, and a pair of culottes that appear to be made of a garbage bag. While the success of her debut summer collection is still debatable, those clothes were certainly better than these.