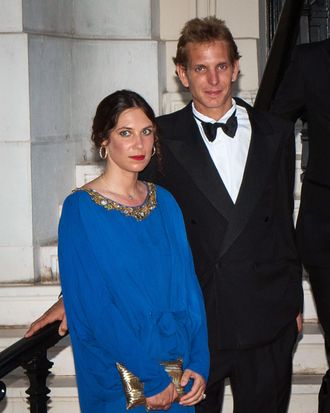 Tatiana Santo Domingo and Andrea Casiraghi.
Photo: Didier Baverel/Getty Images
It's the stuff of arranged marriages: Andrea Casiraghi, the son of Princess Caroline of Monaco and second in line to the Monegasque throne (also, grandson of Grace Kelly), will marry heiress Tatiana Santo Domingo, descendant of the Colombian billionaire family that includes Andrés Santo Domingo (husband of Lauren Santo Domingo) on August 31. You follow? Well, suffice it to say that this wedding will make Kate Middle-whatever's look like a City Hall shotgun ceremony.
To provide some context: When Andrés and Lauren Santo Domingo married in 2008, Vogue deemed it "the wedding of the year" and featured a ten-page spread on the affair. Lauren's nine bridesmaids each wore a dress made by a different designer, and the bride wore two different custom dresses by Olivier Theyskens for Nina Ricci.
This year's Santo Domingo wedding will have the added pomp and circumstance of actual royalty, not just the fashion kind, although Charlotte Casiraghi (Andrea's sister) is a face of Gucci, so technically counts as both. Here's all we know about it so far, from People:
"The wedding will occur on Aug. 31," a spokesperson for Monaco's Pink Palace tells PEOPLE. "It will be a private ceremony." 
"Private" meaning only Vogue — and/or Vanity Fair — will be allowed to photograph it. Should you already have your knickers in a twist over gifts (yes, plural, because you can't buy them just one) for the bride and groom who have more than everything, don't worry: We've always got your back.