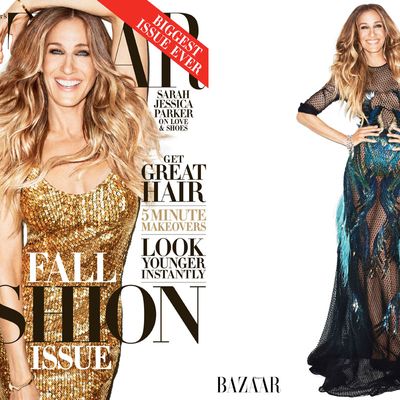 Photo: Courtesy of Harper's Bazaar
Sarah Jessica Parker is on the cover Harper's Bazaar's big September issue in a Marc Jacobs dress, photographed by Terry Richardson. Parker, a natural fashion-issue cover selection, talked all about her fashion career with Cathy Horyn, focusing on her major new collaboration — designing for Manolo Blahnik. Exciting! And surprising that it took this long post–Sex and the City for the partnership to materialize. The Parker-Manolo collaboration will feature "feminine shapes" and "unusual color combinations," writes Horyn.
Parker, who approached Manolo with the idea for the line, has previous design experience, which was probably a selling point for the company. She served as "president and chief creative officer" of Halston Heritage back in 2010 and 2011, though she reveals that the failed partnership wasn't exactly fruitful. At all. "I really did work for free," she told Harper's. Celebs like Sean Avery, Lady Gaga, and Kanye have all dabbled in free internships for exposure to the biz, but Parker had an important title at a major brand. Considering the enduring SATC fascination, the collection will probably sell pretty fast. Let's hope Parker gets a paycheck this time!