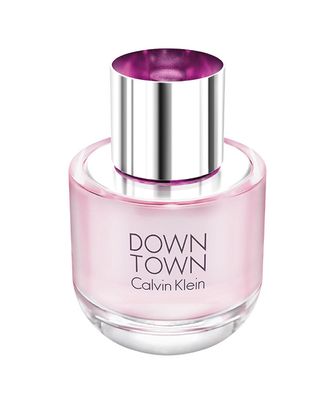 Photo: Courtesy of Calvin Klein
Rooney Mara, the reigning alabaster-skinned queen of some dark underworld of "cool" (where only black, navy, or white articles of clothing harmoniously exist), was announced as the face of Calvin Klein's new fragrance called Downtown in May. She's since starred in two black-and-white campaigns for the edgy new juice for the urban girl, one of which is a short film directed by The Girl With the Dragon Tattoo's David Fincher, in which Mara looks artful and pensive as she drinks coffee, takes the subway, twirls in the rain, smiles, and even eagerly approaches a puppy.
Considering Mara's general aversion to bright colors, one might expect the fragrance to be encased in a black, androgynous-looking, elegantly structured bottle. But surprise! Downtown lives in a feminine, light-pink, stout, curved bottle, topped with a silver hollow cap that emanates an even bolder fuchsia from within. While the pink overload doesn't exactly jell with Mara's demeanor, the scent is light and sophisticated. It blends together soft floral notes of gardenia with warmer smells like cedarwood and incense, plus sweet pears and plums and a dash of velvet musk — that'd be a perfect daytime scent to wear to a (boozy) brunch with girlfriends or a carefree bike ride in the park. Come September, the bottles will be available at department stores all over the nation. In the spirit of Mara, spritz it on the next time you're wearing a monochrome outfit — it'll add the perfect amount of phantom pink to your look.