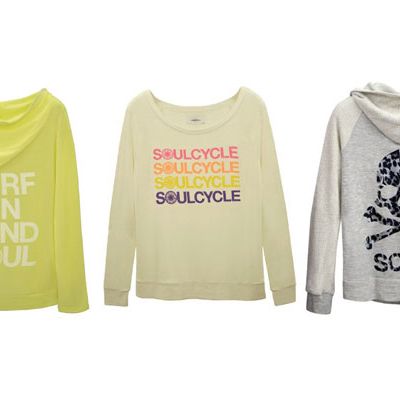 SoulCycle sweatshirts.
Photo: Soul-cycle.com
Many people who go to SoulCycle are at least a little embarrassed about spending so much money to work out. "I know, it's so expensive," they say, hemming and hawing about how the studio is just so conveniently located or changing the subject to that one time they saw Katie Holmes in class. But in truth, the price of the class is nothing compared to the price of the clothes you must purchase there if you've forgotten a sports bra or, god forbid, socks. It's a real catch-22: Either cancel your reservation and lose $34, or grit your teeth and shell out $7 for one pair of outrageously colored hosiery.
Still, like the rest of SoulCycle's rapidly growing empire, the company's apparel arm is doing great business. It's unclear whether this is because people really want to broadcast their SoulCycle habit to the world or if they just find themselves in workout-clothes emergencies — see above, with the socks, or perhaps in another scenario when they're so sweaty post-class that they simply must buy themselves an extra shirt to walk home. Or maybe the exercise endorphins make them want to shop some more: "Hell, I just spent $34 for a 45-minute workout! Why should I deny myself a pink pullover with a silver heart on it for $78?"
WWD reports today that SoulCycle is expanding their retail offerings, and plans to launch "a whole retail component" to the website in September. The exact details of said "component" are still a secret, but we do know that they've recently added zebra-print pants to their collection and pledged to keep smaller sizes in stock (shocker — the extra-smalls and smalls always sell out first).
In other words, you'll just see even more people walking around in yellow-wheel gear this fall than ever. Most of them will do so in the middle of the workday and make you bitter and jealous because, (a) you're out of shape, and (b) who gets time to work out at 2 p.m. on a Monday?! And then, when you finally do drag yourself in for that 6 a.m. class, you'll forget your socks again, hate yourself even more, and curse the geniuses who came up with SoulCycle as you fish for your wallet.