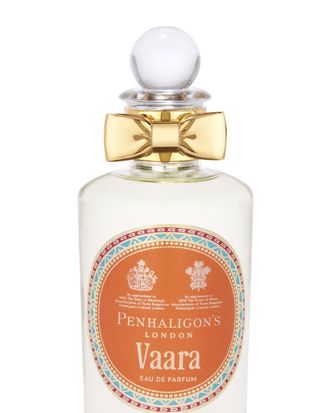 British fragrance house Penhaligon's had to travel to Jodhpur, India, for its newest perfume creation, Vaara, because that's what you do when a perfume is commissioned by a maharaja. While official titles and privileges no longer exist, Gaj Singh II (once called His Highness Maharaja) still wanted to commemorate the royal-ish birth of his granddaughter, Vaara.
Taking inspiration from the family's summer palace, Balsamand, the scent blends deep florals with other garden and marketplace elements specific to India, like accents of rose (Bulgarian and Moroccan), Indian magnolia, peony, iris, carrot seed, coriander, and, of course, saffron notes. But what will really take you away to a far-off land are the rich, elegant scents of white musk, cedarwood, sandalwood, and tonka bean.
And while all of that might sound like a rather heavy dose of perfume, the scent, much like its spirited orange label, is actually more floral than spicy — more zesty than overwhelming. We can't say for sure if it matches little Vaara's personality, but if so, we'd like to know her.