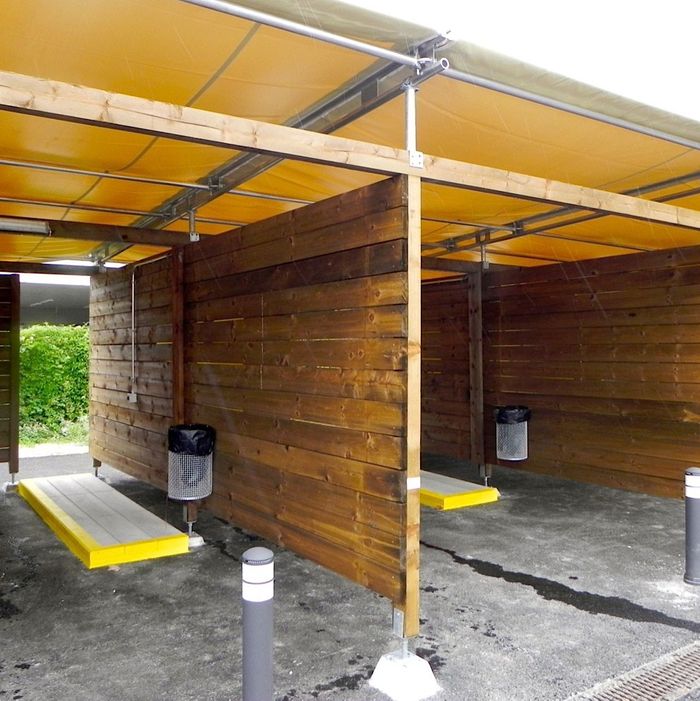 Photo: John Heilprin/Corbis
On Monday, the Swiss introduced us to a novel concept: the "sex box." No, it's not a Hello Flo–style sex-toy-and-chocolate subscription service (but, yes, obviously, that exists). It's a surprisingly attractive teak-colored wooden garage the city of Zurich hopes will improve the sanitation and safety of its legal sex trade. 
In an effort to take prostitution off the street and away from the crime syndicates that traffic illegally out of massage parlors, USA Today reports, Zurich has spent $2.6 million on a prostitution park outside the city. There is a sidewalk area where customers can negotiate with sex workers before pulling into one of the park's nine sex boxes. To work inside the park, which is open from 7 p.m. to 5 a.m., sex workers need a $43 annual permit and must pay $5.40 in nightly taxes to offset maintenance costs. For their security, there are panic buttons and on-site social workers.
Modeled after drive-in brothels in Germany and the Netherlands, the facilities include outdoor bathrooms "in soft pink and blue," "small cafe tables," strings of "colorful light bulbs among trees," and "creative signs encouraging the use of condoms." Sounds idyllic, right? Judging from the pictures, it looks like a nice place to, if not have unpaid sex, at least throw an outdoor birthday party or something.