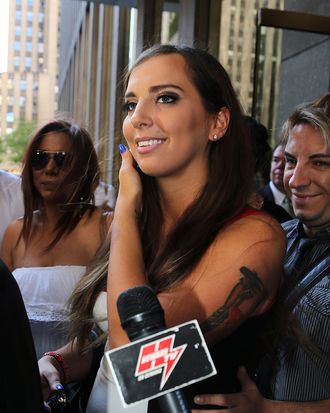 Photo: Aaron St. Clair/Splash News
Sydney Leathers is on xoJane today, annotating her chats with Carlos Danger, a.k.a. former congressman, now mayoral candidate Anthony Weiner, to provide politician seduction tips, she writes, "in case anyone wants to be as stupid as I was." Before getting into it, Leathers reiterates her claim that Weiner is lying about the duration of their affair, since he was in contact with her after his big Times Magazine profile came out in April. "Anthony says he hasn't been cheating on Huma for six months," she writes. "Wrong. He last contacted me as recently as April 12. Straight up lies." (Does checking in on the ticking time bomb in your past count as cheating? Or was it more than that?)
Otherwise, the Indiana 23-year-old seems pretty much over last month's heartbreak, betrayal, and disgust. Equal parts self-deprecating and shameless, Leathers name-checks Maureen Dowd, Thomas Roberts, and The 48 Laws of Power, mocks Weiner for repeatedly thanking her for phone sex ("It's hard sometimes, but you have to keep a straight face"), and deems all politicians "the biggest attention whores you will ever meet." Not having seen Weinergate '13, it seems Leathers is better suited to sex blogging than her other gigs in porn, leather modeling, or the tanning industry. She's a natural. It's absolutely worth reading in full, but here are some of my favorite lines:
Sydney Leathers on the morality of sexting:
Why does having a sexting affair with a married man or even doing porn make someone a "bad person"? Give me a break. I'm not a war criminal.
On sexting critics:
To Maureen Dowd and every other woman who thinks she knows anything about me — or anything about feminism for that matter — you don't.

[…]

Don't read the negative comments or tweets. You just kind of have to own it and be honest and keep your head up no matter what people think of you.
On the economics of sexting:
With a politician, you have to remember: You're probably not going to get money. You're in it for the thrill of it … So definitely: Find a horny non-politician to finance your politician sexting.
On the theatrics of sexting:
And don't be too proud for selfies … Do things that aren't normal. Like I don't care if it's porno lashes or big heels in bed, just do it.