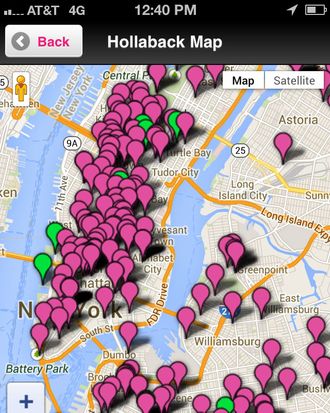 Somewhere between 70 and 90 percent of women experience street sexual harassment, so I guess it's not surprising that there's now an app for it. It's called Hollaback, and it was unveiled by New York City Council speaker Christine Quinn yesterday. The smartphone app allows users to report harassment in real time, planting a purple flag in a virtual map of harassment incidents. There's an option to send the data to the City Council and the mayor's office, so they can identify short-skirt threat zones. Just kidding. The goal is to "engage legislators to work with our trained leaders," Hollaback's website explains, prescribing something called a community safety audit.
Hollaback is founded on the logical premise that cat calls are not sincere mating calls, and are instead a way to make people (usually women or LGBT people) feel vulnerable or unwelcome. Hollaback founder Emily May told Vice, "[Street harassment] serves to keep people in their place and remind them, 'These aren't your streets, these are my streets, you're not allowed to be who you are.'" 

"Reporting [street harassment] takes back your power," Quinn reportedly said, "and says 'What happens to me on the streets matters, and I'm going to let the city of New York and Hollaback know it happened to me.'"
"With each report that you make, you will make New York City a little more intolerant of the hate that underlies street harassment," May said.
Hollaback asks users not to provide racial information about incidents, "due in part to prevalent stereotypes of men of color as sexual predators or predisposed to violence." "Replacing sexism with racism is not a proper hollaback," the site states. That's a straightforward prescription for racial issues, but the class issues involved in street harassment seem stickier.
Street harassment happens everywhere, but it is most heavily reported, according to the Daily News, in the recently gentrified neighborhoods of Lower Manhattan and West Brooklyn. Quinn unveiled the app outside a subway stop in Bushwick. Women who get hollered at in gentrifying Brooklyn (and want to report it via their smartphones) might feel unwelcome on the streets for reasons more complicated than some men's outdated belief that women don't belong in public alone.
As one such woman, I've recently received (among cruder remarks) one suggestive "Welcome to the neighborhood" and one basically impersonal "Damn, I'm going to make one of you white girls moving in my girlfriend." (I've lived in my neighborhood for almost three years.) I didn't feel threatened; I felt conflicted about what my arrival in the neighborhood means for the people who already live there. Is there an app for that?