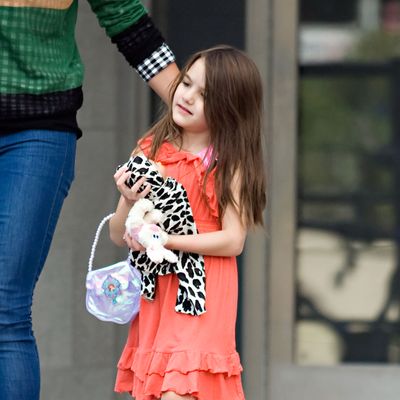 Photo: Jason Webber/Splash News
Suri Cruise has been wearing kitten heels since the age of 3 and graduated to peep-toe heels by the following year. For a moment, it seemed that the pre-kindergarden wearing of heels would just be her thing, or at the least limited to the type of children who carry $850 Ferragamo bags (again, pretty much just Suri Cruise). But as the New York Times reports today, Suri has spawned an army of mini-trendsetters who are demanding pint-sized stilettos. And no, these are not little girls shuffling around in their mom's heels; they have their own, surprisingly profitable corner of the market. Steve Madden is selling out of sneaker wedges for 11-year-olds; higher-end brands like Michael by Michael Kors and Stuart Weitzman are offering espadrilles and heeled sandals, and also selling mommy-daughter sets.
While the average heel height is about 1.75 inches, there might be some serious consequences later on in life: A psychologist cited in the article worries about the results of such early sexualization, while the orthopedic surgeon quoted frets about potential spinal fractures and all other sorts of terrifying conditions that can affect developing bodies. But the trend is still so new, nobody really has any clue what the psychological or physical results will be on a generation of kids who have worn heels since 3. In the meantime, someone get Suri some flats.