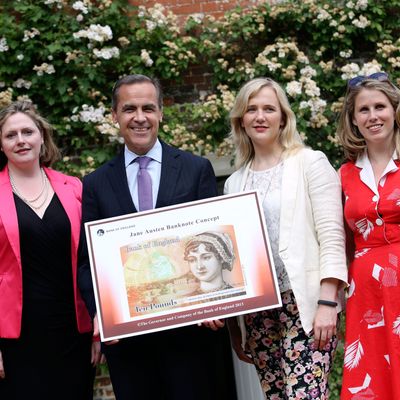 What's with this Twitter boycott?
It's less a boycott than a 24-hour walkout in solidarity with Caroline Criado-Perez.
Who is Caroline Criado-Perez?
A 28-year-old U.K. feminist activist and freelance journalist (above, far right). She successfully campaigned to make sure one non-royal woman would be featured on the redesigned British banknotes, Jane Austen, and then began receiving death and rape threats about every minute for the next 48 hours.
Like what kind of rape threats?
Okay, sicko. Criado-Perez sampled them in the Independent:
"Everyone jump on the rape train > @CCriadoPerez is conductor"; "Ain't no brakes where we're going"; "Wouldn't mind tying this bitch to my stove. Hey sweetheart, give me a shout when you're ready to be put in your place"; "So looking forward to titty fucking you later tonight"
What do these trolls have against Pride and Prejudice?
Nothing, except inasmuch as Austen, like Criado-Perez, was a woman who dared to speak in public. "It is a problem involving a certain type of man who can't cope with a woman being vocal and being in the public eye," Criado-Perez told the Independent. "They deal with it by shutting women up with threats of sexual violence. It is nothing new, it has been going on for millennia; this is just its most recent incarnation."
American feminists get rape threats on Twitter all the time. Why do people care over there?
Criado-Perez has a prominent supporter in MP Stella Creasy (above, near right). A rising Labour Party star, Creasy organized parliamentary support for the Austen banknote. After coming to Criado-Perez's defense, she was subjected to similar threats, as was Tory MP Claire Perry. Creasy bantered with some of her abusers and reported others to the police, all while making the media rounds, debating writer Toby Young about the legitimacy of these violent threats.
They take this stuff seriously in the U.K. At least two trolls have been arrested so far, and police are investigating bomb threats, which a number of female journalists covering the controversy have received. Also, there's the precedent of the 2011 London riots, when some people were arrested for inciting violence on Twitter.
What do we want?
A "Report Abuse" button, conveniently located on a Twitter user's page, that alerts the social network to users who violate its rules by threatening to rape and kill people, according to a Change.org petition that's been signed by more than 120,000 people.
When do we want it?
We wanted it like a week ago. We got it Monday.
So then what are we still protesting?
In short, the cynicism of all the smart-aleck, overwhelmingly male tech commentators saying a "report abuse" button is less important than the freedom of speech, and that rape threats are an inevitable form of speech, and women should just deal with it, block people, "not feed the trolls," etc. Or so says Caitlin Moran, author of How to Be a Woman, and another prominent supporter of Criado-Perez.
Why Sunday?
August 4 is International Friendship Day, apparently.
Do people normally tweet on Sundays?
You'd be surprised.