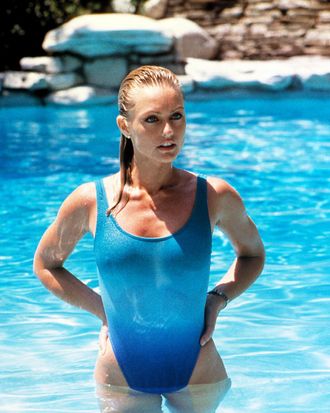 Photo: New World Releasing/Courtesy Everett Collection
Once in a while, we get to write something that leaves a lasting impact on our community. It seems our open letter to Jenna Lyons, begging for her to resurrect J.Crew's perfect scoop-back tank swimsuit of yore, may have been one of those rare times. Yesterday, I received this e-mail from Ms. Lyons, true to J.Crew's reputation for customer interaction:
Dear Jenni–

We love your letter!!  Brilliant.

Once I read it we quickly sent out an APB to our product and design teams.  You are not alone in your affinity for this particular swimsuit style…. I can personally say, I used to own it too.

Hoping we can put a stop to your search as we are looking at bringing a similar style back into our mix for next summer.  I will keep you posted as to when it will arrive.

I really do appreciate your letter– could never have described that swimsuit better and it is a great reminder to us all that we still have some relics from our past collections that are worth revisiting.

Best,

Jenna
To Jenna: Thank you for your consideration in this matter. To the rest of you one-piece devotees out there: You're welcome.