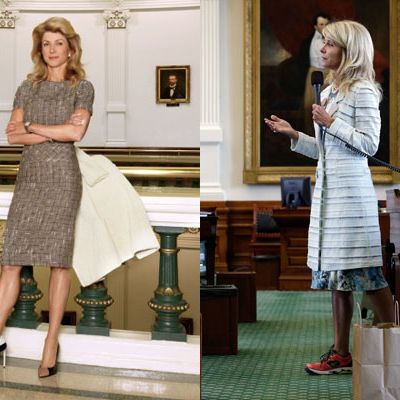 Photo: Eric Boman/Vogue, AP/Corbis
As was inevitable for the female politician whose name is most likely to appear near the word shoes, Texas state senator Wendy Davis — of #StandWithWendy filibuster fame — is now in Vogue. The profile, which appears in the magazine's September issue, recounts the shockingly accomplished Davis's life story, from teen motherhood to Harvard Law School to reproductive-rights superhero inspiring speculation as to whether Texas can "go purple." In the accompanying photo shoot (above left), she trades her pink filibuster sneakers (above right) for Reed Krakoff pumps and a Carolina Herrera dress.
We meet Wendy's sisters, mother, boyfriend (and former Austin mayor) Will Wynn, and ex-husband Jeff Davis, the local politician who sparked her interest in politics. "Jeff is one of my role models," she says.
Writer Heidi Mitchell accompanies Davis to a July 4 parade, where Wendy "waves from the back of a teal-blue vintage Thunderbird … wearing an American-flag scarf from Urban Outfitters, a white tank top, blue-striped linen shorts, and red Toms slip-ons." She is "happy in Lululemon, with a glass of red wine, watching HGTV," but " loves to put on something nice, dresses by Chloé and Victoria Beckham, and Miu Miu heels or Louboutins." If this all sounds suspiciously cool for a politician, fear not. Wendy Davis is still capable of confusion. From the profile's final paragraph, emphasis mine:
Wendy Davis is smart. She can see the chess game five moves out. She understands that the media enthusiasm — the Internet meme of her as Daenerys Targaryen from Game of Thrones with a dragon on her shoulder ("I really don't get that. What is a meme?" she wonders); the appearances on Sunday talk shows; the blog examining her Barbie-doll looks—will pass. And she's also realistic: To be a Democrat in Texas anywhere but in the urban centers is to be an outlier. Last year, Obama took only 26 of the state's 254 counties. But that doesn't mean she isn't raring for a fight.
Then again, it's probably cooler that she doesn't get it. Anyway, two causes for celebration: Wendy Davis's ongoing awesomeness, and Game of Thrones super-fans getting a shout-out in Vogue.