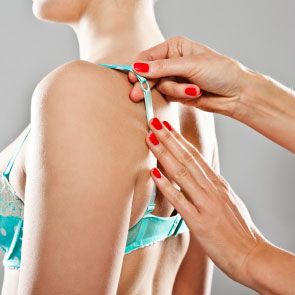 Dubai-based entrepreneur Alex Tohme is launching the first underwear shopping blog and e-commerce platform in the Middle East, reports The Atlantic. On Amourah.com, women can get advice on bra problems and purchase lingerie in a safe place. Tohme, who blogs bluntly and openly on the site about her experiences as a woman entrepreneur, has met significant resistance from men who think "women empowerment won't work" —  but even so, she's been able to push boundaries. "I think it's the first time anyone actually showed their boobs in a bra in this region!" she says. "But I'm still alive and haven't been arrested." 
As surprising as it seems that Tohme can blog safely about lingerie-based empowerment in the Middle East, her success would be impressive no matter where she was based. As author Christopher  Schroeder points out, Silicon Valley is home to plenty of homegrown and pervasive sexism. 

While only 8.9 percent of the proposals presented to Valley angel investors are by women, 35 percent or more of the entrepreneurs in the Middle East are women. And in 2012, 48 percent of teams that entered the Middle East MIT Business Plan Competition included women. "How many Silicon Valley competitions can say that?" asked Hala Fadel, who organizes the yearly event. Women in Saudi Arabia aren't even allowed to drive, so it's pretty amazing that their tech scene might actually turn into an environment in which women can thrive, own businesses, and use platforms to address women's issues and empowerment. Maybe we're about to get the Middle East's answer to Lean In?