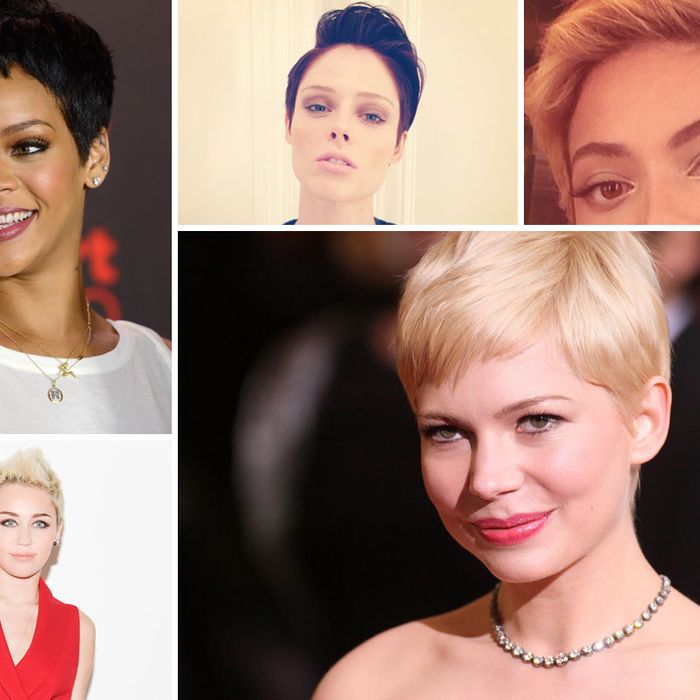 By now you've probably heard: Short haircuts are happening. Everywhere. From the September Vogue Paris cover, to Coco Rocha's Instagram in real time, to Rihanna, who went short a few weeks ago. And if there are other life forms out there in the universe, I'm sure even they have heard about Beyoncé's pixie cut, polled their colonies for their citizens' opinions, and put forth multiple theories about why she did it.
But as a short-haired woman for the past two years, I've been watching the pixie hysteria unfold with some level of bemusement. I was never that comfortable with long hair on myself. The longest I've had it is to my shoulders, and the bob is sort of my sweet spot. But in the early nineties, I was really into Depeche Mode and wanted to date someone with Martin Gore hair. I was not attracted to Gore himself — too asexual. But I loved his hair and I finally decided that if I couldn't date his hair, then I would have his hair. This led to years of various bowl cuts, mousse experiments, and sometimes tears. But it's still the ideal to which I aspire. In the meantime, if you're considering chopping all of your hair off, I'd like to share a few things I've learned:
It's Not Sexy and Men Hate It
After Bey cut her hair, I got a press release from the appalling dating site WhatsYourPrice.com, wherein people bid to go on dates with you and you get to keep the money. Men there bid about 40 percent less on women with hair above their shoulders than on women with hair below their shoulders. Now, I actually take that as a compliment, because I'd definitely rather have a man who knows the value of a dollar and doesn't squander it all on long-haired bimbos. (I kid! It's not your fault, my long-tressed sisters, that your hair makes men want to have babies with you.)
My husband met me when I had short hair and claims to like it. I'll just have to take him at his word. I'm pretty sure Linda Evangelista, another nineties hair idol of mine who frequently chopped her hair, never had any problem getting a man into her bed. Miley Cyrus was recently No. 1 on the Maxim hot list, an honor rarely bestowed on ladies without classic bombshell hair, which Miley pointed out.
Dumb People Will Probably Assume You Are a Lesbian
Because, Ellen. Someone recently told me that I look like Ellen, actually. (If only I could get my tousle as perfect as hers.) My college-age nephews used to call me Uncle Cheryl as a joke when I first cut my hair. Ah, Midwestern 19-year-old humor!
Or That You Are Going Through a Life Phase of Some Sort
By the fall, I'm quite certain colleges will be offering psychology courses about Beyoncé's cut, which you can only take after you pass Michelle Obama's Bangs 101 and Lady Gaga's Beauty Bi-polarism 201. Stylist and author Lauren Rothman told the the Washington Post, "It's the end of the Mrs. Carter Tour and she's really getting into motherhood and the throes of her 30s, or it could be the expression of a significant life change we may not know about." I actually sort of buy this explanation. Women make changes to their appearance when change occurs in their lives or when they think they need something different. (Or, you know, when they get their weave stuck in a fan.) Hence the dreaded "breakup bangs" phenomenon. And remember how Emma Watson cut her hair after Harry Potter was over to make a statement of emancipation? Michelle Williams, my own personal short hair hero, is growing hers out, and it might be because she's finally ready to move on from Heath Ledger, who supposedly loved her with short hair.
Finally, People Think You're Really Brave to Go That Short
Buzzfeed published a list of things you should never say to a woman with short hair, and they all involve some sort of backhanded compliment. I've heard every single one of them, and I noticed this happening with people's reactions to Beyoncé's cut, too. They wrote things like "Beyoncé could walk around with bird droppings on her head and she'd look hot!" The implicit message being that the cut is the equivalent of guano?
I like having short hair. The fact that celebs are embracing the cut is a bit of a double-edged sword, though. For a while I heard, "Oh, you have the Miley!" (Is that a compliment? Unclear.) But maybe it will make it less scary for other, non-celebrity women to try. The cut is a real confidence builder, because you don't have any hair to hide behind. It's just your cheekbones against the world.
Do I sometimes wish I could just wake up one morning with long hair and avoid the painful growing-out process? Yes. Mostly because I want to try one of those Game of Thrones Khaleesi braid tutorials.