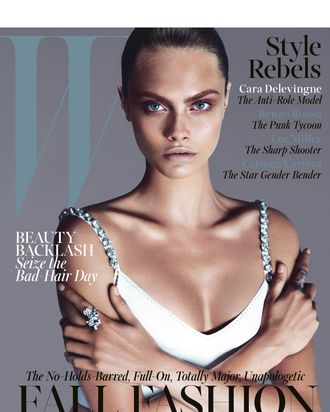 Cara Delevingne.
Photo: W Magazine
Cara Delevingne wears a diamond-studded crop top on September's W cover, where she is also called "the anti–role model." The corresponding profile paints a scandalous portrait of the 21-year-old, citing her heroin-addicted mother and noting that Cara once had to spend the night on a yacht in Cannes, because she was "reportedly so drunk" she couldn't get home to her hotel. (Tiny violins.) There's also a picture of Cara topless — not for the first time — because nothing says "I'm a badass" like a small, naked, lonely-looking nipple staring at the camera, right?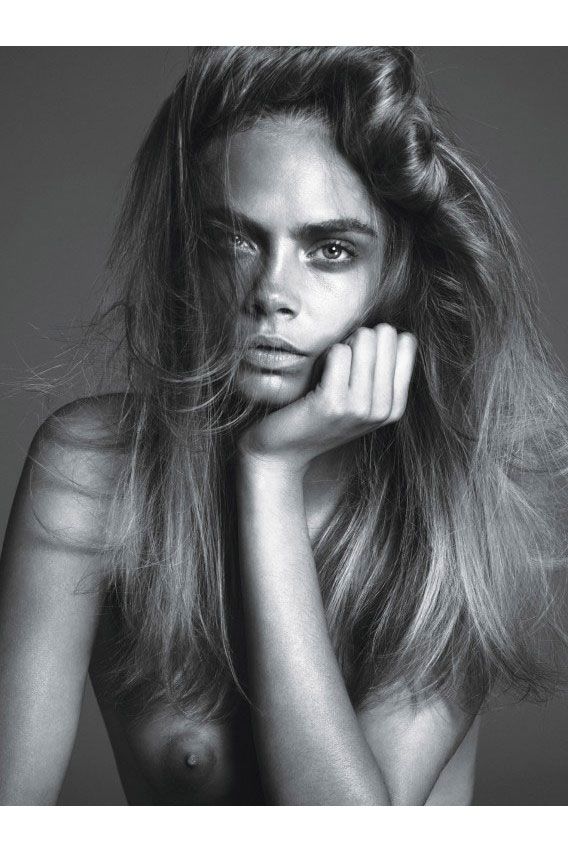 But while Cara insists that she's "done a great job" taking care of herself, she admits to some demons:
I was just on holiday for three days in Greece with my sister, and I thought that would make me happy and relaxed. But when I stop everything, it's really bad. I go crazy. In Greece, it was a lot of couples, and I felt alone, which made me sad.
Aw! Poor thing. She's that famous kid who doesn't know who she is when the cameras go away. But what she says next is far more worrisome:
I called Rihanna … She said "It's easy to drown yourself in work. That's a form of escapism. So, if you're alone and you want to cry, cry." And I did. But by then, it was time to leave and get back to my life.
Goodness. If you've got the sads and Rihanna is the person you call for advice, then something is dangerously amiss.