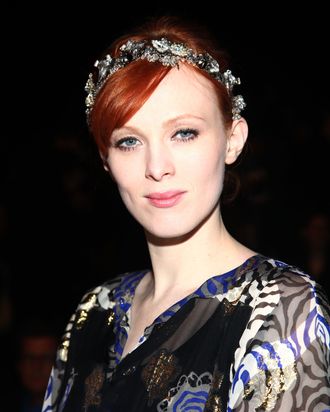 Karen Elson.
Photo: Astrid Stawiarz/2012 Getty Images
Two years ago, model Karen Elson and her husband Jack White threw a divorce party — or, according to the invitation, a "swing bang hum dinger" to "celebrate the making and breaking of the sacred union of marriage with our best friends and animals." Way to turn a sad and potentially awkward situation into a cool one! But sadly, what started off as a great example of amicable parting has devolved into the usual legal quagmire of custody disputes and so forth. Yesterday, Elson obtained a restraining order against White, citing "fears for her and the children's safety as a result of [White's] harassment" and claiming that he contacted her and her children "in an inappropriate and aggressive manner." The affidavit added, "This pattern of husband's bullying wife into submission was a contributing factor in the demise of their marriage."
When contacted by E!, Elson said politely, "This is a private matter. I thank you for respecting my family's privacy and will be making no further comment." The couple has two kids together, ages 5 and 7, who reside with Elson in Nashville, Tennessee.
Well, all the best to them. Like the best weddings, even the coolest divorce parties don't ensure smooth sailing afterward.