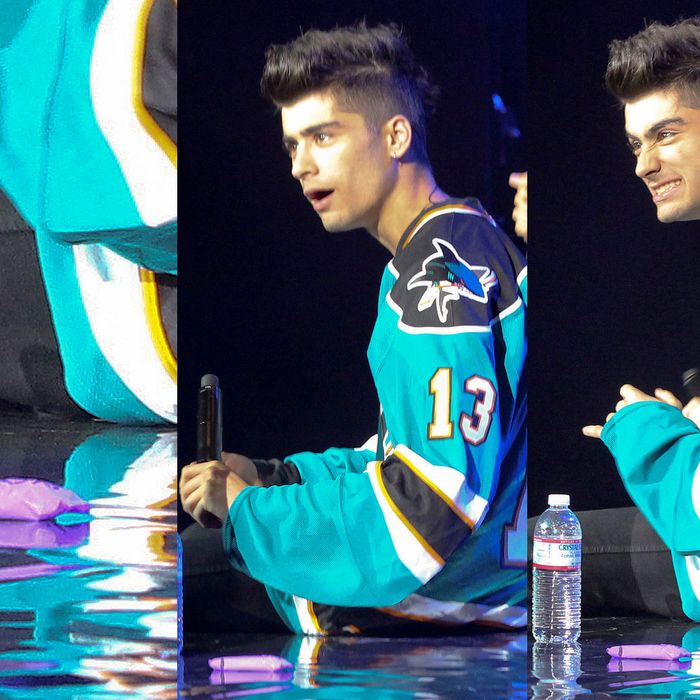 Throwing objects at famous people is low-brow performance art for boors. Object choice, timing, and venue carry symbolic meaning; the right combination can be poetry. When Lindsay Lohan gets glitter-bombed outside a court house, the image invites contemplation of Lohan's glamorous perversion of the perp walk and the ticker-tape parade America rolls out every time the troubled starlet faces legal peril. Throwing food suggests ridicule. Throwing shoes suggests contempt. Throwing panties suggests sexual desire.
Throwing a tampon, though — what does that mean? When a fan threw an unused tampon onstage at a One Direction show in San Jose, Calfornia, singer Zayn Malik's face first registered surprise, then mildly disgusted titillation.
Was a teen girl in heat somewhere in that crowd? Was she engaged in a menstruation-centric mating ritual, like a child bride deemed ready to wed at menarche? Did the tampon symbolize her sexual viability — that she was old enough to have sex, that her menstrual cycle would allow it? As far as vagina-related items go, tampons are more utilitarian than they are sexy; could the One Direction tampon symbolize the sexless sexual awakening we have come to expect from the popular culture of pubescent First World females?
Or was some chick just in the mood to throw shit, and when she reached into her purse the first thing she grabbed just happened to be a tampon?
Speak now, anonymous One Direction tampon thrower. Tell us the poetry of your boorishness.