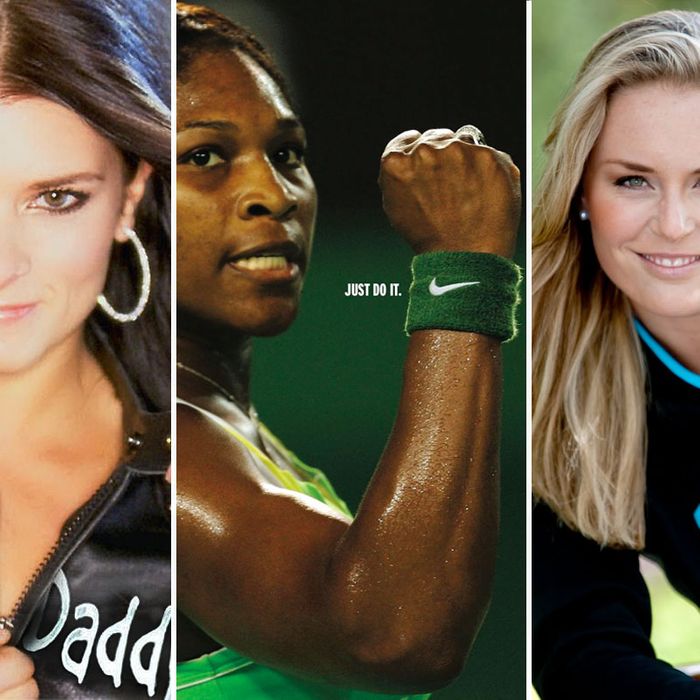 Photo: GoDaddy; Nike; Under Armour
Turns out women aren't just vying for resources, attention, and money on the field; the inequalities extend to business off the field, too. For female athletes, unlike the David Beckhams and Tom Bradys of the world, big and lucrative endorsements are still elusive — especially when it comes to fashion brands, WWD reports .
That's why WNBA player and Olympic gold medalist Cappie Pondexter launched her own consulting firm, 4 Season Style management: to help other female athletes break into fashion marketing partnerships. But, she says, even while clients want to show a more feminine and fashionable side through endorsements, brands often don't bite. While Tom Brady earns about $10 million a year from deals with Movado, Stetson, and UGG boots, only a handful of highly recognizable — and highly attractive — female athletes score similar contracts, like Maria Sharapova, who endorses Tag Heuer and Cole Hann. Serena Williams, while Über-famous, lists Nike and Puma (both sports brands) as her two largest contracts.
Some brand experts reason that the imbalance is a result of a preexisting tilt in sports viewership in general. Men's sports receive 96 percent of TV airtime, says the USC center for feminist research, so of course companies would throw money behind male athletes to shill their merchandise. Others cite a fundamental difference in physical attractiveness. "You'd be hard-pressed to find a popular male athlete who doesn't also have physicality and sex appeal," Kevin Adler, founder and president of Chicago-based agency Engage Marketing, told WWD.
That seems to be a very gentle way of saying that female athletes aren't exactly perceived as beautiful enough to carry a fashion endorsement; as another brand expert points out, 345-pound linebackers aren't getting asked to model suits either. So, at least when it comes to sports, it's all about equal-opportunity discrimination by looks.