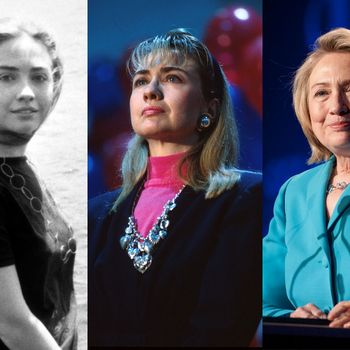 Photo: Corbis, Getty Images, Getty Images
Most former U.S. presidents don't live to see their biopics. Former First Lady and secretary of state Hillary Clinton will get to see three before she even has the chance to win her party's nomination. In addition to the buzzy Hollywood treatment coming up with Rodham, NBC and CNN announced last month that they had their own HRC projects in the pipeline. All three are still months, if not years, away. But they have collectively generated enough controversy and casting speculation to carry us through until their official press cycles begin, at which point we should just be gearing up for the primaries again. If we play our cards right, we will have managed to talk about Clinton for the entirety of her post-cabinet, pre-campaign hiatus and speaking tour without interruption. (Point: 24-hour news cycle.) Here's a quick and dirty guide to Hillary Clinton movies to get you through.
Rodham, a feature film from the girl coming-of-age experts: the Twilight Saga producers and James Ponsoldt, director of The Spectacular Now.
Due date: Unknown.
Playing HRC: Undecided. Carey Mulligan reportedly passed on the role, and Scarlett Johansson or Amanda Seyfried are being considered.
HRC life stage depicted: 1974, when HRC was a 26-year-old lawyer on Nixon's impeachment inquiry committee.
Nature of the scandal: Sexual. According to the Daily Beast, young Hillary and Bill (who will look like a "Viking" with a six-inch beard) "devour" each other, until they are interrupted, by their careers calling. HRC will dish about her sex life to girlfriends and say "motherfuckin'" a lot. Blame Bridesmaids.
Untitled Hillary Clinton Documentary, the not-yet-titled feature-length documentary from CNN Films and the Oscar-winning Inside Job director Charles Ferguson.
Due date: Will have a 2014 theatrical run before appearing on CNN.
Playing HRC: HRC
HRC life stage depicted: Unknown, probably some obscure yet foundational life phases we haven't even considered yet. (An inspirational mock Congress in eighth-grade civics? An Arkansas campaign stop that quietly revealed truths of American life? A poignantly insightful remark on the nature of motherhood and work from Chelsea, age 8?) Ferguson is known for his in-depth research.
Nature of the Scandal: Political. Earlier this week Republican National Committee chair Reince Priebus threatened to exclude CNN from the 2016 primary debates for lavishing airtime on the probable Democratic nominee (and using a lefty hero director like Ferguson, no less). CNN called the threatened boycott the "ultimate disservice" to voters.
Hillary, an NBC mini-series by Courtney Hunt, writer and director of the gritty female perseverance drama Frozen River.
Due date: "Prior to the … presumed announcement that she will run for president in 2016," according to The Hollywood Reporter, so, sometime in the next eighteen months.
Playing HRC: Diane Lane.
HRC life stage depicted: 1998 to the present, covering her husband's second term, her Senate tenure, presidential campaign, Obama cabinet career.
Nature of the scandal: Sexual and political. Along with CNN, Priebus has threatened to boycott NBC for the Republican primary debates. NBC maintains that its entertainment division (where Hillary is a sort of Hail Mary pass for ratings) is totally independent of its news division. But it's also has been suggested that Lane is too sexy to play the former secretary of state. Maybe if they can rush Rodham out first, the public will be primed for a sexier HRC.