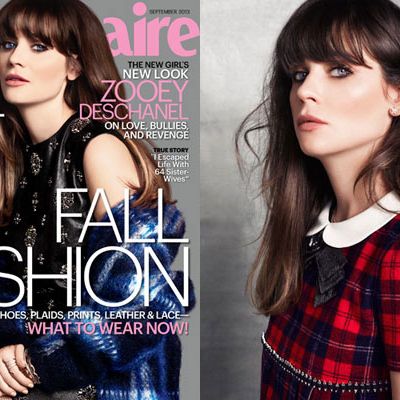 Those of you who read Zoe Deschanel's cover story in Marie Claire's May 2012 issue might notice some similarities in the magazine's September issue. Namely, an anecdote about Deschanel getting spat on by a popular girl in high school. Here's last year's version:
At 12 she was "chubby," which made her a target of bullies. "I was ridiculed," she says. The low point came when a mean girl spit in her face. "I really don't know why she spit at me," Deschanel says. "I just talked to her. I guess I wasn't allowed to talk to her. I remember I couldn't believe it."

The moment was searing, scarring, but ultimately transformative. It inspired Deschanel to reimagine herself, and over the next year, she carefully, painstakingly recast her persona, becoming more open, more empathic, less "stubborn."

She also shed 30 pounds.

"All of a sudden," she says, "everybody treated me differently."

There's a tinge of pain in her voice as she describes the metamorphosis. The new girl sounds like an old soul. There's also a touch of triumph when she mentions the popular kids who once ruled her world. "I don't even know where they are now."
In this year's version, the story gets told again, complete with the "chubby" part (this time, they left out the 30-pound "metamorphosis"). But now, there's a new development: Zooey located the spitter! Or, rather, she saw her in pictures (don't lie, Zooey, they were on Facebook) from another person's wedding:
As a chubby, freckly preteen at Crossroads School in Santa Monica, California, a prep school where students had names like Willow, Echo, and Ivy, she had poor posture and a round belly. In an oft-told tale, one day a popular classmate actually spat in her face. "I was talking to her, and she didn't want me to talk to her. I honestly did nothing," Deschanel recalls. "I just remember walking over to my locker and wiping the spit off my face, so humiliated." She recently spotted her assailant in photographs at a mutual friend's wedding. "I've forgiven her," she says now. "I just don't forget."
Apparently she does not! Meanwhile, a warning to the spitter lady: You know who you are, and you've been found. Let's give Zooey some credit, though, for not saying anything like, "She's fat now," or "All that spitting really took its toll on her jowls," or all the things we'd say if we were so famous the Internet lost its shit every time our bangs grew a quarter inch.
On a different note, let's take a moment to appreciate Zooey's full Saint Laurent getup on the cover. You might think she's too twee for Hedi Slimane's outfits, but don't forget she did just complete a tour for her latest album, so she technically falls within the designer's obsession with musicians who strum guitars (or in her case, a ukelele) and lie around on the floor in sweaters and sparkly tights — in our collective imaginations, at least.