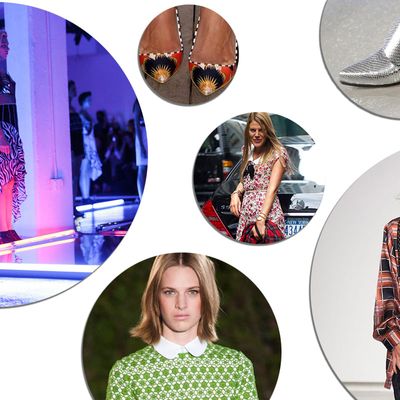 So Tuesday felt like it was a shoe day. Tory Burch showed nice gold and silver loafers that were not all that different from the pairs Rodarte chose (what a spectrum of labels) later in the day. Sofia Webster, she of street-style-baiting footwear, was revealed as the latest J.Crew collaborator. Anna Dello Russo finally arrived in town, wearing those crazy bedazzled (bedraggled?) Saint Laurent moto boots. We've noticed that it's not really a bag season. The Row and Phillip Lim introduced new shapes, and surely some others did, too, but it's squarely about footwear next spring. You heard it here first. Breaking news. Below, 10.5 things everyone else was also hearing about at Fashion Week, which is slowly winding down. If you can handle that.
1. Tory Burch started the day properly, and swelteringly, with a pretty Megan Draper–esqe collection complete with a runway decaled to look like a pool. The grass-green patterned pieces were pretty and seemingly on trend color-wise for next spring.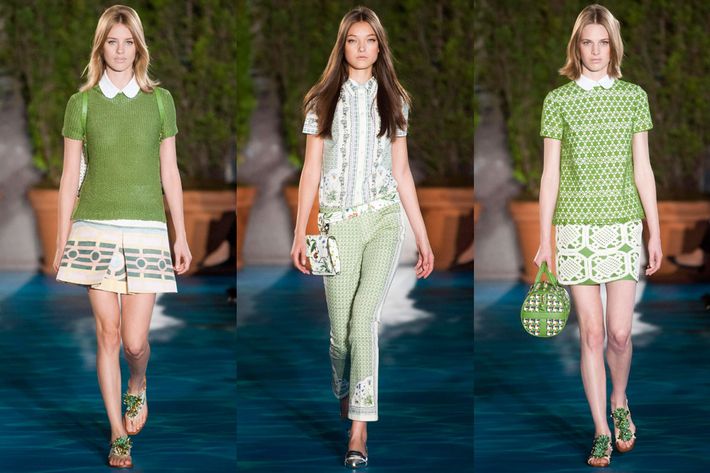 2. Also, the shoes. And the Rodarte shoes later in the day! Pointy, metallic, almost-flats. Sensible and glam, like older cat ladies. Or women from Texas. (We like these shoes, lest there be any confusion.)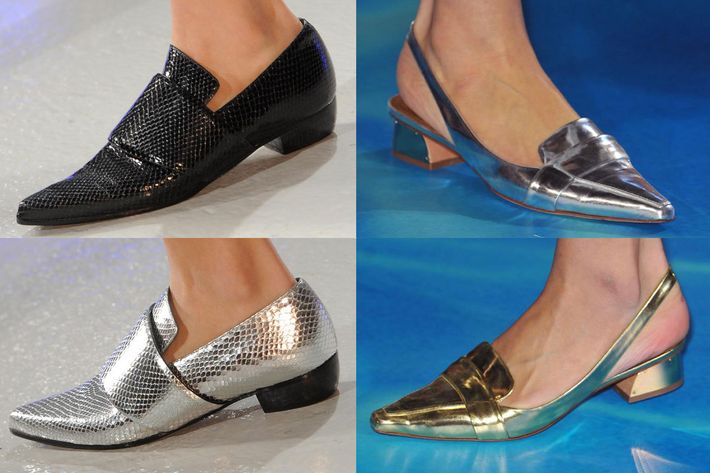 3. Robin Givhan, not really a fan of Rodarte's cholo-inspired collection.
4. Dan Flavin–esque neon tube lighting, as seen at Rodarte last season, has shown up at Rodarte (again), Jason Wu, and Alexander Wang so far. Dissemination at its finest.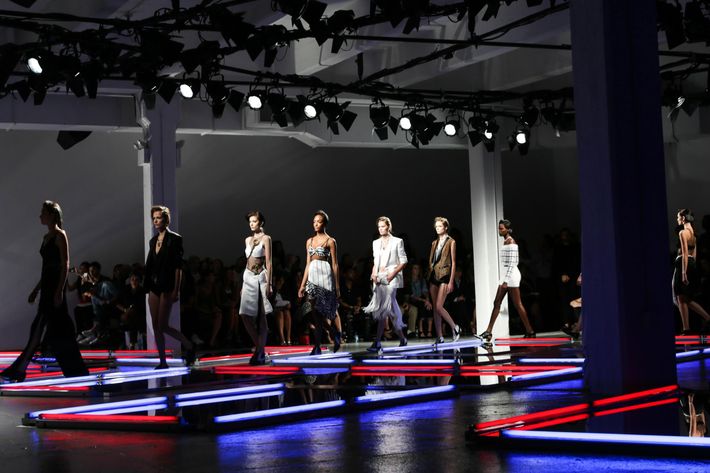 5. It was hot today. Talking about the weather is boring, we agree. But: Steel yourself for some awesome crop-top spotting on Wednesday. Also, wear deodorant. Especially, you, Lincoln Center.
6. Anna Dello Russo is finally in town! STOP THE PRESSES. Kinda fun, actually, to see her rocking a Saint Laurent baby-doll, motorcycle boots, and flannel in the humidity. She's nothing if not committed.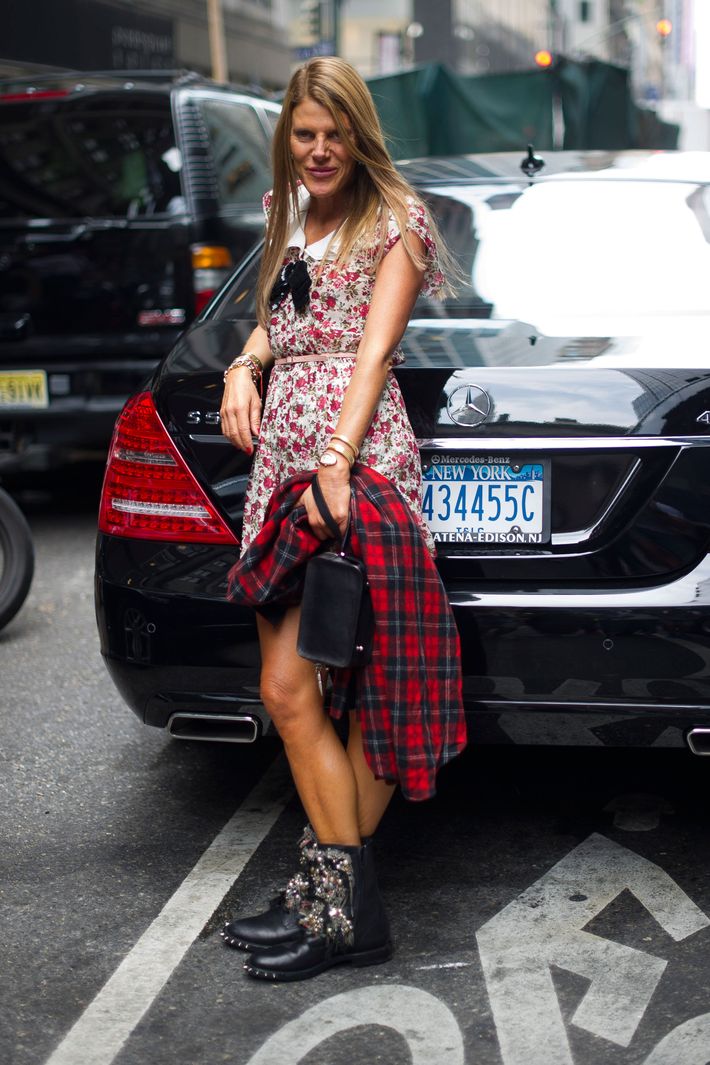 6.5. And consistent! She wore an Oscar gown to the Oscar show, because of course.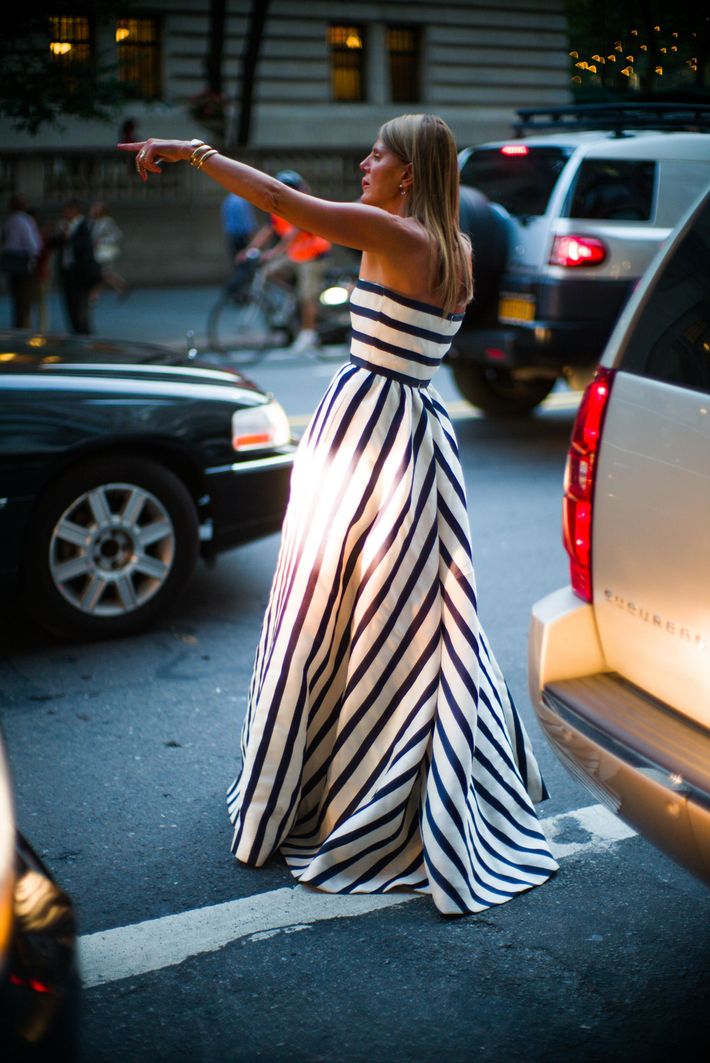 7. J.Crew collaborated with Sophia Webster on fun, kicky, printed shoes that will be all over street-style blogs (and rich American suburban high schools) next season. Also awesome: Surf-inspired, flower-printed, and sequined burgundy pants. It sounds like a lot, we know, but take a gander and lose your attitude.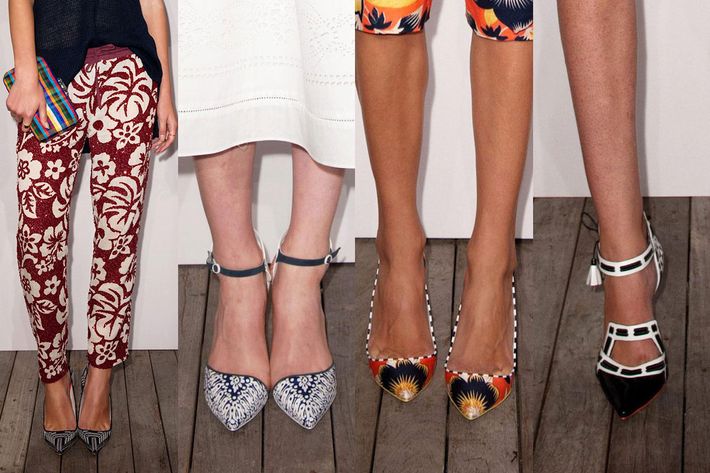 9. Vanessa Traina (the O.G. Alex Wang muse) surprise-styled the show for Sass & Bide, the Australian label now showing in New York again. Question for the commenters: Would you wear these skirt-pant hybrids? They looked cool, but not sure how legs work in them.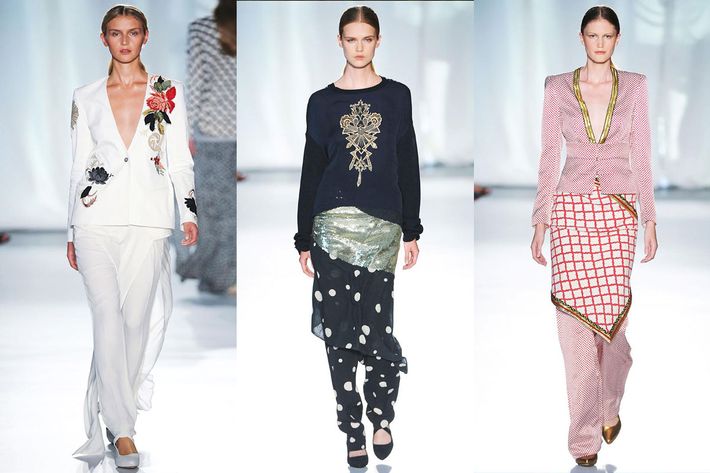 10. The Marc by Marc Jacobs show was Pussy Riot-inspired, or at least the music was, rallying against kids who get free sunglasses at music festivals and how complicit they are while women in Russia are being jailed. We get it, fashion theory, but railing against consumerism will never really work during your fashion show in front of buyers, and editors, and people whose jobs depend on others who buy new clothes (or at least want to look at them.) Here's the un-remixed version of the song. Don't feel bad about the sunglasses.
Stay dry. The Purple party is back on, in cahoots with Proenza Schouler, so you'll want to make it until midnight before you start glistening.