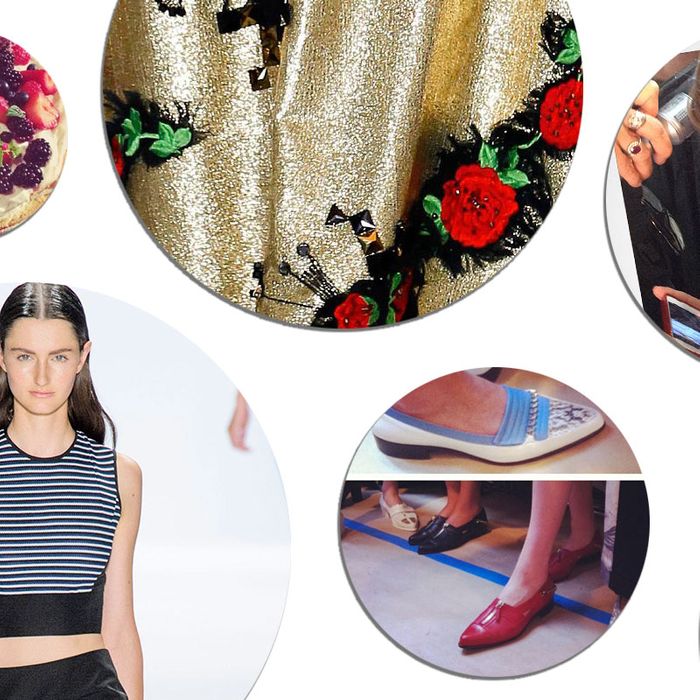 We're back! And since it's impossible to keep track of everything happening in one day of Fashion Week, the Cut will be compiling the most incredible moments from the shows, the scene, and all associated social media in our exhaustive (and, maybe exhausting?) Hit List. First things first: Suzy Menkes says the schedule is all wrong. Everyone who is not famous is chatting about how they have "allergies," but we're probably just sharing the same rhinovirus – are e-cigarettes better for that than regular cigarettes? Like a mobile humidifier, sorta? Good thing day one was a light one – Creatures of the Wind was the big win aesthetically, even if it didn't quite draw the same audience as Costella Tagliapietra or BCBG. But who's counting? Below, a summation of Thursday's most memorable moments. Birkenstocks are back, green-eye makeup is already a thing, celebrities trekked (troke?) to Brooklyn and made it back alive. And us? We're feeling like SNL's Stefon. This, too, shall pass.
1. First out the gates: Wednesday night, Rachel Comey threw an intimate party, in Brooklyn, as if to test who would agree to travel all the way to Red Hook. Celebrities in attendance: Maggie Gyllenhaal, Rashida Jones, Zosia Mamet, Greta Gerwig, Parker Posey. We refuse to count how many of these women already live in Brooklyn.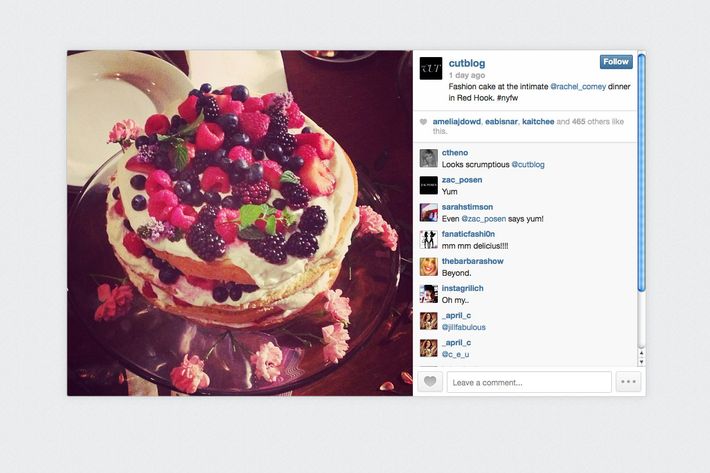 2. Justin Vivian Bond performed at Rachel Comey. Alice Smith sang at Michael Bastian. Live entertainment! How Paris fall/winter 2013 of us.
3. So, we hate to admit this, but Vogue was right. Everyone is, actually, wearing Birkenstocks this season. We have to assert that the new Tabitha Simmons x Creatures of the Winds flats would win in a footwear cage-match.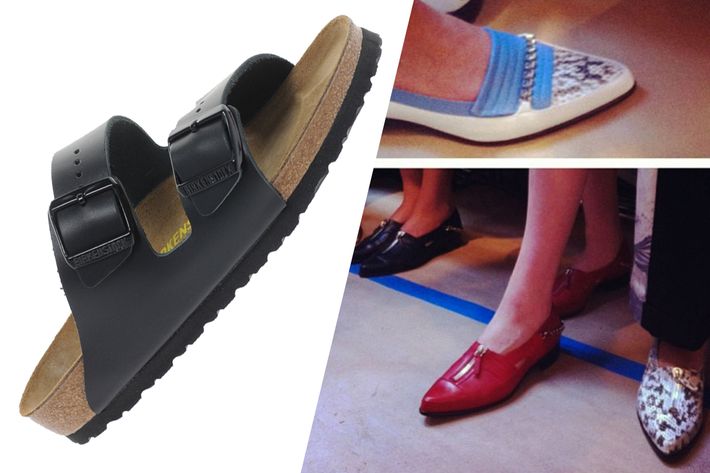 4. This model we spotted backstage getting her hair done at CotW is so into fashion she was watching the BCBG live-stream on her phone. Choice quote: "Oh, look! There's my friend."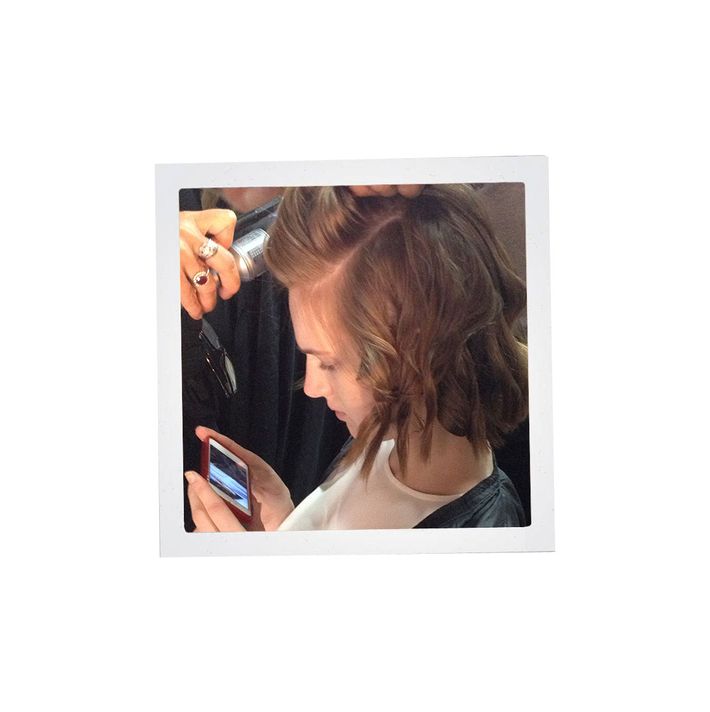 5. Street style – that grueling professional sport currently under consideration for the Shoji Olympics — has a new twist this season: It's all about wearing heavily patterned, matching pants, tops, and even jackets. Makes getting dressed easy, even when traveling with friends.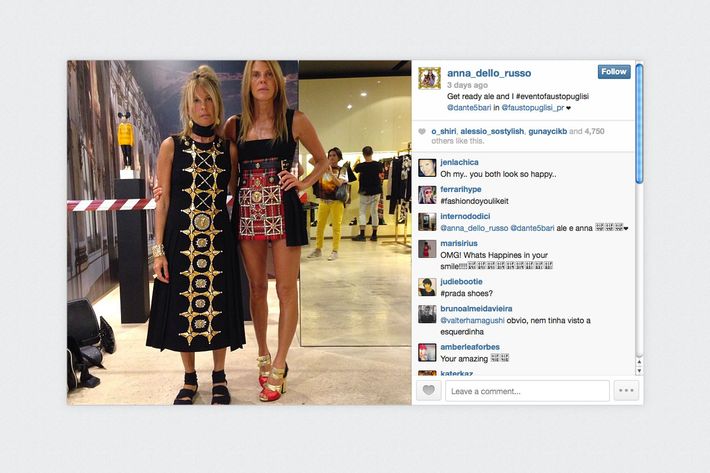 6. But June Ambrose's daughter out-dressed them all, wearing this amazing pair of antennae to BCBG.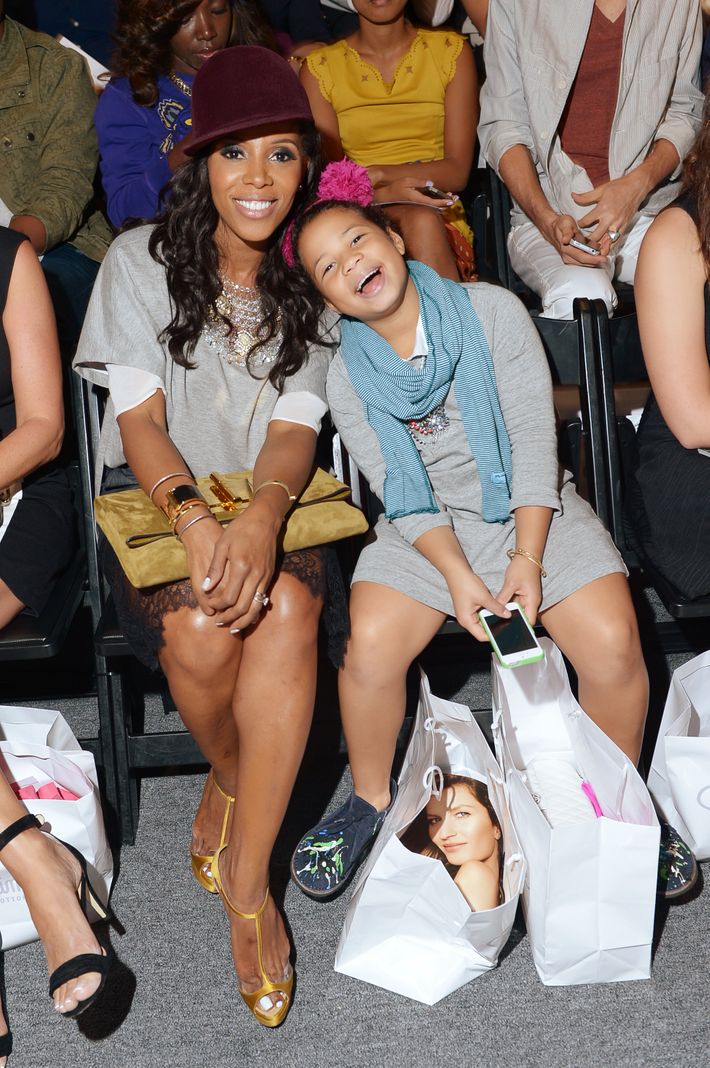 7. NJOY – everyone's preferred e-cigarette for "vaping" (yes, that's a word we need to change) – will be sponsoring NYFW; hopefully-compensated interns are giving everyone free e-cigarettes. Ah, the joys of an unregulated nicotine industry! We'd say this is terrible for June Ambrose's child, but we could really use the free smokes.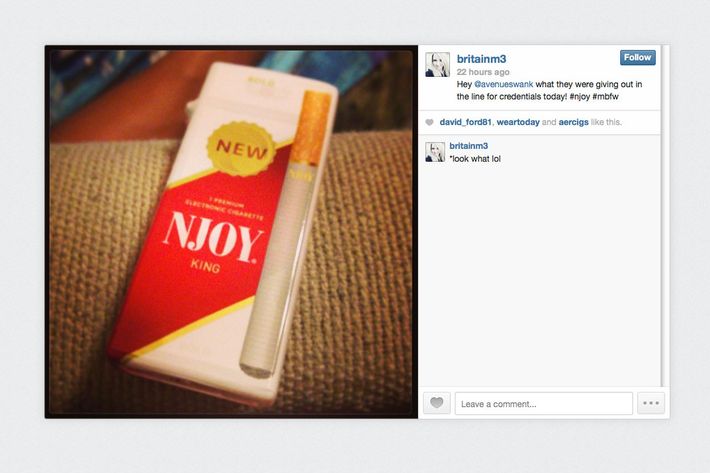 8. Green eyeshadow. For the alien in all of us.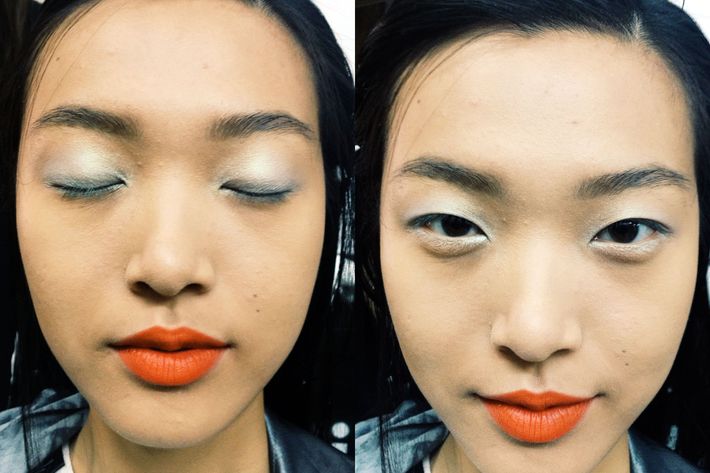 9. Breaking news: The latest in embellishment this season is totally going to be appliques. Move aside sequins, Swarovski crystals, and feathers. Exhibit A: CotW. Exhibit B: Honor. (No more Stefan voice.) (No promises.)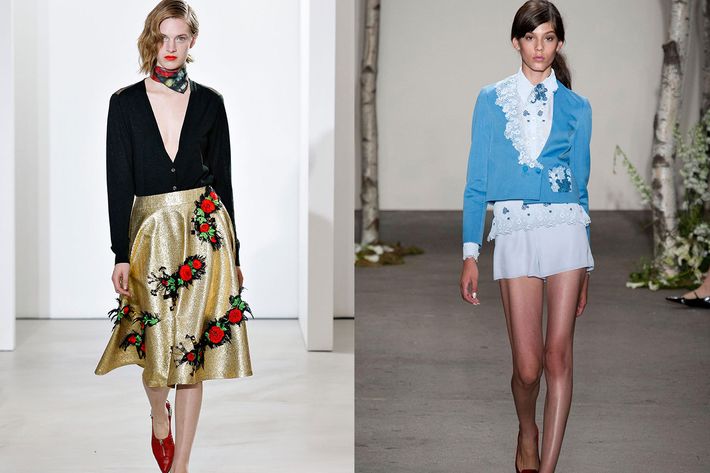 10. In other clothing news, there was also a crop-top invasion at Richard Chai. Four in total. Which means crop tops are sort of like nail art: that thing we declare "dies" and "lives" and is "major" or "not major" but is actually just its own new category of things women (and some men) wear. Like skinny jeans.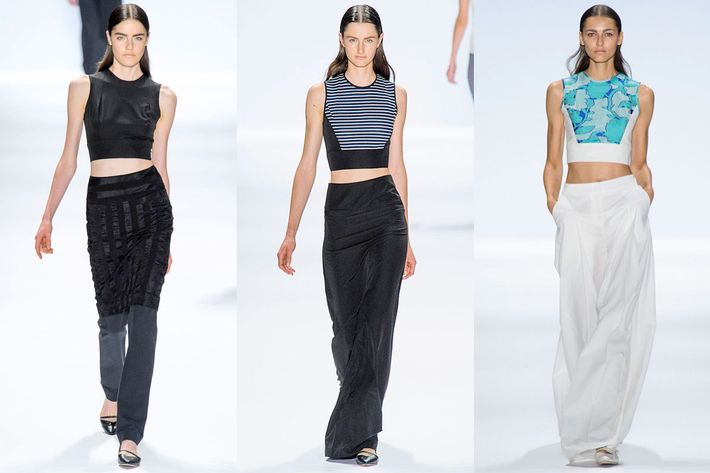 11. Seven years after Twitter launched, and three years after Instagram was founded, people in the front row have just one question to ask each other: Are you on Instagram or Twitter? This is an actual question we've heard. Like you have to choose, some new form of self-editing. The Cut is on both, obvi.
12. Are the Jonas Brothers the new Cara Delevingne? At this point, we're only judging both solely by their eyebrow growth.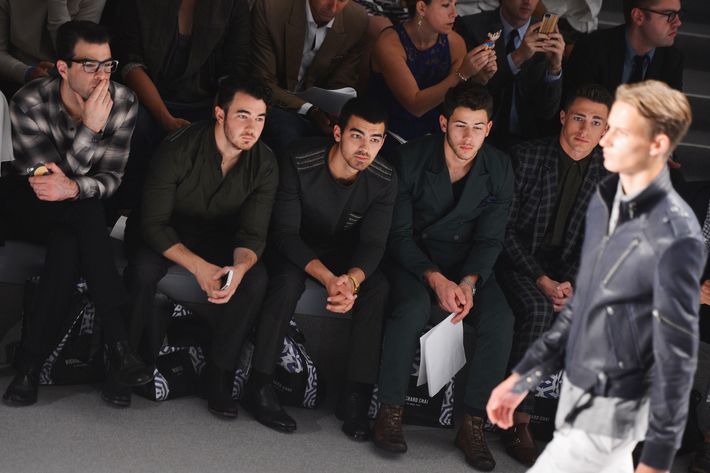 13. The people who can actually afford expensive watches gathered to celebrate five years of WSJ., a magazine full of expensive watches. Guess where it was?
And you know what's the best about wearing new fall shoes: Blisters. No Saint Laurent sweaters until it's actually cold out, okay?