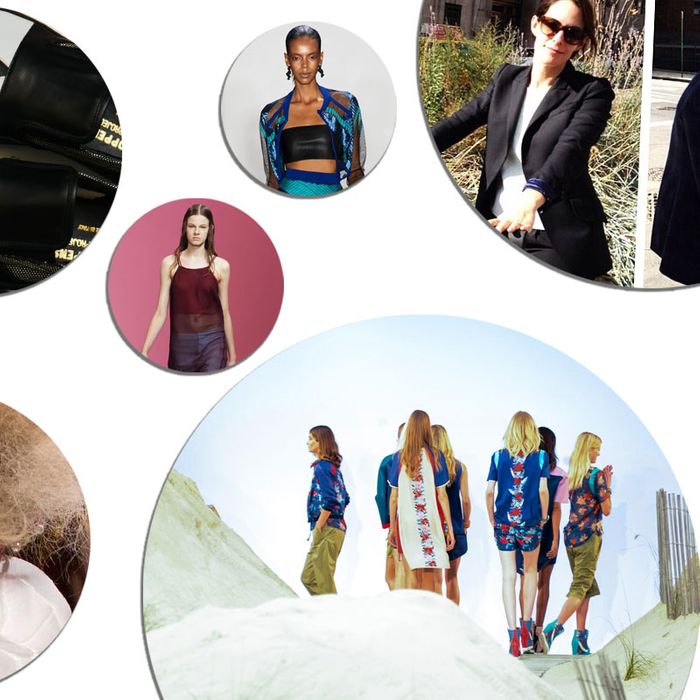 What do The Olsens, Phillip Lim, and Thom Browne have in common? Not much, except they all happened on Monday, the pivotal turning point of Fashion Week, when we sit back and surrender ourselves to the insanity. To be fair, it was something of an insane day, actually, what with all the complex hats, the Citi Biking, Mr. Browne's insane-asylum-themed show, and that salty air at Lim's runway bout. Like the ocean, but fashion! Okay, enough here: Read on for the sixteen "moments" you "couldn't miss" from "Fashion Week." Only a few more days, y'all. Stick with us.
1. Let's start at The Row, where we should chronologically speaking, since they have swelled to such importance as a brand here in New York that they threw two early-morning showings. (How Ralph Lauren of them.) Like Creatures of Comfort and Tibi over the weekend, there were excellent Bedouin-inspired hats. More elegant though, for people who don't just watch Lawrence of Arabia but actually vacation in the Arab world. (Pictures are on lockdown, so we'll add when they come in. For now: Imagine.)
2. The sisters who design this collection, whom we won't bother naming because you won't remember their names, were giving out hugs after the show. Unless you happened to ask for a quote about the collection, which was not the point of said hugs.
3. Sentences we'd never thought we write: Ne-Yo was at the Carolina Herrera show. This is not quite like Kanye West RSVPing "yes" in terms of Hit List worthiness, but we'll take what we can get. (So will PR people.)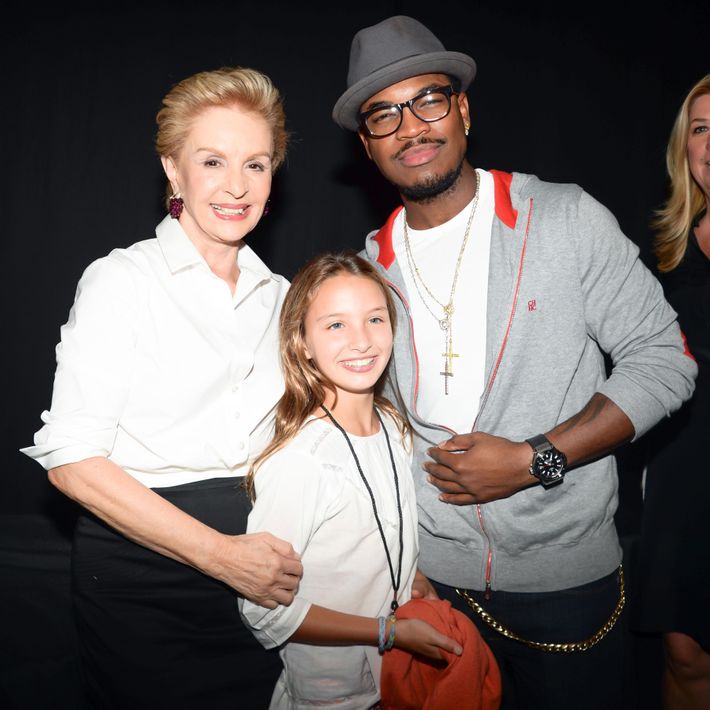 4. Tommy Hilfiger. Pretty, expensive, set. (As opposed to "pretty expensive set." Those commas make a world of difference.)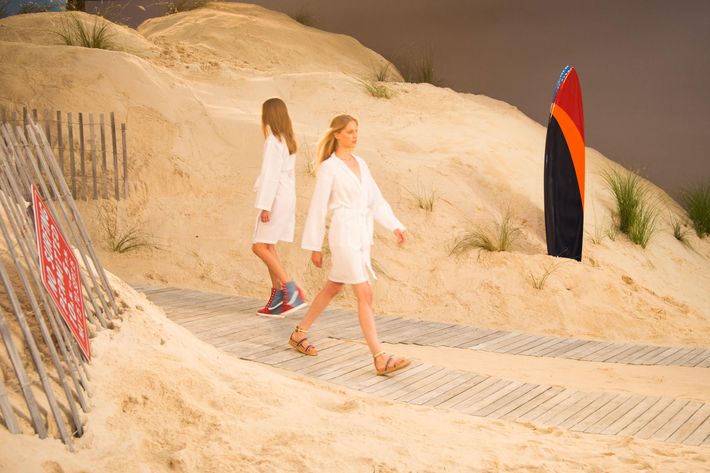 5. Only directors and critics and really important people were invited to the Theyskens' Theory show. Alas, a runway gallery will have to do. Some highlights: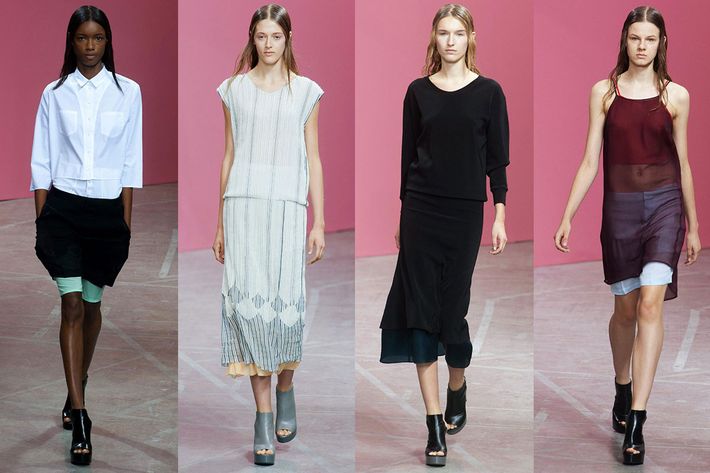 6. Ohne Titel affirmed that sheer is not going anywhere; that women will be encouraged to "hit the gym" in women's magazines; and that abs will be called "the new abs" somewhere on a beauty website. Meanwhile, it would be considered groundbreaking if an up-and-comer actress got to wear these clothes in a men's magazine.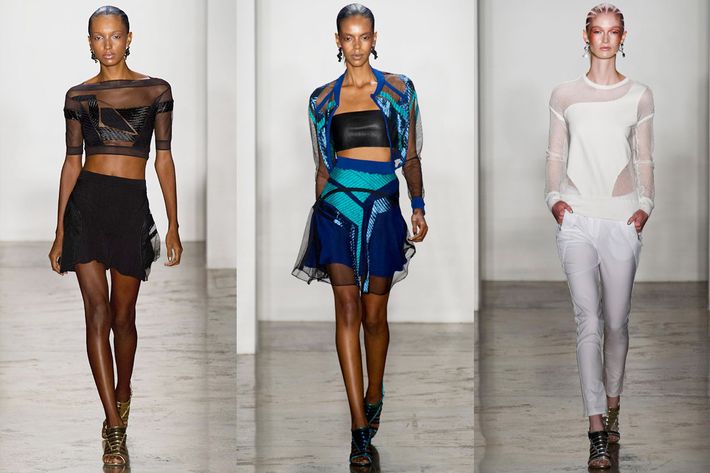 7. Phillip Lim was salty! Like, actually. The floor was covered in huge rock salt, like a more luxe version of the stuff that melts snow. Definitely bad for shoes and bags, as it deteorites them. Really pretty though. And the air was a great reminder of what food tastes like.
8. Also, fun, ladylike, metallically accented skirts. Pair them with an Altuzarra Henley and you're done.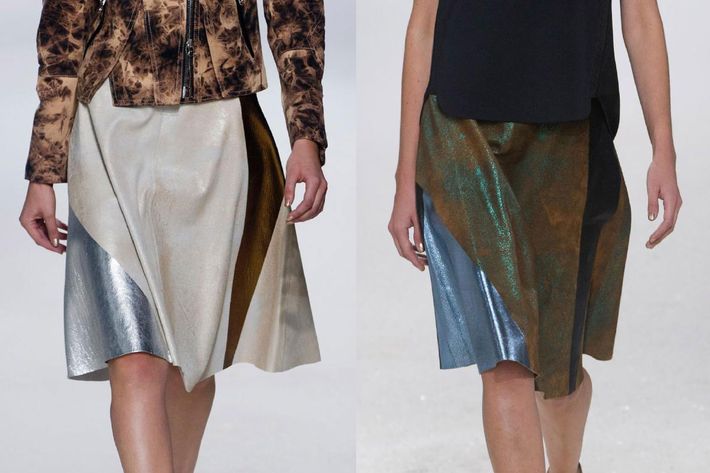 9. So, Thom Browne was an undertaking. Or an insane asylum, actually: padded walls, toy-box piano music on repeat, paper mache cadavers hanging from the ceilings, all white everything. It actually drove some people (whom we won't name unless you e-mail us) insane. Ergo, they left before the show even started. Or maybe that's because it began nearly an hour late.
10. But I mean, once the clothes came out. C'mon. It takes a while to get models into latex leggings. Ohhh, ahhh, etc. etc.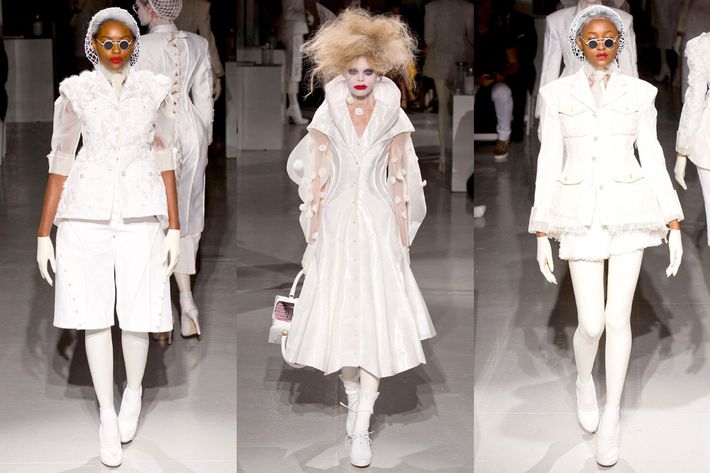 11. Brief moment for menswear (pour one out): Loving the Common Projects x Tim Coppens mixed-media skater shoes. Even the few lady models wore them. So rad.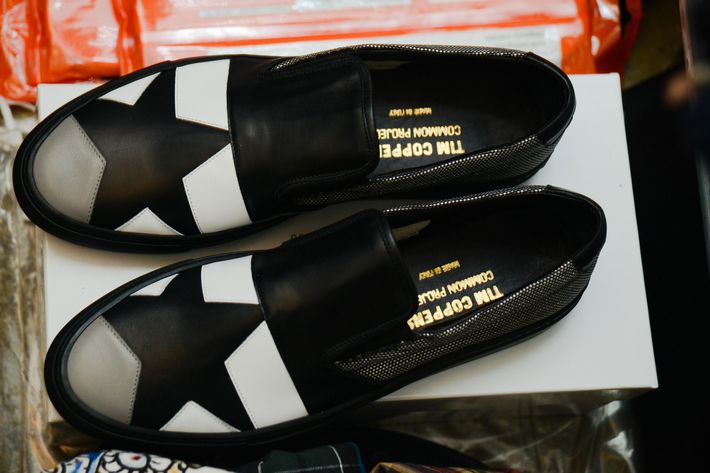 12. Noticed: The Row and Phillip Lim both shrouded their sets in white curtains. Thom Browne's set was also all-white. Is this going to be a home-design trend? Do the runways work like that? Everything would just get so dirty.
13. We Citi Biked! Sure, this isn't exactly something that's trending at Fashion Week. But you know what is? Taxi-induced car sickness. Start biking. Honestly, guys.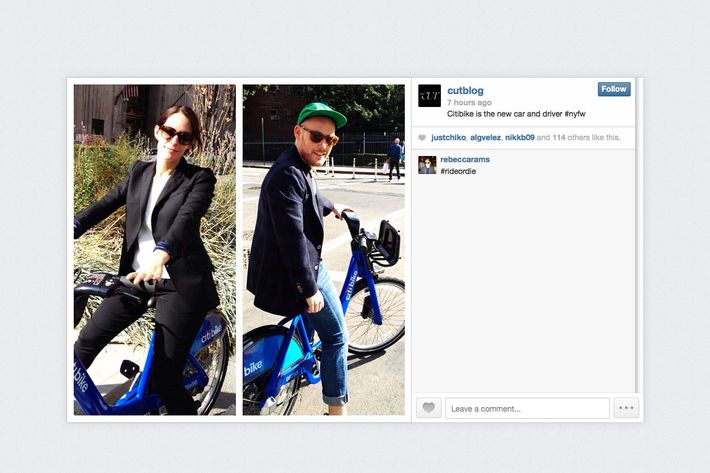 14. Here's another good idea: room scent. Thom Browne did that. And so did Prabal Gurung earlier this week. And other shows our noses can't remember. Nice touch.
15. The Allure Best of Beauty Awards "gift bag" was a crazy rolling suitcase. Estimated value: $3,300. Or so Linda Wells told the audience, who were instructed on small pieces of paper not to leave before 8 p.m. if they wanted their swag-valise.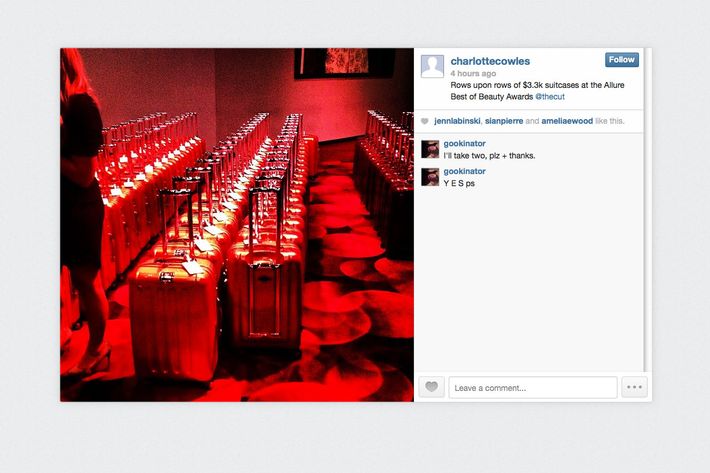 16. Poor Rita Ora didn't get to be the surprise at the DKNY 25th Anniversary Party. Instead, she was followed by Iggy Azalea, Karlie Kloss, and Joan Smalls "eating" birthday cake (one finger-in-frosting at a time), and the A$AP mob. Rocky had a fun workaround for the mandatory DKNY T-shirts that he and gilfriend Chanel Iman were surely given to wear.
OK, steel yourself for today. Like politics and religion, best not to talk about whether you got invited to Oscar de La Renta this year.