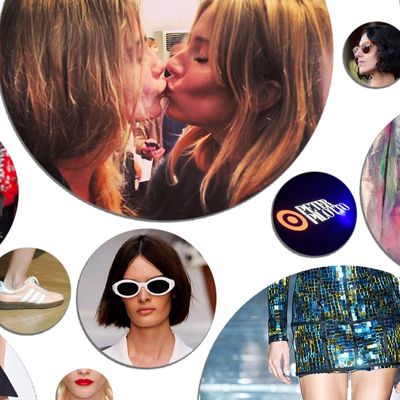 London Fashion Week may now be over, but we can't stop talking about it. It was a season of standout collections, further cementing the British capital as a key destination on the fashion map, a place where there are modern and creative clothes that are also totally wearable. And the scene? We saw fashion inspirations off the runway, too. And a very hairy Harry Styles. From sparkling collections to starry sightings, here are twenty of the must-talk-about moments from London, before we dive into Milan.
1. Christopher Kane was the highlight of LFW. Maybe it's the child in us but those iridescent tinsel dresses and metallic piped cutout dresses would be the gorgeous offspring if Rainbow Brite, Lisa Frank, and My Little Pony all had a baby somehow. The prints included a botanical reproduction motif, which is likely what we were learning about when we were into said pop culture. Also coming of age is Kane himself, who will open his first flagship store in London in 2014.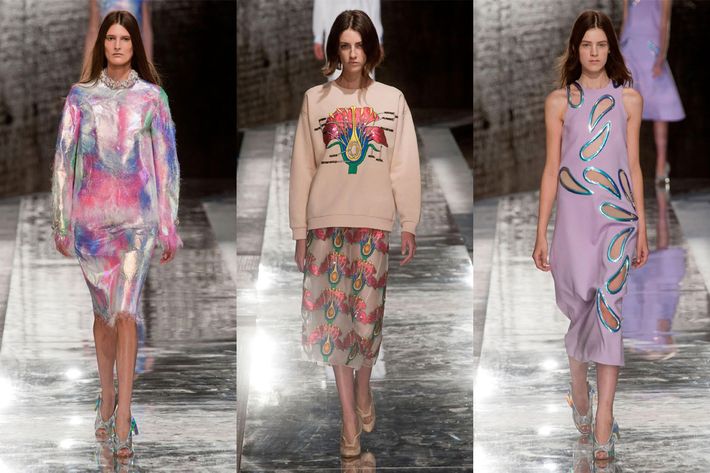 2. Yasmin Sewell, wardrobe champion of London Fashion Week.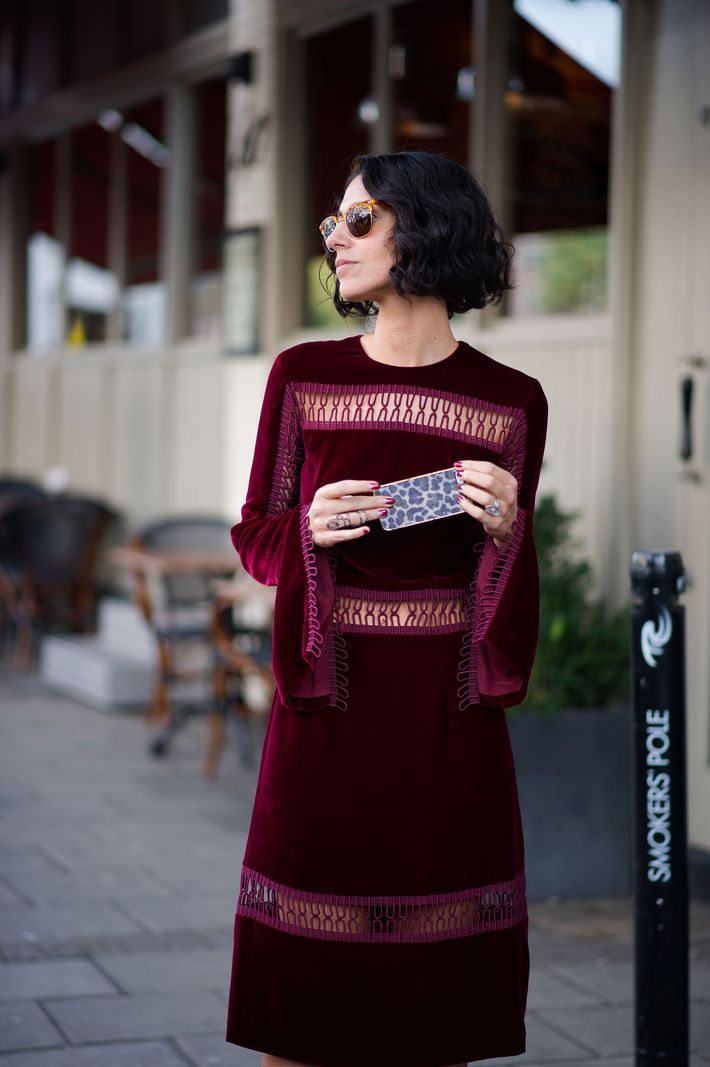 3. Flat shoes are still hands-down winning, as seen at J.W. Anderson, Giles, and Adidas by Stella McCartney.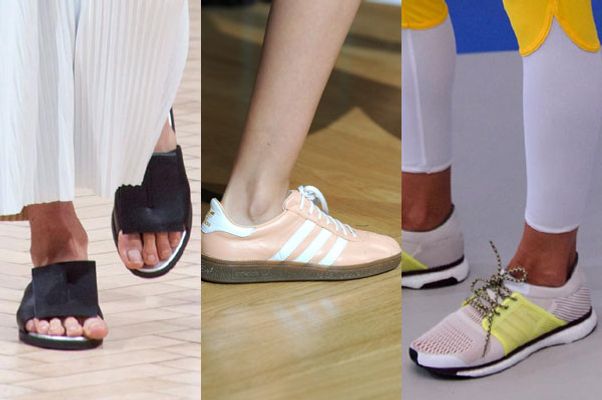 4. While dyed hair, particularly in shades of green, blue, and purple, is huge in London, the blunt, short hair is the season's winner.  Take, for example, model Sam Rollinson's cut.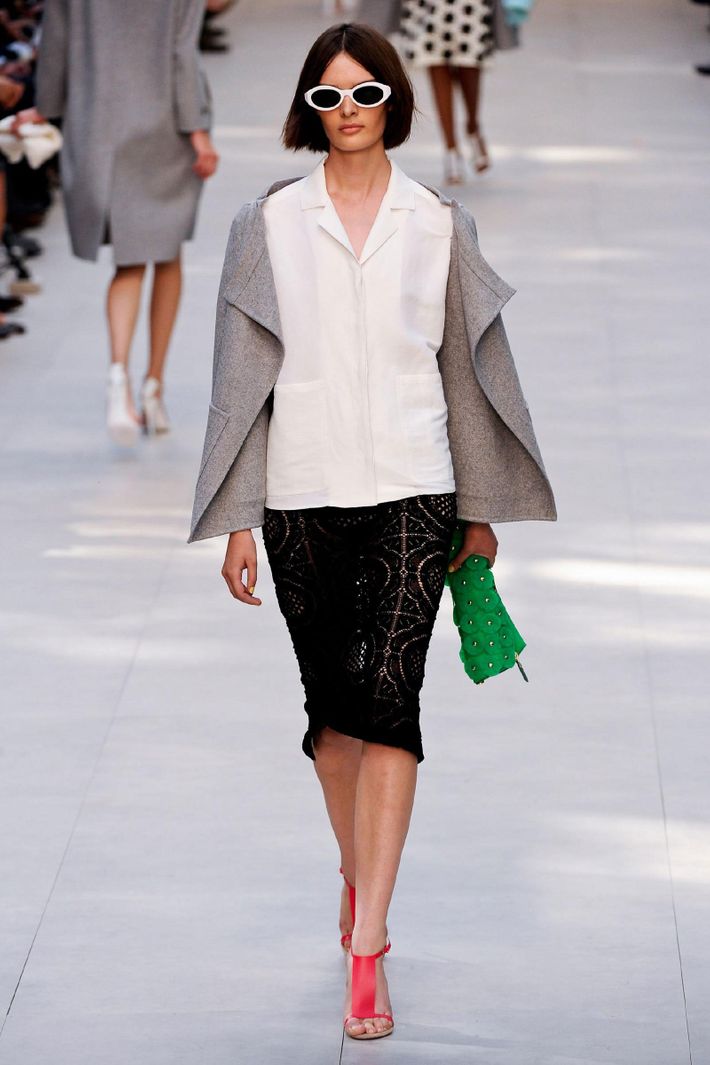 5. Supermodels printed onto dresses! Spotted at Giles: a vintage print of Amber Valletta from Glen Luchford's Prada campaign and cartoon, grape-colored renditions of Georgia May Jagger's iconic lips.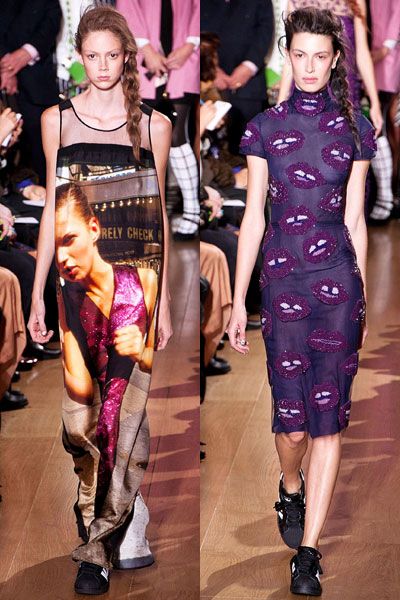 6. Editorial bait: Broken disco-ball dresses at Tom Ford. London loves a bandage dress and we left the show feeling sexy. These dresses completely lit up the dark room (which was painted a lux shade we'll call "Tom Ford gray").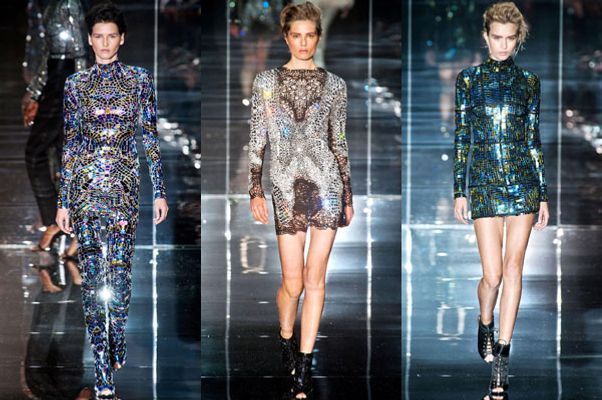 7. Cara Delevingne is still crazy, so all is well in the world. In addition to her outlandish ski-mask diversion, she found time to catch up with gal pal Sienna Miller.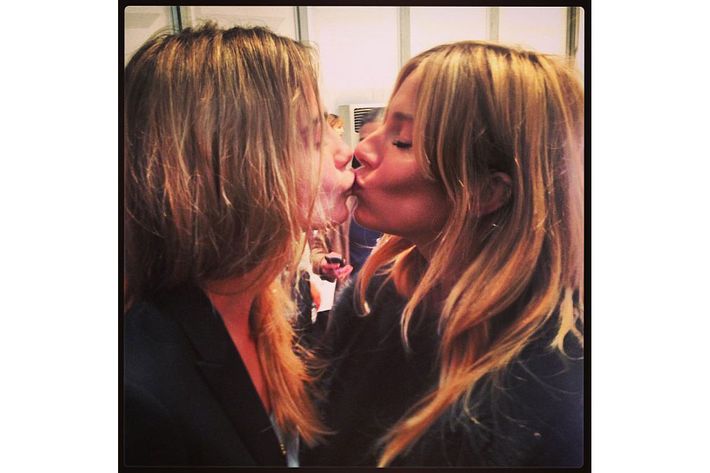 8.  London's hot spot is now Ian Schrager's Edition. W mag threw a party to fete September cover star Cara D (attendees: Kate Moss, Harry Styles, Damien Hirst), and each night it was crowded with international press and fashion types alike.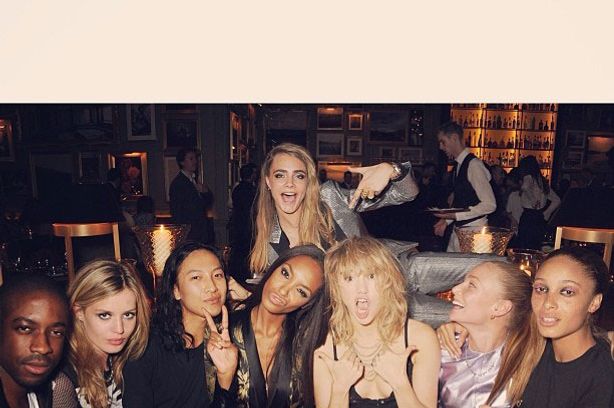 9.  Let's hear it for romance. In an all-black-and-white palette, Erdem played with texture (feathers, tweed, cracked PVC-like materials even) for a beautifully poetic collection. Dresses to get married in. Live music by Annie Yim (piano) and Richard Birchall (cello) accompanied the show.
10. Peter Pilotto's Target collaboration was announced via a lit-up Target signal on the floor just prior to the show and a simultaneous e-mail blast. Kaleidoscope prints for all!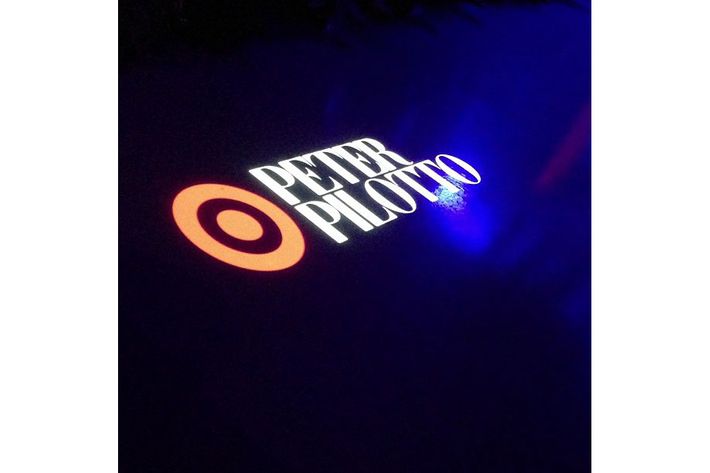 11. Let's talk about Harry Styles, and his hair. The rumor is that some press has asked him to cut it.
He looks like Mozart or some crazy old-timer. He was seen at Burberry (where he looked away, away from Cara), Fashion East, and at House of Holland. Boy needs to cut his hair ASAP because it's starting to move in all the wrong directions (too easy!).
12.  Sequined ripped jeans at Ashish. (And furthering the season's logo mania, Coca-Cola was emblazoned on tops and bags.) Remember Marc Jacobs's New York coke moment?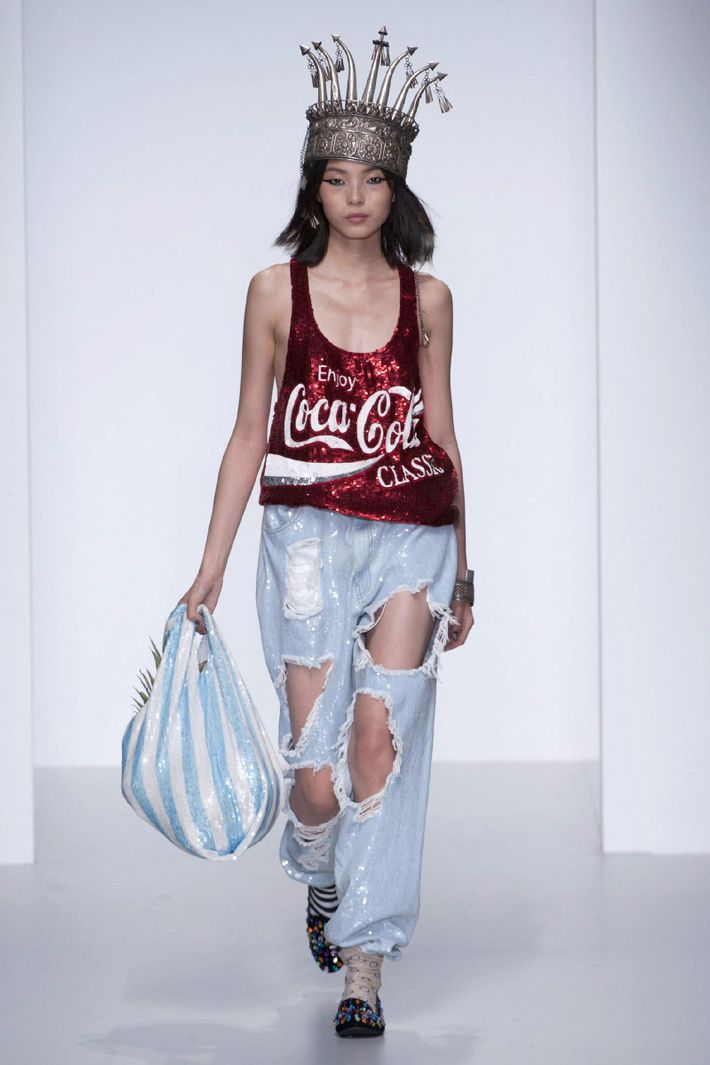 13.  Stella McCartney said she had been training with famed body-changer Tracy Anderson and she looked amazing. Her decision to again show Adidas x Stella McCartney at LFW was a good one — one of the more interesting and conceptual showings.
14.  David Beckham at Belstaff.  He was supposed to ride in on a motorcycle but it was raining and he wouldn't do it.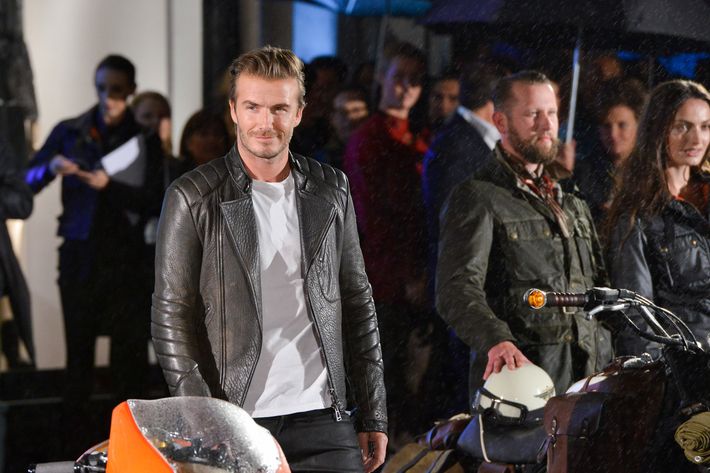 15.  It was COLD and WET, basically throughout the week. But attendees were determined to make the most of their tiny summer skirts with a jacket, of course. Bottom halves froze; top halves remained cozy. We were confused.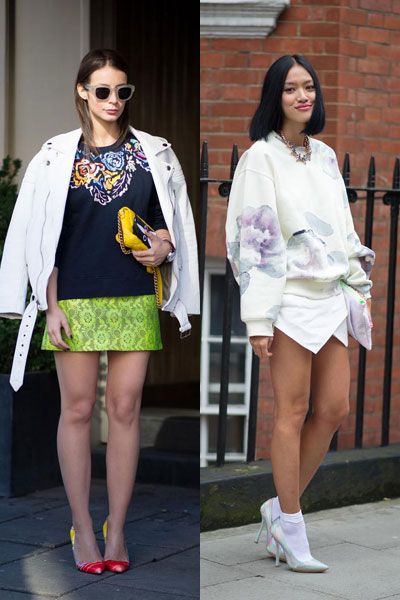 16.  Was John Jannuzzi onto something about this being the season of the side boob?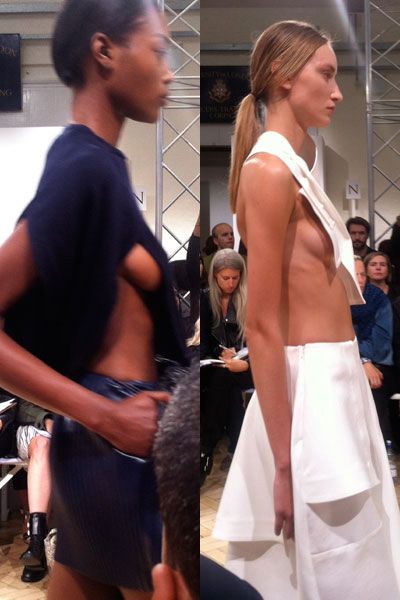 17. Also at J.W. Anderson: The clothes were textural, with smocking and origami-like layers, but also a lightness of sheers and construction that wowed stylist types.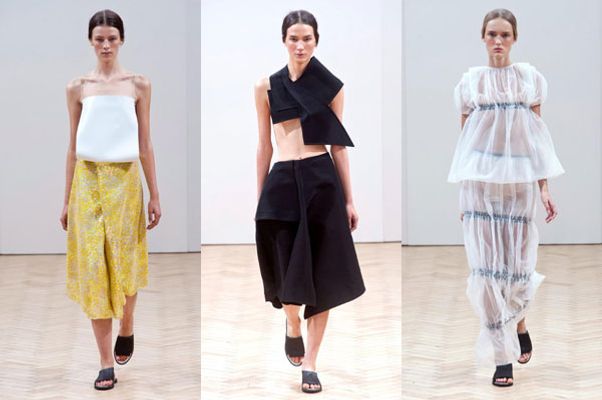 18.  At Burberry, there were beautiful pastel-embellished lace trenches, and the finale look, a clear PVC cape on Cara. The ending topped it all: A beautiful storm of flower petals raining on the audience.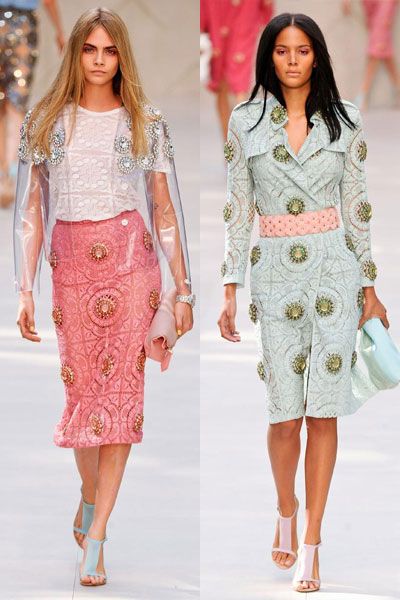 19. Simone Rocha continues to wow us. A black-and-white collection that played with volumes, femininity, pearls, and more comfy shoes. The trio of nude veiled "brides" stood out.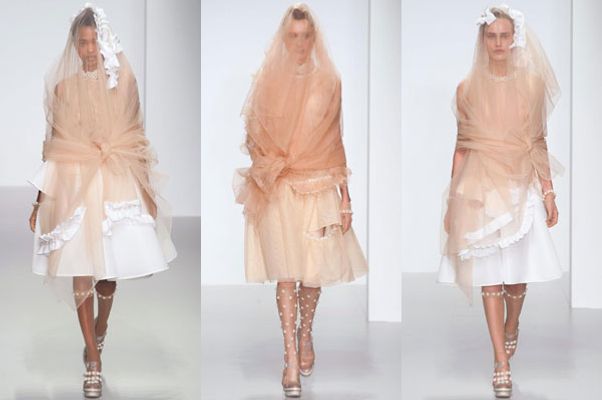 20. Meadham Kirchhoff's Little Miss Muffet–like lineup has more wearable separates than ever (and more than they normally offer). Leather jackets in black and in gold were carried as accessories, and we can easily see those hitting sales floors.