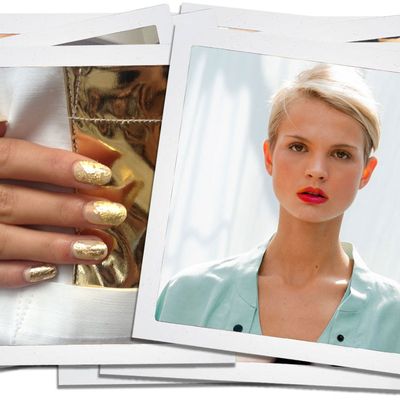 Throughout New York Fashion Week, we're going behind the scenes to figure out what, exactly, a normal woman can learn from makeup artists, hair people, manicure experts, and models themselves. Sunday brought an overwhelming barrage of insider tips and backstage observations from Lela Rose, Hood by Air, Derek Lam, Zac Posen, Opening Ceremony, DVF, and Band of Outsiders. Below, our newfound wisdom.
1. A universal nude nail polish actually exists. It's tricky to find a nude nail color that doesn't look chalky or garish, especially against darker skin tones. But nail artist Jin Soon managed to create a classic, clean manicure for Derek Lam with the perfect universal warm beige shade. The neutral color is a mix of two polishes, layered over one another: first, she applied JINsoon Nostalgia, a warm pink tone; then she finished with a coat of sheer cream polish, JINsoon Tulle. The result was sophisticated and glossy — a nice change from all of this season's matte nails.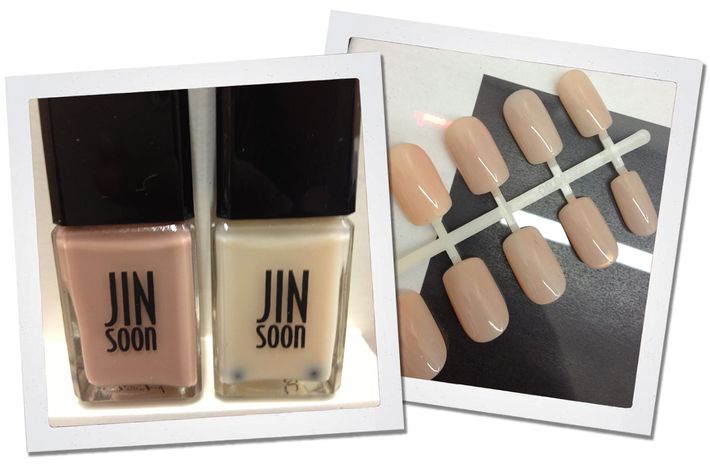 2. Water really will save you. Hungover? Tired? Want perfect skin? Healthy hair and nails? So far, when we've polled makeup artists, stylists, and models like Karlie Kloss, Jourdan Dunn, and Chloe Norgaard for their No. 1 wellness secret, they've all said it's drinking water. Since that hasn't yet turned me into a supermodel, I decided to try a vitamin hit from Berocca, that tablet recommended by Joan Smalls and Holly Rose. I'm not sure it will undo that late-night hot dog, but it tastes like sorbet and health.
3. Creatures of Comfort's gold-leaf manicures are easier to create than they look. Alicia Torello designed an opulent manicure for Creatures of Comfort — a simple nail decorated with random pieces of gold leaf to match the collection's fabrics. Surprisingly, it's quite cheap and easy to replicate: Start by using any base coat you want (like a clear nail polish, although Torello used a triple coat of Del Sol's Spectrachrome color-changing polish in snow white). Then rip up a piece of gold leaf (available at any craft store), and press pieces on the nails. Let it sit for a minute and then finish with a thick top coat, like Seche Vite; don't forget to also seal the tip of the nail. DIY goldfingers!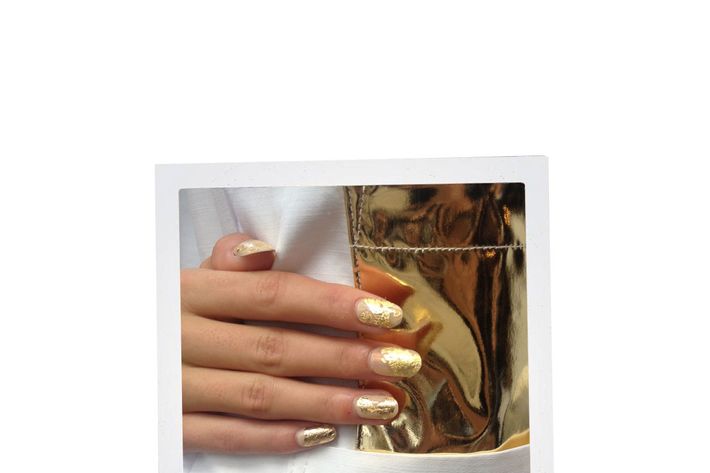 4. Some runway makeup is definitely, obviously not wearable. From the cosmetically enhanced sunburns and tricolor, oversaturated bold lips at Creatures of Comfort to the graphic neon eye shadow at Delpozo, I finally understand the meaning of "editorial makeup." Just like that bitch lip at Rag & Bone, these are not to be tried at home.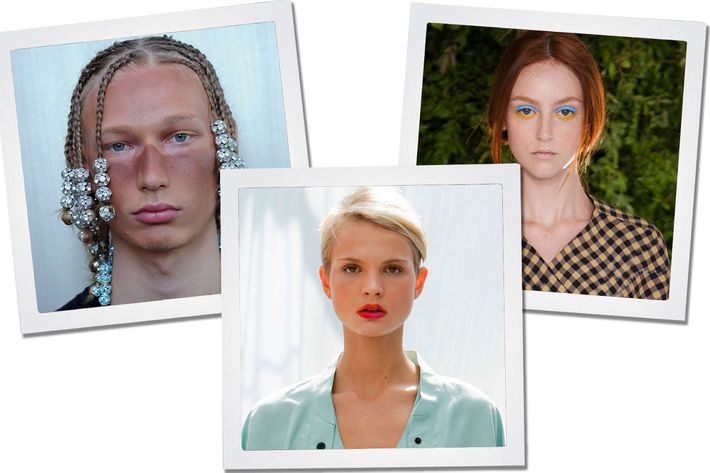 5. But just because it seems wearable doesn't mean it really is. The vibe at Band of Outsiders was "Jan Brady goes to the beach," which included a really lovely "innocent, pinkish beige" gloss applied to the lips. When I asked Shiseido artistic director Dick Page for tips on wearing the dusty-rose lip gloss if you happen to have darker skin (like me), he answered promptly, "Oh, just don't. Unless you're going to do a bold chocolate liner, à la Naomi Campbell. But that's a look I wouldn't recommend." Pass.