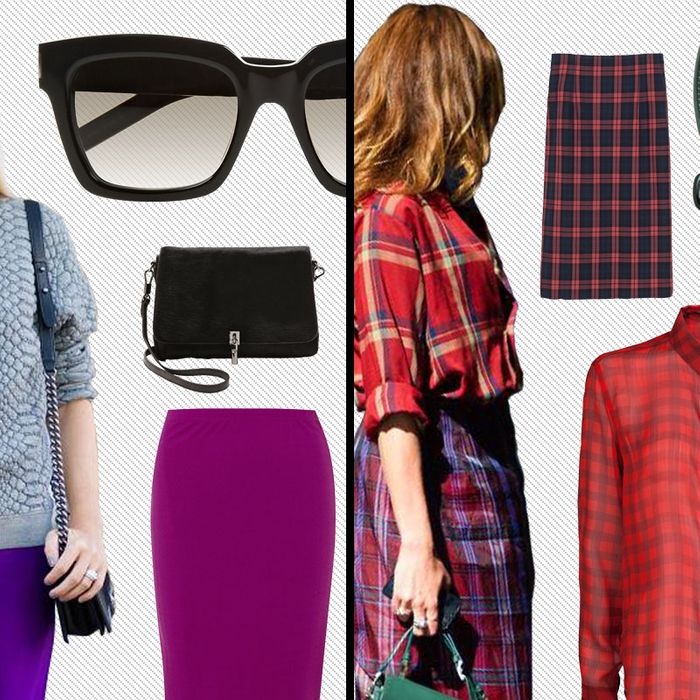 Photo: Photo: Youngjun Koo/IM KOO
While it seems like many of the street-style stars have toned it down for the week, there are still plenty of amazing outfits to inspire your wardrobe. Among all of the borrowed pieces and gifts from designers are wearable looks that work as well for the cameras as they do in the real world. Take Ece Sukan's plaid-on-plaid ensemble: It nods to grunge's comeback but still looks refined enough for adult dressing. Joanna Hillman, a favorite of the genre, combines gray with purple for an easy-to-wear combo that's not only chic but also comfortable enough for weekend errands. For those looking to push the envelope a bit more in their day-to-day style, Sarah Rutson's flashy tee-and-skirt pairing is youthful and fun while Rachel Wang's take on head-to-toe white is perfect for those last gasping days of summer. Click ahead to see how to re-create these looks, with pieces you can buy now online.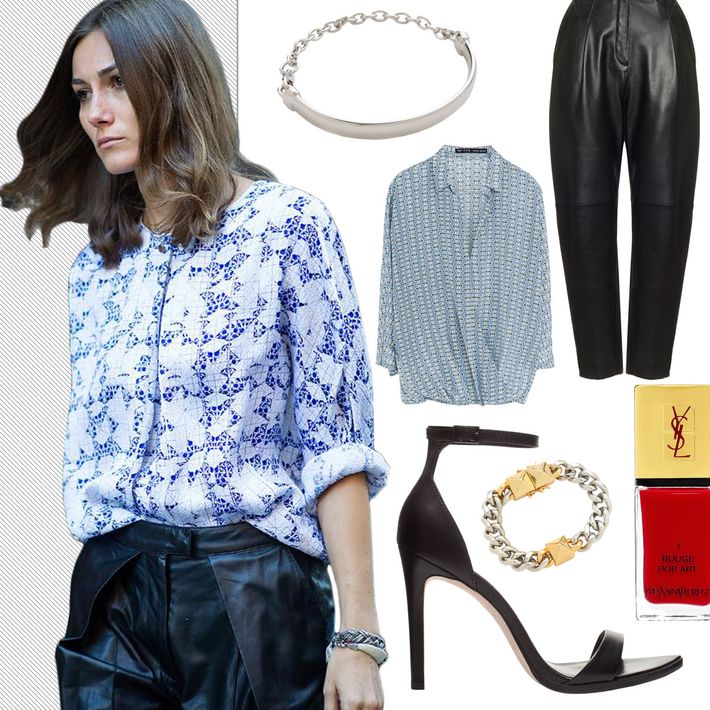 Giorgia Tordini, Contributor at Grazia 
A roomier, cropped leather trouser is much easier to put on than a pair of leggings. To keep it flattering, choose a billowy blouse and tuck it in to keep a clean silhouette. Roll the sleeves up to keep the vibe casual.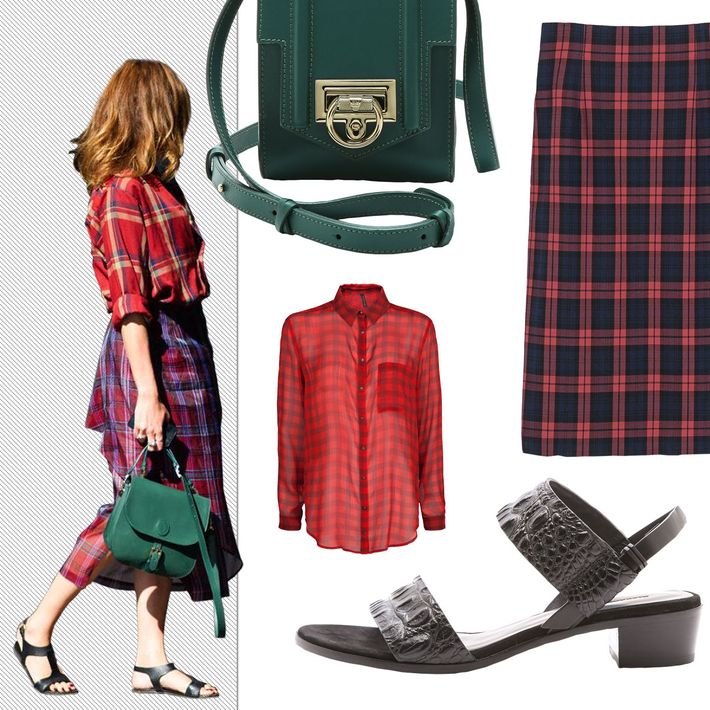 Ece Sükan, Editor-at-Large at Vogue Turkey
Plaid-on-plaid can be worn when the colors are complementary and the textures are different. A midi-length pencil skirt is lightened up by a chiffon top. A bright-green handbag adds contrast while low, black sandals are simply practical. While she chooses a flat version, one with a slight heel will be more flattering on the leg.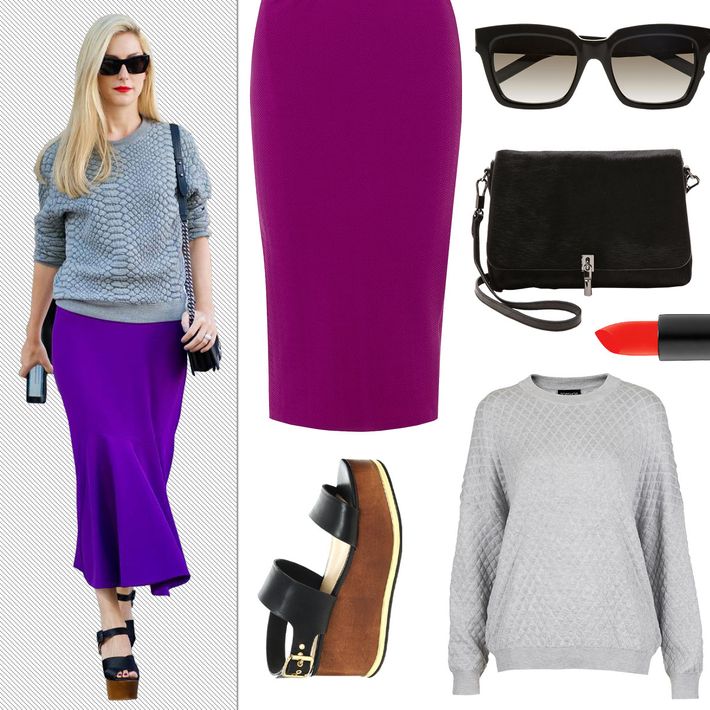 Joanna Hillman, Style Director at Harper's Bazaar
To keep a textured-sweatshirt-and-stretchy-skirt combination from veering toward pajama territory, add sleek black accessories. A pony-hair bag contrasts nicely with the quilting on the top, while flatforms add height without sacrificing comfort.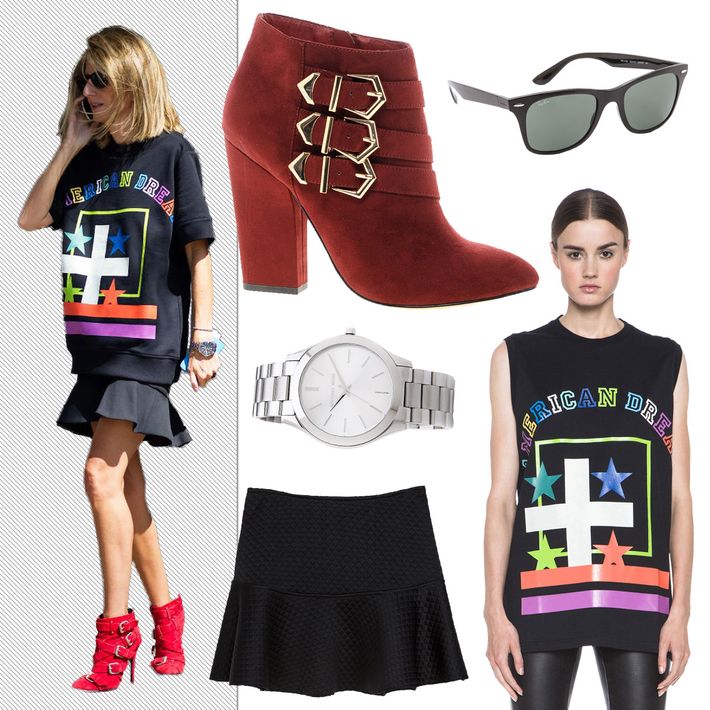 Sarah Rutson, Fashion Director at Lane Crawford
With a recognizable statement shirt, opt for a swingy black skirt to keep focus on the tee. A strappy red bootie will both play off the bright hues and be a strong enough statement piece to accentuate the top. To prevent the look from becoming too overdone, finish with minimal accessories like a pair of sunglasses and sleek silver watch.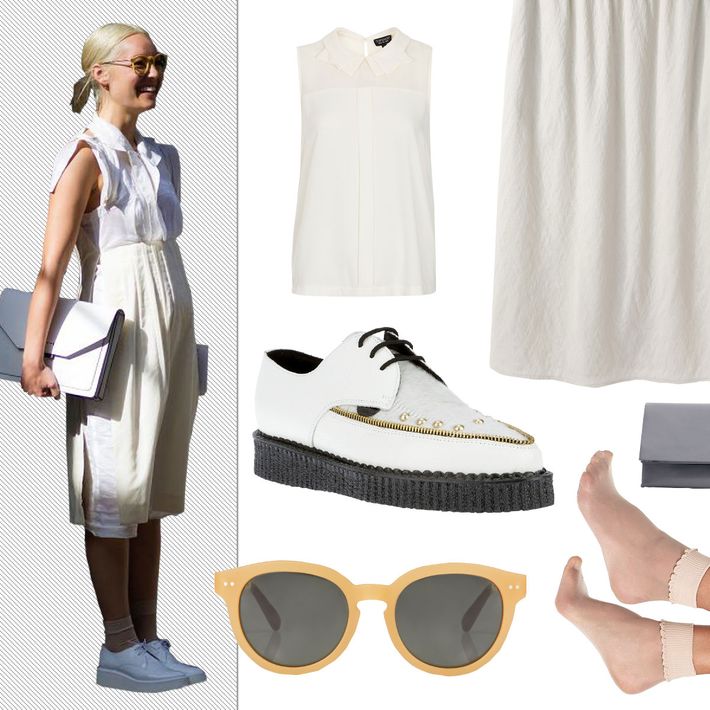 Rachel Wang, Fashion Market Director at Nylon Magazine
Head-to-toe white can be tricky to wear but neutral accessories like a gray clutch and honey-colored glasses keep the look from being too stark. Creepers are a nod to nineties grunge, which is currently making a comeback. The addition of nude socks is a quirky styling trick; if that feels a bit strange, the outfit would work without them.