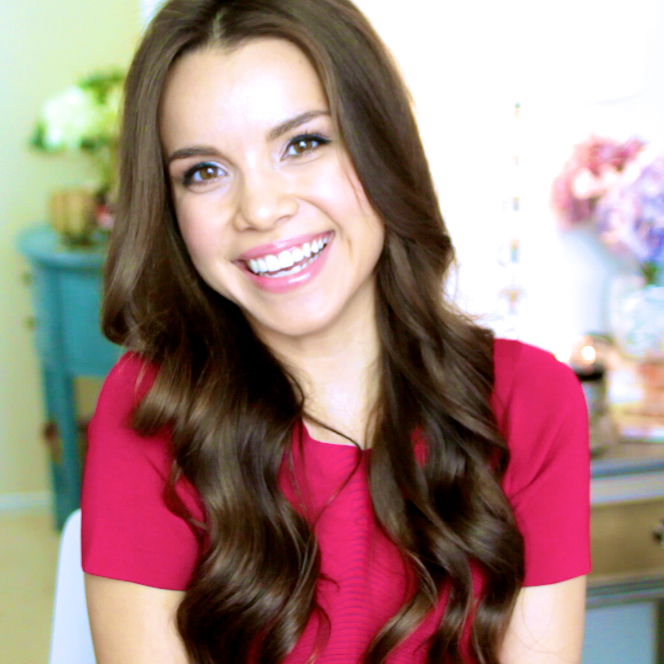 "If you had asked me a few years ago what I thought about making friends over the Internet, I would have been like, 'That is so creepy.' But now so many of my best friends are people I met through YouTube," says Ingrid Nilsen. The 24-year-old has gained a lot more than friends from the video-sharing website — today she has over a million online subscribers. And a full-fledged job making five figures each month as a YouTube star.
What started as an outlet during a lonely semester in college is now a legitimate business: Nilsen creates a new video every day, which takes anywhere from two to ten hours to produce from start to finish, and then she runs it on her YouTube channel supported by ads. Better known as Miss Glamorazzi in the online world, Nilsen covers beauty, fashion, and lifestyle content in her videos, doing everything from drugstore makeup hauls and DIY hair masks (or as she calls them, GIY — "Glam It Yourself") to getting-date-ready how-tos and monthly favorites roundups. "I thought it was just a place to go to watch people do funny things and watch cat videos. I had no idea that people were regularly making content that was awesome," she says of her early impression of YouTube. Four years later, Nilsen is a client of YouTube media company Big Frame, part of the online beauty network Polished, and her channel has garnered over 1.8 million subscribers (the equivalent of people who set their DVR to record the full season of a show) and an even bigger audience, made up mostly of 13- to 17-year-olds, 97 percent of whom she'd guess are female. Someday, Nilsen wants to move beyond being known as Miss Glamorazzi, but for now, she's happy being the eighth most-popular personality on YouTube. Below, she reveals how to become an instant YouTube star in nine easy steps:
1. Be Yourself, But More Amplified
Because a laid-back personality doesn't translate on camera, you have to be a bigger version of yourself — think Beyoncé meets Richard Simmons — more talkative, energetic, and confident than you actually are. If you like a nail polish, you must shout that love from the rooftops: Profess your undying allegiance to OPI's A Good Man-darin is Hard to Find with vigor. "Sometimes you meet YouTubers in real life who are really crazy on camera and you're like, Wow, you're still the same person, but a much more chilled-out version," says Nilsen.
2. Learn to Love the Sound of Your Own Voice
Choose to talk about something you don't mind talking a lot about. You don't even need to know a lot about it, you just need to be able to carry on a conversation with yourself. Are you a Pretty Little Liars fan? Love ice cream? Someone who carries a lot of cute items in your cute bag? Do tell! But at all costs avoid writing a script and trying to stick to it: "For certain things, it may be okay to have a general idea of what you're going to say, but not so much a script; you can end up sounding like a robot."
 
3. Push Through the Awkwardness
What do you normally do with your hands? Do your sentences usually go up at the end like that? It feels awkward to talk to a camera, but sit on your hands and push through it. "Pretend you're talking to a really good friend," Nilsen recommends. And a nonjudgmental friend at that, because you will mess up and have to start over a million times. But no one will ever know!
 
4. No Bitchy Resting Face
Say things with a smile, and remember you're always on camera. "If you're someone who's normally calm, it looks like you're sad on camera. I learned to pep it up for videos." So don't look too focused when you're trying not to burn yourself while curling your hair.
 
5. People Are Like Birds; They Like Sparkly Things
Add accessories, rings, and interesting stuff for people to look at. Choose pieces with lots of detail around the neck or a particularly blingy necklace, since that's all your fans will really be seeing. Party on the top, pajamas on the bottom.
 
6. But … Make Sure You Have Something on the Bottom
Because reflections happen. And if there is something there, the YouTubers will find it. And that may not be the way you want to go viral.
 
7. Come Up With a Clever, Easy-to-Remember Name
"Mine came from Lady Gaga's Paparazzi song, because it was stuck in my head. I came up with it at 3 a.m. and it made sense at 3 a.m. But I wasn't thinking, What is going to be a good brand name?" What's awesome now isn't necessary going to be awesome in five months, so pick something timeless, like some iteration of your own name, or something related to the Spice Girls. 
 
8. Share Like There's No Tomorrow
Do you have Twitter? Instagram? Vine? Snapchat? A platform so cool most of us don't even know it exists yet? You name it, you share on it. Does your mom have Facebook? She should share your video on her feed, too. The more places you can spread your video, the more clicks and more shares you'll get. But! Release the goods slowly instead of bombarding followers with the same link on every platform. Instead of a social media slap in the face, it's like a few, well-staggered pinches.

9. Visit Your Famous Friends for a Quick Chat
The quickest way to get a lot of followers? Appear in the video of someone who's already a big-shot YouTube star. Leave a comment on a YouTuber's wall, then start a correspondence with him, become best friends, and invite yourself over to his house to talk about Game of Thrones in one of his videos. Include a link to your own channel and boom, you've got subscribers. Easy. You can return the favor by inviting him over to talk about the intricacies of double-stuff Oreos once you're famous.
With Ingrid's advice and iMovie in front of me, I attempted to create my own vlog that would catapult me to YouTube stardom. Below is the result. (And hold the fan mail, please.)