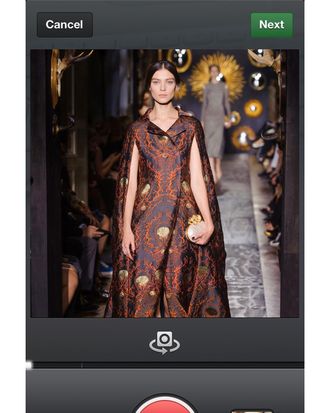 Last season Twitter unveiled Vine just before Fashion Week, setting off a firestorm of blurry, looping mini-movies from the shows. Right away, the shaky Vines threatened to usurp the second-row-stagram as the medium of choice for harried, smartphone-wielding audiences. And then, just when people were getting the hang of that medium, Instagram Videos came along this summer and more than doubled the length and possibilities of social video-making. So, in the spirit of self-editing, and in the interest of avoiding a glut of repetitive moving images in our feeds, we spoke to a film professor, consulted pros like cinematographer Sam Levy (Frances Ha), and director Phil Pinto (regular videographer for Vogue), and even flipped through books, to bring you these creative tips for creating better insta-videos at Fashion Week (or anytime, really).


1. Choose a single filter and stick to it. Your feed will look a lot more pleasing with a unified aesthetic. Instagram used color experts to create their cinema-quality filters for insta-videos, and supposedly created the "Ginza" filter to give films more of a "fashion magazine look." Also, black-and-white is a good option for making images instantly chicer. (See: Fabien Baron.)

2. Don't forget to vary your perspective shots. Artist and professor of film at CUNY, Sarah Hanssen suggests getting up and walking around. "Don't just sit there. See where the interesting shots might be and get a better angle. Ask yourself what only you can see."

3. Have a point of view and an ending in mind. Do you want to make people laugh? Prove you have great taste? Capture the first looks? Define your agenda. Director Phil Pinto says, "Fun videos have some kind of payoff in the end, like a joke or a quick story. It's all about the reveal, like if you're panning across a crazy after-party to end on a person passed out on the couch — think about the core reason you're making a video and think in reverse from payoff to introduction."

4. Think like an editor as you shoot: You don't have to upload everything you shoot. If you're unsure of a clip, you can cheat the upload process by turning your phone to "airplane mode," which will auto-save your movie to your camera roll. If it turns out you got the perfect take the first time, you can upload whichever one you want later. As for how to string images together, Pinto suggests repeating imagery or themes, but also says, "Straight juxtaposition between shots can be really cool. Like, if you were making a video of close-ups of all textiles in a collection, going from plain colors to a crazy pattern back to a solid color could be a fun/effective video."

5. Don't forget about sound. According to Sam Levy, a common mistake that Instagram filmmakers make is holding shots for too long and forgetting that sound is rolling. To make a silent-ish insta-video, hold your finger over your microphone as you film. You can also use a hands-free mike for voice-overs (more on that later), or make a note instructing people to watch the movie with the sound off.

6. Low light is not the enemy. To combat dark situations Levy advises, "Don't hold the low light shots for too long — as an experiment, try surrounding them with shots that are brighter. Then the dark shots take on more importance, instead of just looking like a mistake." Pinto claims that serious Instagrammers will carry a little flashlight on their key chain. But if that is too much for you, he suggests embracing the silhouettes caused by backlighting.

7. Invest in good lenses. Yes, someone made tiny pro lenses for your iPhone and they are awesome, and relatively cheap. If you're really serious (and you must be if you've read this far), try buying one or all of these. We're sort of excited to test out the fish-eye on all the models backstage.

8. Have an arsenal of funny clips stored on your phone. If you've decided to edit as you go and not edit things together later (in an app like iMovie), you can still work "found" footage into your film. Capture some footage in your camera roll and then import it as you shoot. (Example: Film the elevator doors of Milk Studios opening, then cue up a clip of wild buffalo stampeding.)

9. Memorize some quotes or songs to use as voice-overs. You're stuck with the ambient noise of the room, but you can plug in a hands-free mike and narrate the scene. (Example: You see a powerful editor and her bodyguard heading your way. As you begin one long shot of them winding their way to the front row, whisper the opening lines of Macbeth. Art. Film. Done.)

And remember, most of the rules of filmmaking do not apply during Fashion Week. No permits or releases are required. Much like a nature documentary, your "cast" has no idea they are in your film. They arrive on "set" pre-costumed and in full hair and makeup, all yours for the taking. When making an insta-video you are your own crew. If your film had credits, they would read: Director, You; Cinematography, You; Editing, You. Sound, You/Ambient Noise; Cast, The Fashion Week Crowd.