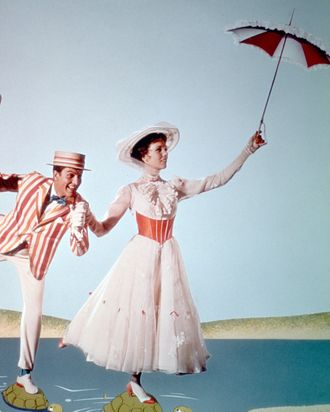 Photo: Hulton Archive/Getty Images
Last week, we discussed the airline trend of banning children from special "quiet" sections of the airplane. This week, the UAE's national airline Etihad Airways introduces us to the inverse: special traveler liaisons for children, known as "flying nannies." Trained in child psychology, behavior, and development at "the world-renowned Norland college," flying nannies wear practical-but-sassy uniforms and entertain children, Etihad explains in a press release:
Identified by bright orange aprons, each Flying Nanny aims to provide a 'helping hand' to families and unaccompanied minors. They will also introduce children to the exciting collectable Etihad characters—Zoe the bee, Jamool the camel, Kundai the lion, and Boo the panda—who accompany them on their trip.
Much like the main characters from The Babysitters Club, they come equipped with kid kits:
Many of these activities derive from a special kit which contains straws, stickers, cardboard and other items which the Flying Nanny uses to teach simple arts and crafts such as creating special greeting cards for friends and family. The Flying Nanny will also frequently use service items such as paper cups which can be made into hats and the Japanese art of origami to fold paper into sculptures. All activities are designed so the Flying Nanny can leave the children to produce and complete on their own. A key on-board highlight is set to be the creation of sock puppets which uses stickers from the Flying Nanny kit as eyes and the socks from the guest's travel pack. In addition to the arts and crafts, the Flying Nannies can also teach children simple magic tricks which helps retain their focus and interest while seated.
That's right: They are specially trained in magic. Forget air travel, Etihad should get into the au pair business. This is Mary Poppins territory.