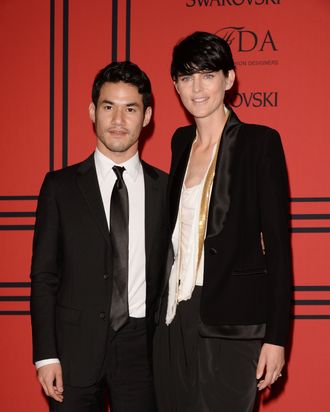 Altuzarra with Stella Tennant.
Photo: Andrew H. Walker/Getty Images
Great news for Joseph Altuzarra ahead of his runway show tomorrow: European luxury giant Kering, formerly known as PPR, has taken a minority stake in the New York–based label. From this morning's press release:
This investment marks the beginning of a relationship in which Kering will accompany the growth of the brand founded in 2008 by French-American designer Joseph Altuzarra.
Mazel tov! This may also mark the beginning of a grooming process for Altuzarra to eventually take over at one of Kering's other major houses, which include Alexander McQueen, Balenciaga, Bottega Veneta, Gucci, and Saint Laurent. (Indeed, Altuzarra was rumored to be in the running for Balenciaga last year; the position went to Alexander Wang instead.) Either way, it's great for him, and great for the New York fashion industry to have a major international luxury group backing another one of our own.