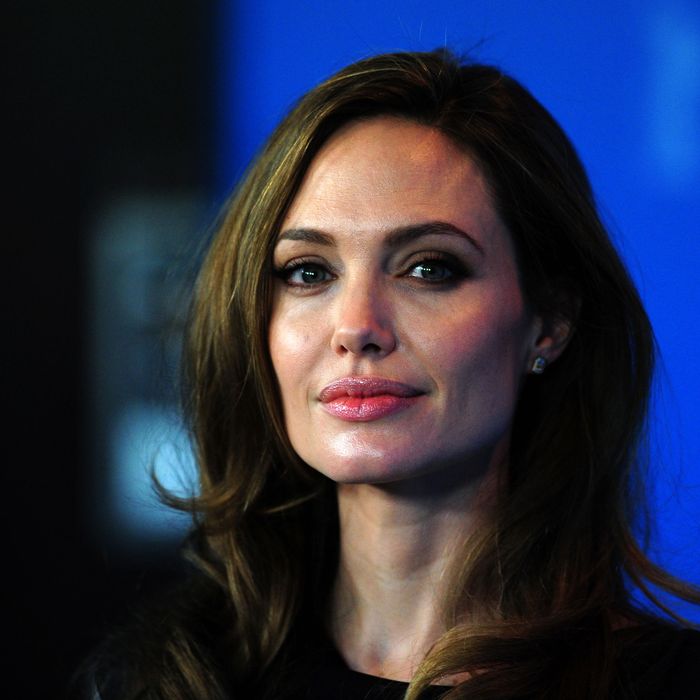 Photo: JOHANNES EISELE/AFP/Getty Images
Dr. Kristi Funk is a 44-year-old breast-cancer surgeon who works at the Pink Lotus Breast Center in Beverly Hills, a clinic that she co-founded with her husband. Although she was not mentioned by name in Angelina Jolie's momentous New York Times op-ed, in which the actress described her own bilateral mastectomy, Dr. Funk's identity was hardly a secret, and she is profiled exclusively in this month's Town & Country magazine. (Frankly, it's surprising no other national glossy got to her first. She's attractive, successful, and a mother of triplets — perfect magazine material.)
Pink Lotus was overrun by phone calls on the day that Jolie's article was published, and has since seen an influx of eager new patients who possess the same BRCA mutation that Jolie has (Dr. Funk calls them "Angelina patients"). But lest you think that it's some posh place that only treats the rich and famous, take comfort in Dr. Funk's normalcy, as reported by Dr. Peter Bach:
I met Kristi Funk in the middle of a busy day. Her blond hair was pulled back, not elaborately done up. Her surgical scrubs were a little rumpled. her mind was on her next patient. She explained her strong work ethic and focus by quoting her longtime mentor, John Ryan, the former chief of surgery at Virginia Mason medical Center in Seattle, where she trained: "You're doing one thing right now. One thing. Do it right." 
Okay, fine, so it's a pretty posh spot, but not egregiously so:
I had flown to Beverly Hills worried I was about to walk into a Truman Show version of a doctor's office. I imagined a place that would downplay the seriousness of breast cancer, as if it were a minor inconvenience like a sprained ankle, rather than the killer it can be … But I had it completely wrong. Yes, everyone who works in the clinic wears black and pink scrubs, and a few too many items, down to the coffee cups, bear the clinic's logo. But as a whole the place is rather unassuming.
Of course, you don't name a place "Pink Lotus" without immediately ordering a bunch of monogrammed mugs and Georgia O'Keeffe prints for the bathrooms. But anyway, just because Dr. Funk has treated wealthy women like Jolie and Sheryl Crow doesn't mean she's not interested in helping the poor and uninsured. In fact, the clinic accepts Medicare, Medi-Cal (California's version of Medicaid), and those without insurance altogether. She and her husband have also started a charity called Pink Lotus Petals (even better monograms!) that will help women pay for care if they need it.
It seems likely we'll hear more about Dr. Funk in the future — when someone is talented, photogenic, and tied to the Jolie-Pitts, fame seems inevitable. In choosing to become a face of preventative mastectomy surgery, perhaps Jolie purposely sought a doctor who would handle publicity with a similar sense of altruism.