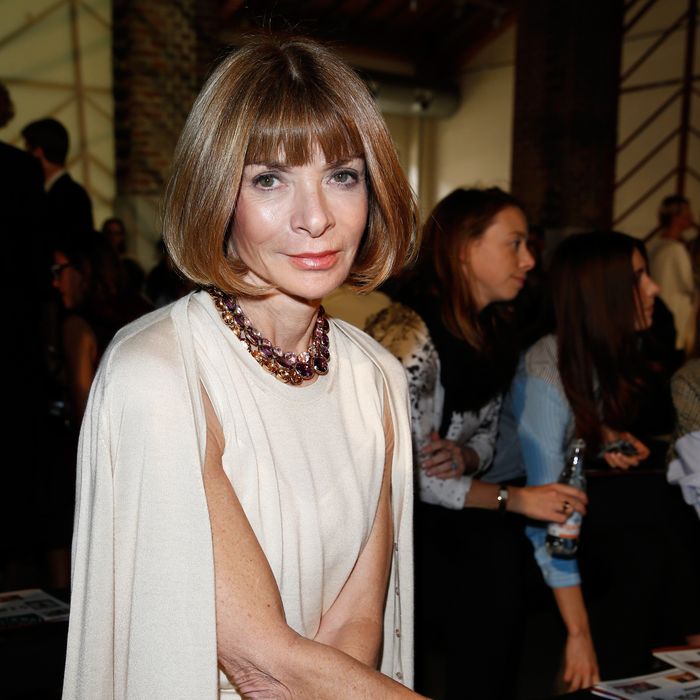 Anna Wintour.
Photo: Andreas Rentz/2013 Getty Images
Since her promotion to artistic director of Condé Nast in March, Anna Wintour has briskly set about revamping two of the company's underperforming publications — Lucky and Traveler, both of which have since gotten new editors (Eva Chen and Pilar Guzmán, respectively) and major staff shake-ups. Surely not by coincidence, both now seem to be moving toward Vogue's more luxe, rich sensibility. Now, according to the Times, Wintour will turn her attention to Glamour, one of Condé's largest women's publications.
Although Glamour magazine boasts a print audience of 11 million (the same size as Vogue's, incidentally), its ad pages were down about 4 percent this year (as of the end of May), and their yearly newsstand sales had declined over 28 percent (as of June). What does this mean for Glamour editor Cindi Leive, who has meanwhile ushered in the magazine's record number of editorial awards and helped boost its circulation to over 2.3 million, its highest rate ever? This remains to be seen, although the Times has this juicy tidbit:
According to a magazine executive at a competing company with direct knowledge of the discussions, a creative director at his company was approached about working in a similar role for Glamour, and told that the post would report to Ms. Wintour, not Cindi Leive, the magazine's editor.
For the record, Condé CEO Charles Townsend denied the part about Wintour superseding Leive, stating that it was "dead wrong." Either way, Wintour's influence appears to be all-encompassing. Speaking of which, how do we feel about Lucky's October cover, which features Eva Mendes in a $15,000 (yes, you read that correctly) python jacket and $1,674 skirt, both by Jason Wu? So much for the Everywoman.