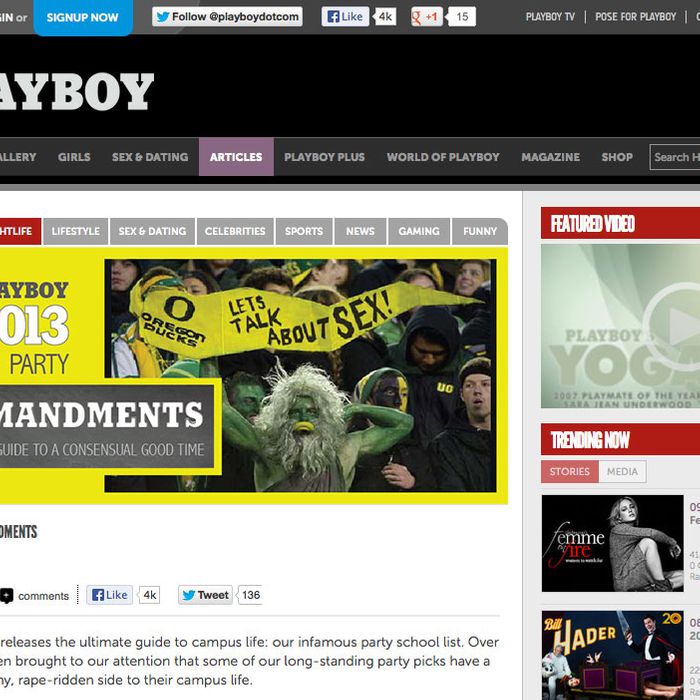 Photo: partywithplayboy.com
For the past several years, Playboy has published an illustrious list of the nation's top party schools, graded for sex, nightlife, and sports. This year, a group of college students and the anti-rape activist group FORCE — also behind the Victoria's Secret "Consent Is Sexy" stunt — beat them to the punch. Their twist? To swap a ranking for the ten commandments of a consensual good time, as demonstrated by college sex-education programs. "It has been brought to our attention that some of our long-standing party picks have a not-so-toast-worthy, rape-ridden side to their campus life," the group wrote, posing as Playboy on an impeccably designed imitation site, partywithplayboy.com.
"In our new found light, we proudly present to you Playboy's 2013 Top Ten Party Commandments,the ultimate guide for a consensual good time. […] Take this list as a guide, not a competition. […] [W]e are raising our glass to a new era of better sex and the student visionaries who are ringing it in."
The group wrote up the list — which praised Oberlin's Sexual Health Information Center, University of Wisconsin's "Badgers Get Consent," and Skidmore's erotica magazine, among others — in fake articles designed to look like the Huffington Post, Upworthy, and BroBible. Playboy has yet to respond publicly to the prank, but FORCE's website says they asked the partywithplayboy.com server to take it down. Amanda Marcotte called for the magazine to run the hoax (the copy might need a little work) as a testament to its bid to be woman-friendly.
But what's nice about this prank is it's not an indictment of Playboy, which isn't responsible for campus sexual assault. (Rapists are responsible for campus sexual assault.) An interview with Playboy founder Hugh Hefner published as part of the prank was also fake, but flattering, and touted Hefner's real-life feminist and sex-positive bona fides. So whatever Playboy's response is, it doesn't need to be defensive. Rather than taking down Playboy — as an iconic if not particularly relevant symbol of gender relations — it imagined how a lad mag could be part of the solution. Even BroBible, a site much closer to the issue at hand, agreed with the campaign message, "even though this is a pretty clear case of brand infringement."
"The world is safe for bros to be feminists too," Andy Moore wrote.