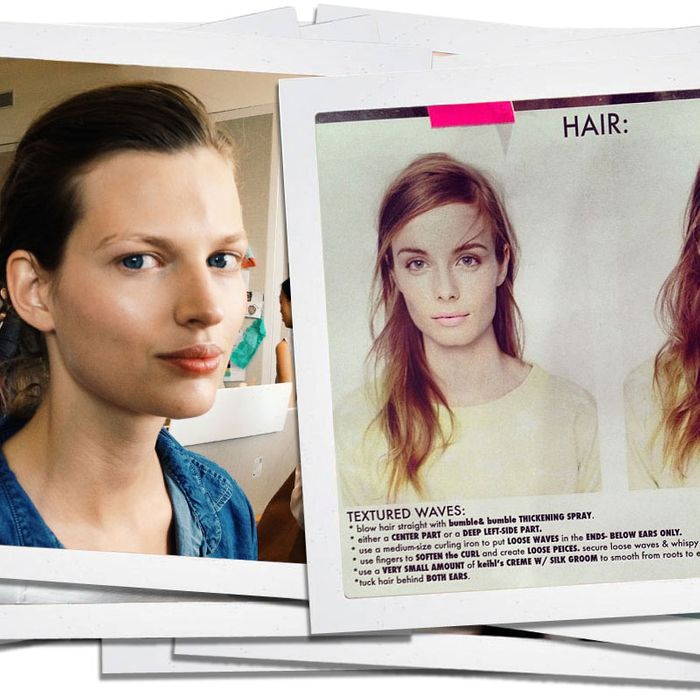 Yesterday, we learned so many things by creeping backstage at J.Crew, Rodarte, Narcisco Rodriguez, Jenny Packham, Vera Wang, Marc by Marc Jacobs, and Oscar de la Renta. Herewith, useful service journalism — from eye makeup that's still cool to "beach hair" tips that actually work.
1. The "cool girl" eye makeup: Bold lips appear to be the makeup go-to for everyone hip and stylish next season, but James Kaliardos insists that the eyes really are the windows to cool. For cool-girl savants at Rodarte, Kaliardos says to embrace the flick. To get one that enhances the eye, rather than makes you look like Amy Winehouse, he recommends starting with a line drawn from the middle of the eye to the outer corner, rather than the inner corner. "That way you have somewhere to go, and our cat eye won't be too heavy. When drawing the next line, from the inner corner to the middle of the eye, use a very thin brush for precision, [and] the flick should be smudgy-sexy, so switch to an eye pencil."
Dick Page, who did the makeup for Marc by Marc Jacobs, agreed.  We loved the vibrant blue "crescent, half-moon shape" on the lid. To get that, Page used a mix of icy-blue cream eyeshadow and a cerulean powder applied by following the natural shape of the eye. For both looks, top off with a lot of mascara.
2. Scarf it down. Also, look! Scarves around the hair à la Creatures of the Wind at Marc by Marc. It's official: new trend!
3. The only beauty product you need: "The most important beauty product is blush. It makes you look like you just had sex," Page says. And honestly, the best kind of flush is a post-romp flush. To get the look, Page recommends applying a mix of two pink lipsticks, Shiseido lacquer rouge in Metal Rose and Hellebore, directly to the apple of the cheek. Great! At least we have blush as a sex substitute, since nobody is getting laid during Fashion Week, anyway.
4. The definitive beach-hair guide: While variations on "modern beach hair" (seen at 3.1 Phillip Lim, Rag & Bone, Band of Outsiders, Theyskens' Theory, and so many others) range from oil-slicked with some wave, to kind of crunchy with some wave, to oversaturated with mousse and a slight curve, I want to try none of these in real life.  J.Crew, the brand with something for everyone, had the best: Bumble & Bumble provided a side-parted beachy hair, with super easy-to-follow instructions: Blow hair straight with a thickening spray, create a deep side part using a comb, and use a medium curling iron to put loose waves in the ends of hair, but only below the ears. Then use fingers to soften curls, add a little bit of Kiehl's cream with "silk groom" to smooth hair from the roots to the ears. Tuck behind both ears, and you have the hair of a J.Crew catalogue model.
5. Faking flawless skin: Laura Mercier makeup artist Talia Shobrook created some seriously gorgeous skin for Jenny Packham. She recommends starting with a primer every time, and following up with carefully applied foundation that matches the skin tone perfectly. (Pro tip: To find the best color match,  use your jawline as a test patch.) While we loved the glowing skin of an "innocent young girl," we were envious of Shobrook's pregnancy glow. No need. Turns out we can all have the skin of a pregnant woman. "Anyone who says that a pregnancy glow is natural is lying" says Shobrook. "It takes work! I use a moisture surge face mask three times a week for this skin!"