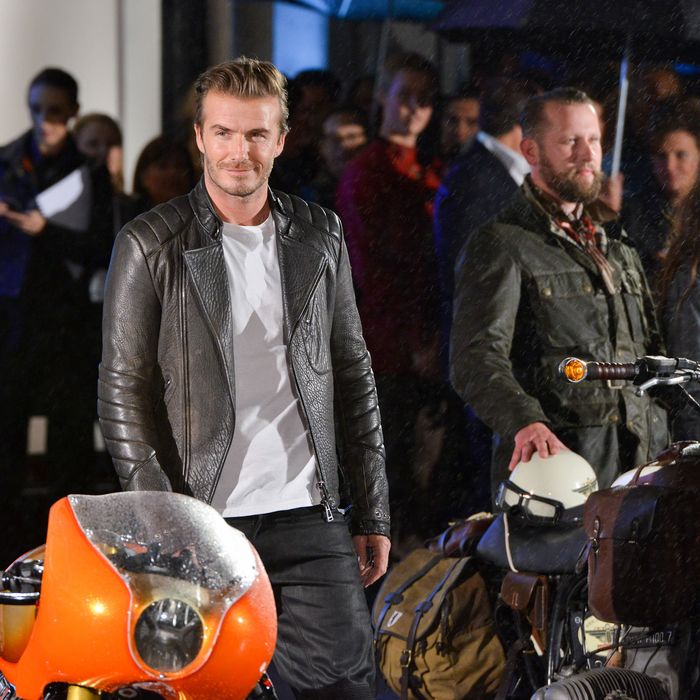 Photo: Nick Harvey/2013 Nick Harvey
When David Beckham retired from soccer earlier this year, hanging up those adorable cleats embroidered with the names of his wife and children, it seemed a given that he'd use his extra time to pursue more fashion projects. He fulfilled our wishes by dutifully posing shirtless for his fourth David Beckham Bodywear ads for H&M (sadly, no butt shots this time around), fannying around at fashion parties, and looking cute in Victoria Beckham's front row. But surely that couldn't be all?
Yesterday, British label Belstaff announced that Beckham had signed a contract to be their latest face, just in time for him to show up at their London Fashion Week party and pose seductively next to motorbikes parked on the floor of their new flagship store. (It's really too bad they didn't have him roar into the store, Rob Halford-style. What a missed opportunity.) Anyway, the campaign was shot in the English countryside by Peter Lindbergh on Saturday, WWD reports. Sadly for us, his tattooed torso will be sheathed in one of the brand's leather jackets.
And not that anyone needs a real reason to enjoy pictures of Beckham straddling a powerful engine, but it turns out that he spends a fair amount of time on motorbikes. The best part about it is that no one recognizes him: "When you're out there, no one knows that it's you. You have a full-face helmet on, so you enjoy just being alone," he tells WWD. And no, Victoria doesn't join him. "She's never ridden with me, and I don't think she will," he said. "Obviously with four children, trying to get her on the bike is difficult." (But he has four children, too … )