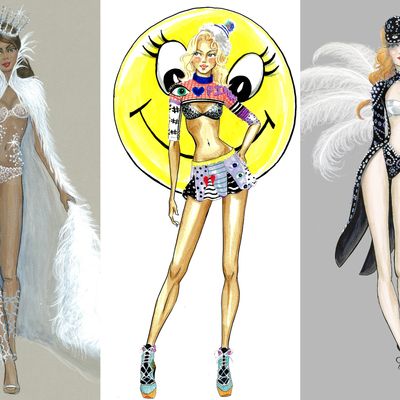 Sketches from the 2014 Victoria's Secret Fashion Show.
Photo: Courtesy Victoria's Secret
Today, Victoria's Secret sent out a press release about this year's Victoria's Secret Fashion Show, that annual parade of barely dressed supermodels that tricks all of America into thinking runway shows are basically just choreographed musical revues with taller, skinnier, hotter performers. Should you need a break from all of the real catwalks that are happening right now, here's the deal: Televised on Tuesday, December 10, the show will include usual suspects Adriana Lima, Alessandra Ambrosio, Lily Aldridge, Candice Swanepoel, Lindsay Ellingson, Karlie Kloss, Doutzen Kroes, Behati Prinsloo, "and many more."
Like who? We'll certainly find out much more in the month leading up to the show, when Victoria's Secret bombards us with videos, tweets, workout tips, and goodness knows what else. But in the meantime, here are three sketches (above) to whet your appetites for the crazy costumes these girls will haul down the stage after days of juice-fasting. The costume on the left looks like a more naked version of Alexander McQueen's fall 2013 collection, while the middle one looks ripe for Cara Delevingne (perhaps one of the aforementioned "many more" models?). As for the outfit on the right — well, leave it to Victoria's Secret to make a top hat and coattails look like saucy beachwear.