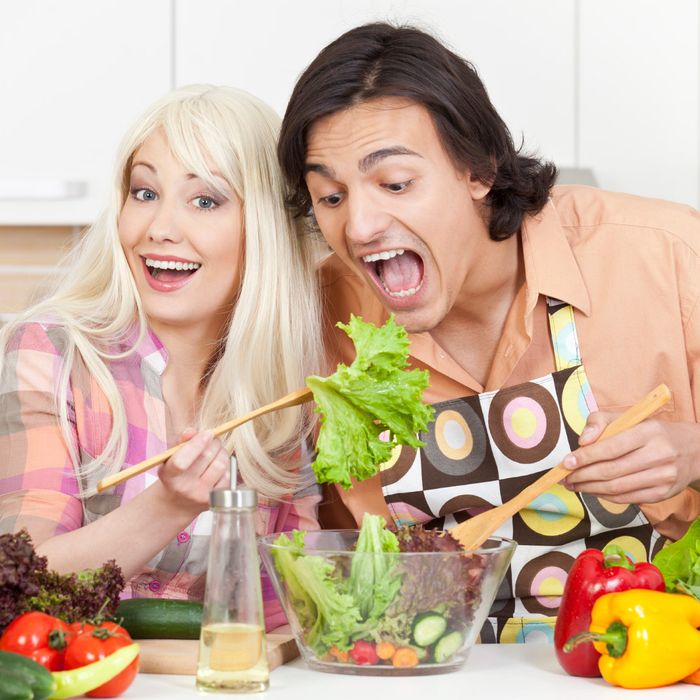 Photo: Bojan Kontrec/iStockphoto
Salads are having a big day. Often associated with a sad desk meal or an untouched substitute for french fries, salad has now become a power connector in both business and love. A New York Times trend story in today's "Dining" section chronicles the rise of the "new breed of ladies who lunch" at trendy downtown restaurants like ABC Kitchen, Buvette, and Cafe Cluny. And what do you think these young hotshots from fashion, publishing, and the creative sphere are power-lunching on? That's right, salads. Specifically the roasted-carrot-and-avocado salad from ABC Kitchen. Says the Times: "A salad may seem modest, but that dish (and its cult following among trend-attuned New Yorkers … ) is emblematic of a shift in the way that women participate in the crucial information-gathering and idea-generating ritual known as lunch." In other words, women have lunch meetings at hip restaurants, eat food, and talk business, and they have favorite salads.
For those more concerned with romantic connections than professional networking, a New York City restaurant called Just Salad is combining quick, healthy meals with casual dating apps. Salad Match — tag line: "It was love at first salad" — joins a growing number of apps based on food restrictions or preferences, like Hotsaucepassions.com, glutenfreesingles.com, or veggiedate.org, reports the Atlantic Wire. So if chopped salads are your thing, sign up, tell Just Salad what kind of salad masterpiece you love, what location is your favorite location, and what time of day you normally eat. The Tinder-like app grabs a photo from your Facebook profile and suggests other singles for you to meet to "schmooze over a frozen yogurt and get lost in each other's eyes while enjoying freshly chopped salad." Fingers crossed Domino's makes a similar app soon (we're partial to pepperoni pan pizza, Wednesday nights at 10 p.m.).