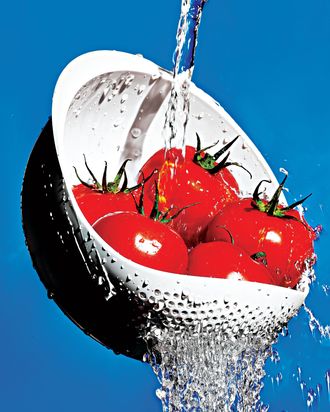 Photo: Bobby Doherty/New York Magazine
Some may doubt the need for a dual-purpose colander and bowl—really, how hard is it to strain your pasta in the former and transfer it to the latter? But for those confined to a New York kitchen, Joseph Joseph's sturdy plastic Prep & Serve ($13 at Bloomingdale's, 1000 Third Ave., at 59th St.; 212-705-2000) saves valuable counter space. A built-in sieve lets you rinse food at the center of the bowl before tilting it to drain the water. Tip it back, and take your freshly washed berries or salad straight to the table.
This article originally appeared in the September 23, 2013 issue of New York Magazine.