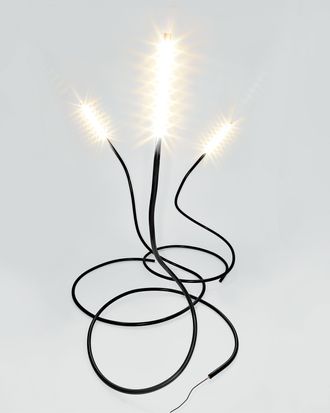 Photo: Bobby Doherty/New York Magazine
After fifteen years as a competitive sailor—once catamaraning around the world in 63 days—French designer Nicolas Pichelin has mastered another feat of efficiency with his protean S7 floor lamps. Rendered from a patented, paradoxically steely yet flexible composite material, the fourteen-foot tube shape-shifts to stand mast-pole straight in a corner or hover figure-eight-like over your desk. The interchangeable LED head, which has five brightness levels and comes in black or titanium finishes, rotates a full 360 degrees at your whim.
S7 Floor Lamps, $695 at Ameico.