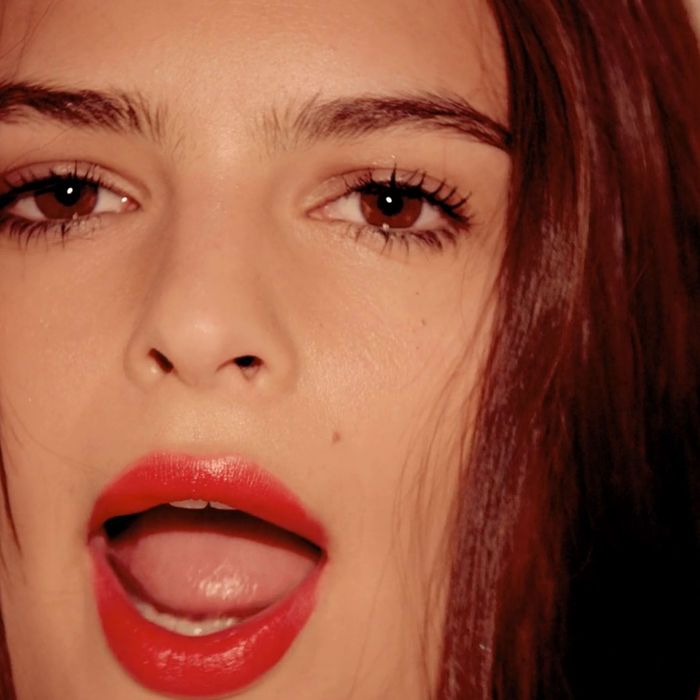 "Blurred Lines" brunette Emily Ratajkowski is on Into the Gloss today, talking about her makeup routine as well as how she justified the lopsided nudity in Robin Thicke's fame-making music video, using art history and her hippie upbringing to make her point. According to Ratajkowski, she and her agency turned down the opportunity until director Diane Martel met with her. She says:
Martel told me that she would make it fun and interesting, and how making eye contact with the camera would change everything. If you look at art history, nudes making eye contact with the viewer completely defeat the power of the male gaze. It's crucial. Our attitude in the video was a little silly — we're rolling our eyes, ignoring the men, and making fun of them … It's also supposed to be about celebrating your own body and about confidence. It was a fun video, and in general, I have always felt great about nudity.
Ratajkowski inherited her healthy attitude from her mother, "an English professor and a hippie" who was "always topless at the beach."
When I was little, I was always naked on the beach and around the house. I never felt there was this sexuality that was immediately tied to nudity. I thought, "This is a body and it's beautiful." Yes, of course a naked body is sexy, but it's nothing to be ashamed of. I developed early, and it was awkward because people would say weird things, but my mom taught me to never apologize. She always said, "Just love yourself. That's all that's important." I don't think there has to be anything dirty or gross or objectifying about nudity. It's not so black and white.
More about Ratajkowski's favorite moisturizers etc., at Into the Gloss.