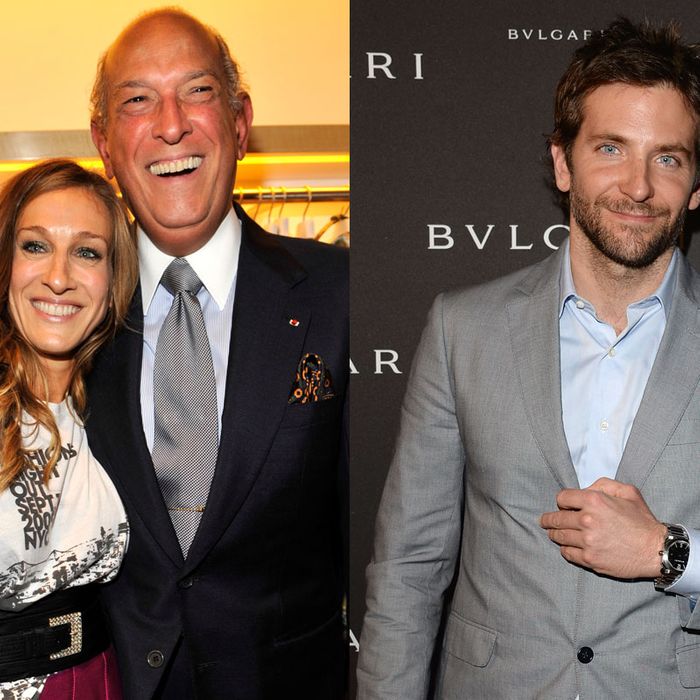 Co-chairs.
Photo: Getty Images
The subject of next year's Costume Institute exhibit, couturier Charles James, was announced in WWD this morning. But more important, so were all the details of next year's Met Gala! Even though it's still eight months away, we can already paint a pretty good picture of what it'll be like — basically the antithesis of this year's punk (and quasi-punk) antics. In other words, all the ladies who just want to wear beautiful, glamorous ball gowns will get their chance next spring, when the gala pays tribute to fifties couture.
Contributing to the crowd of full skirts and flattering bodices will be co-host Oscar de la Renta, whose dance card is probably full of dress requests already. As for the celebrity headliners: Co-chairs include Sarah Jessica Parker and … BRADLEY COOPER, AHHH. We haven't had a hunky Met Gala host in quite some time, so this is overdue.
What to expect: Cooper will bring his mom and they'll do cute red-carpet poses, and Parker will get to borrow one of James's crazy vintage hat creations. Everyone else will wear Oscar. As for the "theme," Costume Institute curator Harold Koda tells WWD that it'll be pretty simple: "James had an extraordinarily, highly evolved palette … It was more colors than one finds in an English garden. I am expecting that the people who really want to evoke James will also play with this saturated jewel color. At least I hope so." (And so does notorious color lover Anna Wintour, surely.)
This year's sponsor is Aerin Lauder's new eponymous lifestyle brand, Aerin, so she'll be a major fixture, too. Rounding out the co-chairs are philanthropists Lizzie and Jonathan Tisch and, of course, Wintour herself.
The Met's theme often impacts designers' collections leading up to it (remember last season's punk/grunge moment?), so we can expect a turn toward ladylike, fifties-style glamour this winter, coupled with lots of corresponding James-inspired Vogue spreads. Lovers of the hourglass silhouette, rejoice! This will be your year.