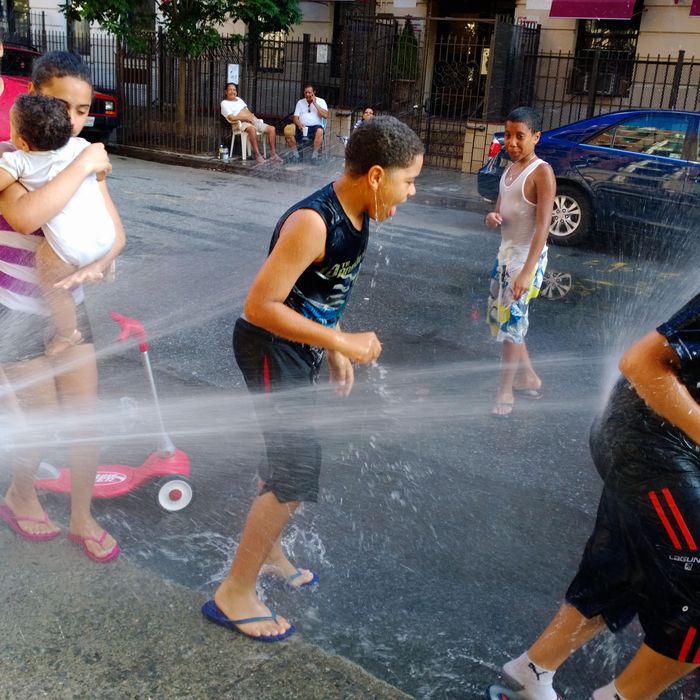 Legendary photographers Bruce Weber and David Bailey have photographed fashion and music luminaries for over 40 years, but rarely together. Recently, they went to Harlem on the hottest day of the summer with an assignment to document what they saw using a smartphone. For the two guys who love and rely on old-school film, it was a surprisingly easy undertaking. "I've got to be honest, the best camera that I have is the one I've got on me, if it means I can get what I want," Baily told the Cut. The longtime pals shared their exclusive images, shot on a Nokia 1020, and talked to us about their day in Harlem, their creative partnership, and the best-dressed people they've seen in New York.
You could have chosen any neighborhood in New York for a shoot. Why Harlem?
David Bailey: I first shot here in 1961 for British Vogue. I just went down there, no big deal in those days. You didn't have Winnebagos or hair or make-up. I just went down there and they said, "You shot in Harlem without permission," and a couple were in British Vogue with Jean Shrimpton.
Bruce Weber: Well, I was so proud to be a New Yorker and to be able to go to a neighborhood like Harlem. The people are so friendly and soft. And you don't find that too many places anymore. So that spirit that people in Harlem have — I'm not just talking about African-American people, I'm talking about Spanish people, white people, all kinds — I thought that was pretty good. I was excited to show David that world.
DB: Bruce knew all the spots, so it saved a lot of walking around. That was great. Just follow him. If I was going to live in New York, I think I'd live in Harlem. And my wife said to me yesterday, "If we ever lived in New York, I want to live in Harlem." I think it's great there. There's some great houses, the people are all nice, it's a great atmosphere.
What inspired you while you were there?
BW: It's a space to really learn about fashion. I think it's pretty incredible. I think some of these designers, if they were smart, they'd have some of their fashion shows up there. There were beautiful things from Africa that people were wearing. And I just sort of love the sensibility of color. It doesn't seem to be — it's such an emotional use of color. I can't explain it. It's a feeling. Maybe that's why we both love a lot of the music that came from Harlem.
You guys have been friends for such a long time. Did you find it easy to work together and find a common vision?
DB: Bruce is still a visionary, and then I've still got my vision. We weren't like Malcolm and Marge on this type of thing, saying, "Shit, man, let's do this!" "No, no, let's do this!" Each person does what he does. And it doesn't change Bruce's personality or my personality.
BW: I didn't know really what it was going to be like for us. I didn't know. I mean, I knew what it would be like to be with David, but I don't know what he's thinking, and I'm not even sure I know what I'm thinking. So it happens.
So no telepathy? Were there moments you didn't agree on a location or a shot?
BW: It's funny how someone can do something or see something and totally turn it around. We were going to go to one location and I thought, "Oh, it's so hot. Maybe we shouldn't go there." Then David saw the pictures, and he really wanted to go. It was the Harlem Theater. And it was really spectacular and I'm so glad we went. We met the founder's daughter and David had a great conversation with her. She gave us all these pins that said Keep soul alive. It was great, you know?
What was your favorite spot?
BW: I really liked going up to the bookstore, Jumel Terrace. And I just like this guy Keith who runs it, and he has a lot of extraordinary books on African culture. I like the fun of that store. I always discover something new. So I wanted David to experience this guy and this store.
David, did you like it?
DB: Oh, I loved it. I loved him even more when he had two of my books.
That's fair. Always nice to find your fans.
BW: I saw someone David doesn't know. David wasn't there, he was outside. He said to me, "Bruce, thank you so much for introducing me to David." He said, "I've loved his pictures ever since I can even remember."
Oh, that's so nice.
DB: Thanks, Bruce. Why didn't you tell me sooner? I could have slept last night.
He didn't want to inflate your ego.
BW: I didn't want to give him a bigger head than he already has.
DB: I've got a big — okay, I can't get hats big enough. I wish they'd make bigger hats in Harlem.
David, how has Harlem changed since your first shoot there in 1961?
DB:  It's only changed mentally for me, not visually. I remember in the late sixties, Diana Vreeland said to me, "Bailey, who are the best-looking, best-dressed people in America in your opinion?" Well, I said, "Those black guys, they dress so great." She said, "Great, let's go drive around and you show me all these great-looking people." And she said, "Bailey, darling, you're absolutely right! They're all wonderful!"
Are they still the best?
DB: Yeah. They certainly have a better body than me most of the time.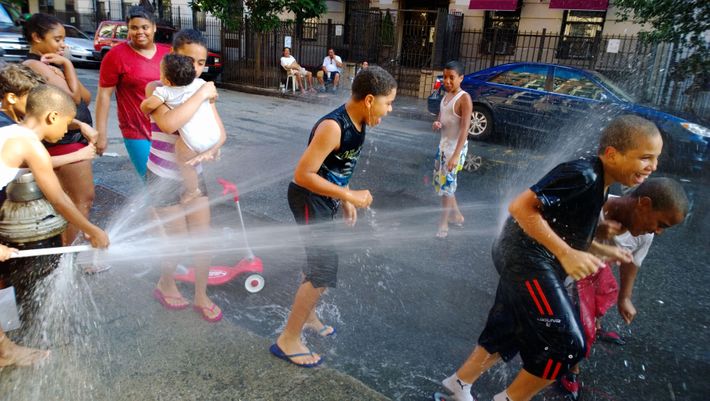 Kids playing in the street in front of fire hydrant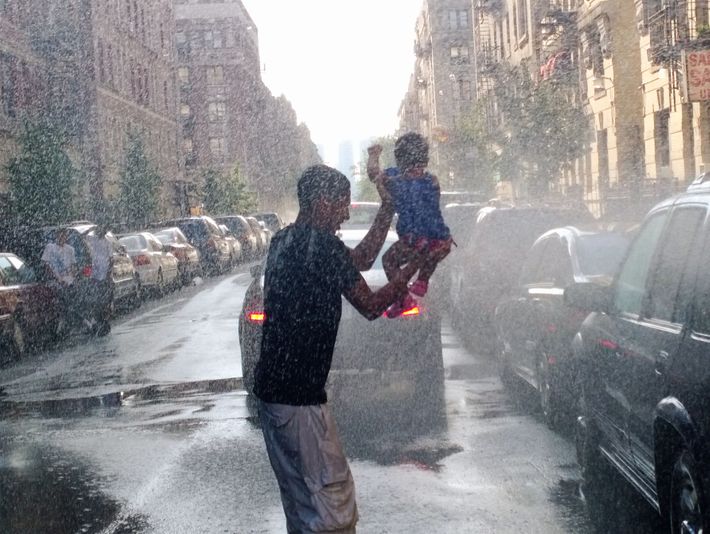 Man holding child in the street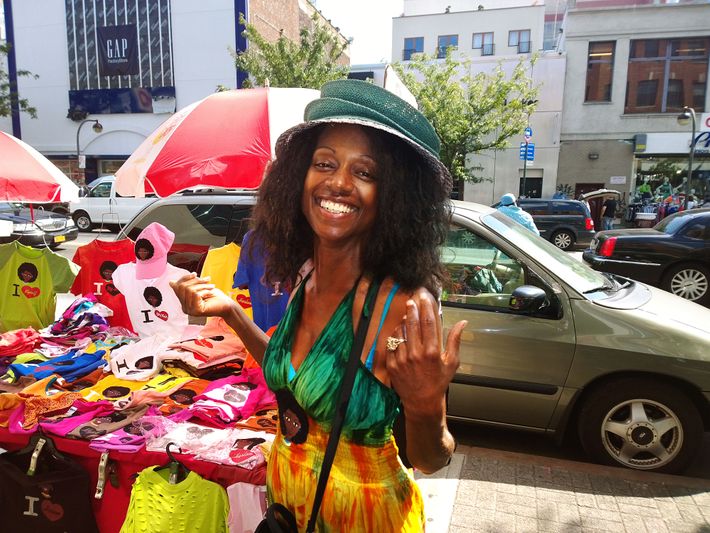 Woman in green hat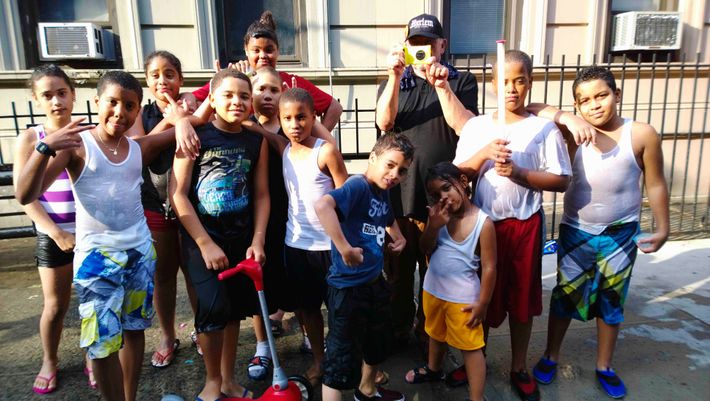 The kids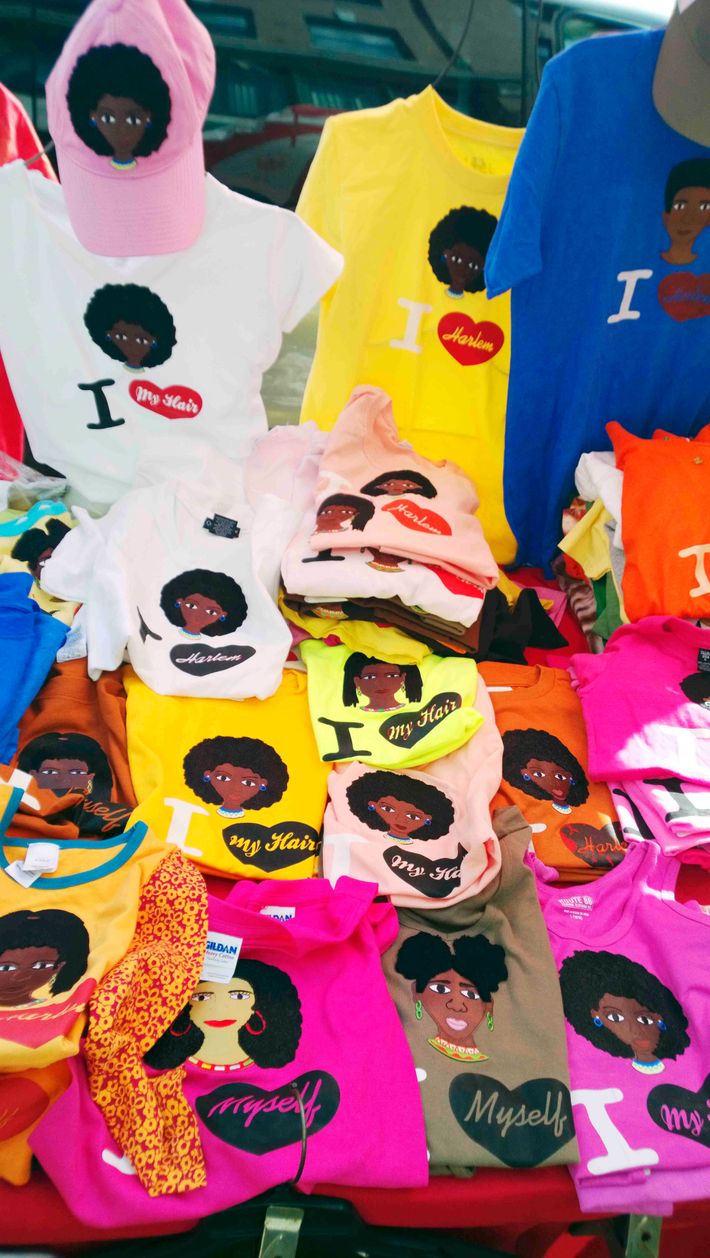 T-shirts outside of the Apollo Theater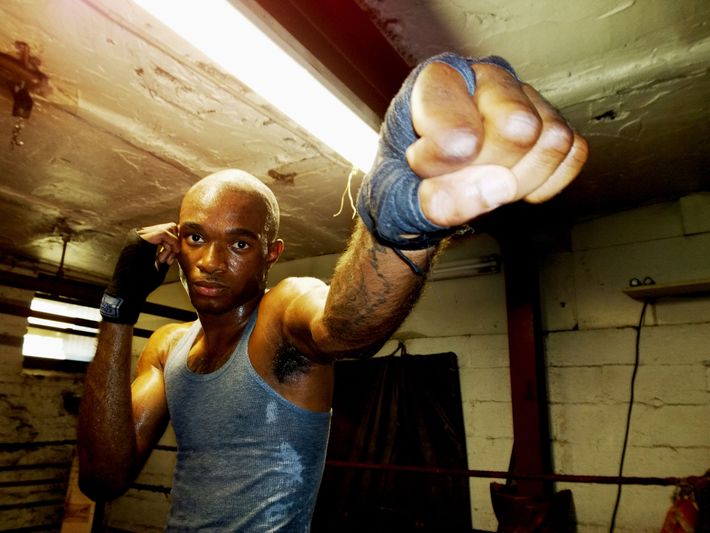 A boxer at Westside Boxing Gym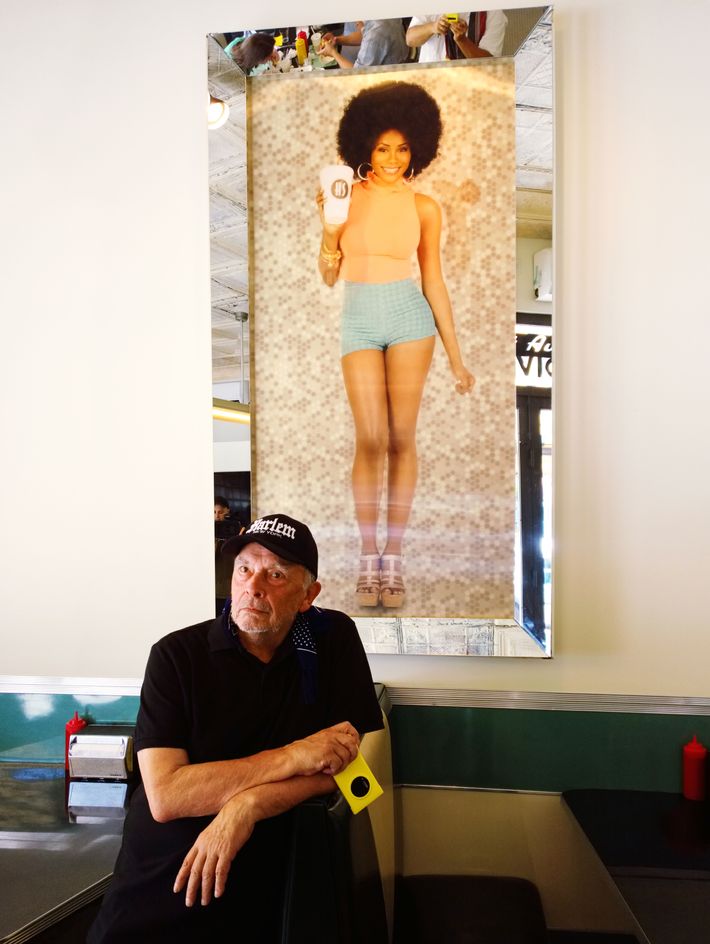 David Bailey photographed by Bruce Weber in front of woman in portrait